If you're into production or a game lover, you'll need a graphics card to get the best out of your Hackintosh. The various graphics cards available for Hackintosh are faster than what Apple offers with their systems.
We have evaluated and tested most of the available Hackintosh in the market to find which one is the best for your system and suits your budget. It has not been easy as we all know how hard it can be to select the best graphic card, especially with the numerous options available today. But trust us as we have called in some of the best technical experts and spent lots of time on our macOS enabled setups just to provide you with the best option available.
With that in mind, below is our list of best Hackintosh graphic cards available to use in the market.
Important Note:  As of macOS High Sierra 10.13.4, Apple has added support for the following AMD graphics cards. Please note, the Radeon RX 5700 XT will only work on macOS Catalina 10.15.2+
Top 6 Best Graphics Card For Hackintosh 2022
Best High End
Best Mid Range
Best Budget
MSI Video Card Radeon RX Vega 56 Air Boost 8G OC
Sapphire 11265-01-20G Radeon NITRO+ Rx 580 8GB GDDR5 Dual HDMI/ DVI-D/ Dual DP with Backplate (UEFI) PCI-E Graphics Card
XFX Radeon RX 570 RS XXX Edition 1286MHz, 8gb GDDR5, DX12 VR Ready, Dual BIOS, 3xDP HDMI DVI, AMD Graphics Card (RX-570P8DFD6)
Best High End
MSI Video Card Radeon RX Vega 56 Air Boost 8G OC
Best Mid Range
Sapphire 11265-01-20G Radeon NITRO+ Rx 580 8GB GDDR5 Dual HDMI/ DVI-D/ Dual DP with Backplate (UEFI) PCI-E Graphics Card
Best Budget
XFX Radeon RX 570 RS XXX Edition 1286MHz, 8gb GDDR5, DX12 VR Ready, Dual BIOS, 3xDP HDMI DVI, AMD Graphics Card (RX-570P8DFD6)
1. MSI Radeon RX Vega 56 AIR BOOST 8 GB OC – View on Amazon
The MSI Radeon RX Vega 56 AIR BOOST was designed based on the factory overclocked RX Vega 56 GPU with a clock speed of 1520MHz. When paired with GPU Caps Viewer 1.38 and GPU-Z, the graphic card clock speed of 1622MHZ. Attributes of its RX Vega 56 GPU include 3584 shade cores that include 56 compute units, 224 texture units and 64 ROPs.
The RX Vega 56 Air BOOST comes with a blower-based VGA cooler. The blower helps regulate the heat, and air around the Graphic card. This feature is particular to the rear of the Air Boost model. This Graphics card comes with a GPU tachometer which is a strip of eight LEDs that show the usage of the GPU. You can disable the GPUTach if you do not need it.
The Radeon RX Vega 56 AIR BOOST is 20% cheaper than the Vega 64. The performance of this Graphics card lies between the GeForce GTX 1070 and 1080. With this Graphics card comes a memory speed of 800 MHz and memory Bus of 2048-bit. You also get three DisplayPort, HDMI port, and HDCP support with a power consumption of 210W. There are two 8-pin power connectors with the weight of this box being 1068 g / 1615 g. There is a DirectX Version support and OpenGL version support. With this card, you can have a maximum of four DisplayPorts and its always VR ready.
 Pros
FreeSync compatible monitors are affordable
They're faster than GTX 1070
It's 8 GB of HBM2 memory should be enough for your use
Cons
High heat output
High power consumption
The fan makes lots of noise
Its Vega brand is less efficient compared to NVIDIA's Pascal
2. Sapphire Radeon Nitro+ Rx 580 – View on Amazon
When AMD launched Radeon RX 480, nobody could believe how possible it was for a $200 graphics card to deliver functions such as an uncompromising 1080 gaming, 1440p performance quality, and an ability to play VR games, all of which was not possible with a graphic card that cost that much before.
Well, AMD took the game further and produced a Radeon RX 580 as a part of the RX series. The RX 580 makes up for all the missing features of the RX 480. This new series graphics card comes with an all-new Radeon 500 series GPU coupled with a new Ryzen 5 processor. The only difference between the processors of the RX 480 and RX 580, is the boosted clock speed.
Specs of the RX 580 include
4th generation GCN Architecture
14-nm FinFET manufacturing process
232 mm2 Die Size
36 computer units
2304 stream processors
1340 MHz / 1257 MHz Clock Speed
Peak compute performance of up to .17 TFLOPS
144 Texture units
Peak texture Fill-Rate of up to 193.0 GT/s
32 ROPs
Peak Pixel Fill Rate of up to 42.9 GP/s
8 GB memory
256 GB/s Memory Bandwidth
256-bit Memory Interface
GDDR5 memory type
185 W Board power
AMD FreeSync Technology support
DirectX 12 Support
Vulkan Support 1.3 HBR / 1.4 HDR DisplayPort Version
There's not much difference between the RX 580 and its predecessor except its clock speed. AMD's second-generation optimization has enabled the company to increase the speed from 1120 MHz base and 1266 MHz boost to 1257 MHz base and 1340 MHz boost. The RX 580 base clock is now the same as the RX 480 boost clock.
The Radeon RX 580 is rated for its 185W TDP and needs an 8-pin power supply to meet its target. AMD also allows board makers to build cards using an 8-pin and 6-pin power connectors. To reduce the effect of high-power usage, AMD introduces a new power state that reduces energy usage when idle, or using multiple monitors, or just by watching videos. The company is also promoting power and temperature saving feature known as Radeon Chill. This is a feature developed by Radeon Crimson ReLive. The Chill feature is disabled by default and only compatible with 19 games which are easily the most played around. AMD did not release a reference version of the Radeon RX 580 rather they partnered with hardware companies like XFX, Sapphire, and PowerColor to release customized cards.
The Sapphire RX 580 nitro + cranks clock speed at 1411 MHz and adds a 6-pin power connector to smoother things up. This graphics card maintains a tweaked version of the superb X cooling system to maintain the temperature of the machine. While other graphic cards come in bright colors, RGB, angular designs and other features that handle the gamers' perspective, the RX 580 sticks to its famous silver and black color. The Sapphire logo lights up on the side of the machine in a blue hue color which can be changed manually using Sapphire's Trixx utility.
Pros
Solid VR gameplay, great power supply at 1080p and 1440p
Customization is fantastic and works great
A performance that matches its price
Cons
Lags behind the GTX 1060 in power usage
A rebranded version of its predecessor with a higher clock speed
3. XFX Radeon RX 570 RS XXX Edition – View on Amazon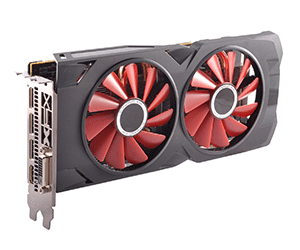 The XFX Radeon RX 570 RS Graphics card is designed based on AMD's revolutionary Polaris architecture which comes with a 14 nm FinFET for increased efficiency and performance. Immersed in HDR, 4K or VR gaming, this video card possesses realistic effects. Designed in such a way that it can dissipate heat with its advanced thermal design. This video card would take your gaming experience to the next level with technologies like Radeon Chill and Radeon ReLive.
Its DUAL BIOS feature enables this card to turn to a mining card while you're having the ultimate gaming experience. All that's needed is to shut down the system and turn on the DUAL BIOS switch on the card. You also get access to BIOS Controlled overclocking technology known as True Clock that controls clock speed performance optimization which helps your card run at an optimized performance level.
Save power consumption on your graphics card using the Radeon Chill technology. The Radeon Chill is an excellent power-saving tool that helps regulate framerate based on movements in the game. Radeon Chill helps the graphics card deliver its full framerate potential so while your movement in the game reduces, Radeon Chill also reduces your gameplay framerate while also saving power, lowering the temperature, and increasing GPU life.
Specs of XFX Radeon RX 570 RS
Interface: PCI Express 3.0
GPU Series: AMD Radeon RX 500 series
Core Clock: 1286 MHz
Stream Processors: 2048 Stream Processors
Effective Memory Clock: 7.0 GHz
Memory Size: 8 GB
Memory Interface: 256-Bit
Memory Type: DDR53D API: DirectX 12 & OpenGL 4.5
Ports: three DisplayPort 1.4, one HDMI 2.0b and one DL-DVI-D
Max Resolution: 4096 x 2160
Eyefinity Support: Yes
CrossFireX Support: Yes
TrueAudio Support: Yes
Mantle Support: Yes
Virtual Reality: Yes
Cooler: Double fans
Thermal Design Power: 150W
System Requirements: MPS; 500 watts, XFX RPS; 550W PSU
Power Connector: 8-Pin
Pros
The fan turns on when needed only
Runs game smoothly
Low power consumption
Cons
Does not come with a driver disk
Quite loud under a high revering fan
Horrible coil whine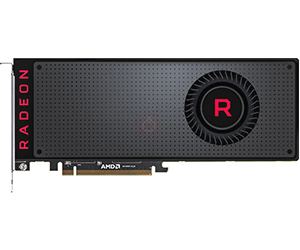 This 4th generation graphics Core Next architecture mixes a 3rd gen 14 nm FinFET manufacturing process and HBM2 to deliver quality performance and high efficiency. The magnificence of its 4K and VR features mixes with its Freesync technology and AMD LiquidVR technology to give users a classic view of their games. When running on a high level, It's cooling capacity will be on a full charge when there's a high load while it will go off when the load is low. You can configure your machine to have a multiplying performance by configuring a multi-GPU setup with Crossfire.
Step up to the new Radeon RX Vega graphics and enjoy high-end gaming and virtual reality experience with the Radeon FreeSync technology. The producers of the RX Vega graphics produced it in such a way that it delivers thrilling performance when playing the newest Vulkan and DirectX 12 games. The Next Gen compute units are designed to operate at an incredible clock speed and produce an extreme gaming experience with a high refresh rate and newest high resolutions.
Its state-of-the-art memory system breaks the limitation of traditional GPU memory to manage the growing rate of high-resolution texture packs in today's game. Maintain smooth 3D rendering while cranking up quality settings through an optimized rasterizer technology. Enjoy superior bandwidth at lesser power consumption with the new three-dimensional die stacking. This is a shift in the rate of power consumption and grants users more than 60% bandwidth than normal GDDR5.
You shouldn't have to choose between choppy gameplay and high performance as the provision of XFX Radeon graphics and FreeSync tech helps transform the most demanding of games into an artifact-free, liquid-smooth, 4K cinematic experience with high performance at any frame rate.
Specs of the XFX RX-VEGMLBFX6
Interface: PCI Express 3.0
GPU: Radeon RX Vega 56
Core clock: 1156 MHz
Boost Clock: 1471 MHz
Stream Processor: 3584 Stream Processor
Memory Size: 8 GB
Memory Clock 800 MHz at 1.6 Gbps
Memory Interface: 2048-Bit
Memory Type: HBM2
Ports: one HDMI 2.0b and three DisplayPort 1,4
Max Resolution: 4096 x 2160
RoHS Compliant
Eyefinity support
CrossFireX Support
Virtual Reality ready
Single fan cooler
Minimum power supply: 750W
Power connector: two 8-pin
Pros
FreeSync Support
Quite faster than a 1070
Minimal design but heavy and sturdy
DUAL BIOS Switch
Vapor chamber keeps the core and HBM2 under 75c while maintaining fan level below 45%
Cons
Supply and demand issue
Quite a noisy fan at 50% and above
Blower style coolers are not the perfect fit for this machine
5. MSI VGA Graphic Cards RX 580 ARMOR 8G OC – View on Amazon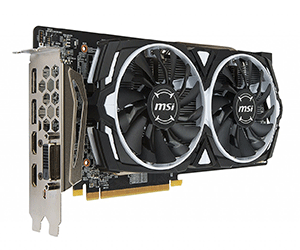 The Radeon RX 580 Armor 8G OC is MSI's counter product to AMD's RX 580. As its name implies, the graphics card comes in a black and white Armor cooling solution. On the body of the card are two Torx fans that aid performance and provide the card with adequate cooling. The cooling fans are made with Zero Frozr technology to keep the card silent when the fan is hot until the temperature drops below 60oC.
The MSI Radeon RX 580 and AMD's Radeon 580 share similarities when it comes to design method as there are 2304 shading units in both devices and 8 GB of GDDR5 memory. MSI's RX 580, has an edge over its competitor as it received a boost in clock core up to 1366 MHz. You will enjoy a thrilling gaming experience at a resolution of 2560 × 1440 even on the most demanding game quality.
The MSI Radeon RX 580, has a 269 × 125 × 38 mm footprint and can comfortably fit into a modern computer case. It generates its power from an 8-pin PCle power connector that requires 500W power supply to operate smoothly.
Enjoy connectivity with a graphics card that has two DisplayPort outputs, one DL-DVI-D port and two HDMI ports. If you enjoy multitasking, then this product is for you as you can connect up to 5 devices.
Pros
Compact VR gameplay
Fantastic resolution at 1080p and 1440p
Quicker than the Radeon RX 480
Cons
Not as fast as GTX 1060 in power efficiency
Consumes more power than Radeon RX 480 when working
6. Sapphire Radeon 11265-05-20G Pulse RX 580 – View on Amazon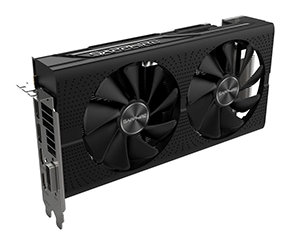 The Sapphire Radeon pulse RX 580 is designed with a 4th generation graphics core Next architecture which acts as a future proof foundation of the Polaris GPUs. This feature comes with an energy-saving solution that supports all crucial next-generation API features and the latest display technology. Enjoy intelligent fan control when using this system as the fans work only under high current and won't spin under light workloads. They can only restart when you begin a new game to ensure that the GPU stays cool. It's Radeon Chill feature help regulate its framerate based on your gaming operations. Enjoy liquid-smooth gameplay through the use of its enhanced Sync Technology.
On the Sapphire Pulse RX 580, you have access to Dual-X cooling fan, Backplate to help dissipate the heat from the system, Quality Components, two HDMI ports that were designed specifically to work with VR and 200, 000 hours capacitor that offers reliability.
Specs of the Sapphire Radeon pulse RX 580
GPU: RX 580, 14 nm FinFET 4th Graphics Core Next
Clock Core: Boost up to 1366 MHz
Processors: 2304
Memory Size: 8 GB GDDR5
Memory BUS: 256-bit
Memory clock: 8000 MHz
Display: 5 output max
Interface: PCI-Express 3.0
Resolution: DisplayPort: 5120×2880 @ 60Hz

HDMI: 4096×2160 @ 60Hz
DVI:2560×1600 @ 60Hz

Output: two DisplayPort 1.4, two HDMI, and one DVI-D
Game Index: 1440 gaming
Power consumption: more than 225W
500 Watt or greater power supply (Recommended)
1 x 8-pin Power Connector
PCI Express compliant motherboard with one x16 graphics slot
Pros
Quite a competitive performance
Supports latest Radeon functions
Unique design and nice backplate
Quiet fan in gaming
Cons
High power consumption
Memory overdrive and low overclock limit
Conclusion:
All of these graphic cards for Hackintosh have been tested for gaming performance, rendering performance and GPUs, and they've not been found lacking. Even though some of them have issues with the lack of drivers or the heating of the fan, but they're system that will serve you in making your gaming experience a thrilling one. Now the good thing about these systems is that they're all great, but it now comes down to personal preference and your purpose of use before you can select from this list