Processors have come a long way since the day of Intel's famous Core 2 Duo or Core 2 Quad, the series lived long and served really well to gamers with its groundbreaking performance and lots of options to choose from.
We are now living in an era of Intel's new and improved "I" series processors, the series originally started back in 2008 with Intel's Nehalem architecture. Intel then released Core i3, Core i5 and Core i7 in the span of 2 years. Going from entry level processors to high end ones, respectively.
Following the release of the first Core i series processors, for those of you who don't remember, Intel's tick-tock cycle that was introduced back in 2006 was still being used. The tick cycle made sure that every processor released under this cycle had an advanced manufacturing technology.
As for the tock cycle, it was there to ensure that the processors falling under that particular cycle come with new and advanced micro-architecture. Considering how Intel's current generation is Skylake and comes with a new 14nm micro-architecture, it falls under the tock cycle.
On the other hand, Intel's lifelong rival, AMD has made a lot of progress with their processors too. Thanks to the effective and competitive pricing policy, AMD has managed to turn into a fan favorite among the gamers who prefer to get the best bang for their buck.
Moving on from the technical details, today we are going to take a look at the 10 best gaming processors you can in 2018. The list of processors include high, mid and low-end processors to help the readers decide for themselves which one they want to buy.
Top 12 Best Processors For Gaming 2018
Name
Socket
Architecture
Frequency
Price
Intel Core
i7-7700K
LGA 1151
Kaby Lake
4.2 GHz
Intel Core
i7-6700K
LGA 1151
Skylake
4.00 GHz
Intel Core
i5 7600K
LGA 1151
Kaby Lake
4.2 GHz
Intel Core
i7-5820K
LGA-2011
Haswell-E
3.3 GHz
Intel Core
i5-6600K
LGA-1151
Skylake
3.50 GHz
Intel Core
i5-4690K
LGA-1150
Haswell
3.5 GHz
Intel Core
i5-6500
LGA -1151
Skylake
3.20 GHz
Intel Core
i5-4690
LGA-1150
Haswell
3.5 GHz
AMD FX
8350
AM3+
Piledriver
4.0 GHz
AMD
FX-8320
AM3+
Piledriver
3.5 GHz
Intel Core
i3 6100
LGA-1151
Skylake
3.70 GHz
Intel Pentium
G3440
LGA-1150
Haswell
3.30 GHz
1. Intel Core i7 7700K
Editor's Choice High End Gaming CPU in the Market 
Intel recently launched it's much awaited the 7th generation line of processors that goes by the Kaby Lake name, for those who don't know, this generation of processors is also based on the LGA 1151, making it compatible with the Z170 series of motherboards.
However, Intel didn't hold back from making things even interesting, and introduced the Z270 chipset for the Kaby Lake platform. Today, we are going to take a look at Intel's latest consumer level flagship processor, the Intel Core i7 7700K.
For those who don't know, this is the highest clocked version that offers a base clock of 4.2 gigahertz, and boosts really high. In addition to that, you also get the same 91w TDP, and the same 14nm architecture. The good thing here is that thanks to the higher clock speed, you can actually push your CPU to 5.0 gigahertz with just proper cooling.
On the performance side of things, the things aren't as exciting. The Core i7 7700K offers little to no improvements in terms of gaming over the 6700K, this means that anyone who's thinking of upgrading from the 6th gen 6700K to the 7th gen 7700k should find an alternative. However, for anyone who's been stuck on the 3rd or 4th gen, getting something like the 7700K sounds likes the perfect deal.
Overall, the Intel Core i7 7700K is a really good performance with a lot of overclocking headroom, and the same, impressive 91w TDP, and while it may not be a worthy upgrade over the 6700K, anyone who's upgrading from a somewhat modest processor should be glad to know that this is a great choice.
2. Intel Core I7-6700K
Editor's Choice The Best Gaming Processor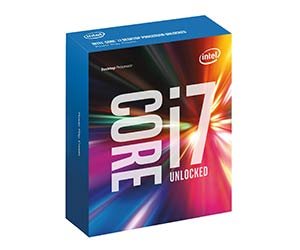 The 2nd in the list is Intel's latest and greatest; the Core i7 6700K. The four core/eight thread processor is a beast at whatever is thrown at it. The processor clocks at 4.0 GHz stock frequency that easily boosts up to 4.2 GHz when there's an intensive task going on.
The "K" represents an unlockable core that means that the processor is capable of overclocking like a breeze.
The processor comes with an 8 MB cache and carries full support for both DDR4 and DDR3L. Do keep in mind that the 6700K draws a tad-bit more power when compared to the Haswell Refresh 4790K. The TDP drawn by this processor is around 91w.
Speaking of performance, according to several hours spent bench-marking on different processors, the conclusion was drawn that the 6700K performs equals to the $1,000 Core i7 5960X.
The processor managed to outperform 5960X in Far Cry 4 and was bested by the 5960X by just 2 frames in Shadow of Mordor.
This goes to show how the i7 6700K is the best bang for the buck and considering how we are talking about gaming specific processors, goes toe-to-toe with the $1,000 5960X while being priced around a modest $337.
3. Intel Core i5 7600K
Despite not being a massive jump from Skylake, Intel's release of their Kabylake generation of processors proved to be successful, especially for people who have been waiting since Sandy Bridge for something substantial. The Core i5 7600K, and Core i7 7700K proved to be two of the most impressive chips in the list.
We have already reviewed and loved the i7 7700K, so naturally, it would be unfair to completely overlook the existence of the younger brother. Say hello to the intel Core i5 7600K, a direct competitor to the older 6600K. The 7600K comes with a higher base and boost clock, supports Intel's Z270 chipset, and happens to be backward compatible with the Z170 chipset at the same time.
The reason why we are adding the processor in the list is rather simple, the performance numbers are very close to the original 6600K, and considering how both processors share an identical price tag, it would have been unfair to keep it out of the list.
There's no denying that Intel has done some improvements, however, you do need to keep in mind that most of the improvements are incremental, and in many cases, you may not even notice the performance different. The processor requires a 95w TDP, and can be overclocked rather well.
As a matter of fact, thanks to a higher base and boost clock, the 7600K overclocks better than some of the other processors in the market. As for the specs, you get 4 cores, 4 threads, 3.8 gigahertz of base clock, and 4.2 gigahertz of boost clock.
As far as the gaming performance goes, you should know that the performance remains on par with the 6600K even when overclocked. While the processor may seem to have no value at all, the good thing is that this is basically best choice for people who are sitting on Sandy Bridge, and even Ivy Bridge, and are looking for an upgrade.
There's no denying that the 7600K is a solid performer, and will server gamers really well. However, do keep in mind that if you're looking for something that's really good at video editing, and rendering, you may need to dish out some more money just so you get the i7 7700K which also gives hyper threading into the mix.
If you're looking strictly from a gamer's perspective, things couldn't get better than Intel's Core i5 7600K.
4. Intel Core i7-5820K
Back in 2014, Intel came up with Haswell-E lineup of processors, The Haswell-E series run on X-99 platform and has full support for DDR4. The processors released were; Core i7 5820K, 5930K and 5960X.These processors were meant for extreme enthusiasts or people who wanted more than gaming.
While the 5960X is still considered to be the most powerful of the bunch, the $1,000 price tag is the reason it wasn't a smart move to add it in the list.
However, the still capable 5820K that is modestly priced around $410 at the time of writing made its way to our list. The processor comes with six cores/twelve threads and is quite capable of delivering fantastic gaming performance.
The 5820K delivers spectacular gaming performance; perfectly maxing out every game thrown at it while having a dedicated graphics card. With that being said, the only downsize of the Haswell-E series is the massive power draw.
All 3 processors share the same TDP of 140W as opposed to the modest 91W TDP of Skylake and even lower of Haswell.
5. Intel Core i5-6600K
The Best Under $250
Next up on the list we have the Core i5 6600K. It would be safe to say that the moderately priced processor is 6700K's younger brother who's equally capable in performance. The processor comes clocked at 3.5 GHz and has the capability of boosting up to 3.9 GHz.
However, in practical testing, it was discovered that a non-overclocked 6600K ended up boosting to 4.2 GHz, almost 0.3 GHz more than the advertised clock speed.
Speaking of performance, while the 6700K takes a lead in stuff like rendering, and video editing. When it comes to sheer gaming performance, the almost $100 price point isn't that justifying to begin with. The 6600K manages to rub shoulders with the 6700K in almost every game you play.
What's even interesting that the 6600K is also powerful than the mighty 4790K in some titles. That being said, all three processors managed to run games above 60 frames per second so unless you have a fancy monitor with 144Hz frequency, running games at 60 frames per second won't be an issue.
With that out of the way, the 6600K is an amazing processor, the difference, when compared to older generation of CPUs might not be noticeable now but it will certainly be more than enough in the upcoming future games. The best part?
It retails only around $239.
6. Intel Core i5-4690K
Popular Haswell Process For Gaming
Despite being 2 generations old, the Haswell Refresh Core i5 4690K is still a comparatively strong processor. The processor has a frequency of 3.5 GHz and manages to boost up to 4.2 GHz without any overclocking.
However, when it comes to overclocking, slap a powerful cooler with it and see the magic. Thanks to the architecture and lower TDP draw, the 4690K overclocks like a beast with maintained voltage, stability and temperatures.
On the performance end, it shares a similar story to the 6600K. The processor goes on par with the 6600K but manages to get left behind in some CPU intensive games. However, when being compared to the 4790K which happens to carry a $100 premium, the 4690K performs eloquently on games and is on par with its elder brother.
Yes, the 4790K is overall a stronger, faster processor but when you compare the gaming performance, the difference is minimum to even notice.
Even under full load and a stock cooler, the processor didn't show any signs of instability or thermal throttling. You can buy this amazing processor for just around $235.
7. Intel Core i5-6500
The Best Under $200
Moving down to the mid-range, we have the Intel Core i5 6500. Unlike its elder siblings, this particular processor is meant for gaming at respectable settings and frame-rates. However, one should keep in mind that this processor doesn't come with an unlocked multiplier. Overclocking is still possible to an extent but it doesn't do wonders.
Moving on, the performance of this processor is respectable enough. The chip comes clocked at 3.2 GHz and unlike the 6600K and 6700K, it does have the stock Intel heat sink fan in the box.
The TDP of this processor is also comparatively lower; the 6500 draws a total of 65W TDP as compared to the 91W TDP of 6700K and 6600K.
As far as the gaming performance is concerned, the processor manages to easily glide through most of the gams that are not CPU intensive, but ends up taking a hit in Witcher 3 and the most amount of hit in Grand Theft Auto 5.
That being said, the frame-rate still manages to fly above 60 frames per second on maxed out settings and 1080p resolution which is more than adequate for the gamers who are on a tight budget. Price around $199
8. Intel Core i5-4590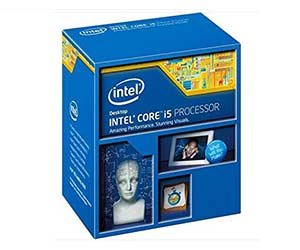 Now we have a processor that costs about $200. The main question remains? Is it good? Well, you'd be surprised. The Intel Core i5 4590 comes clocked at 3.3 GHz and has 6MB cache. Normally, not a lot would be expected from this performance mostly because of no overclocking capabilities and the price-tag. However, the testing reveals an entirely different story.
In Batman: Arkham Origins, the Core i5 4590 managed to score a respectable 85 frames per second. In case you are wondering what the 4790 scored, it was 85.5. Just .5 frames more than the processor that can be purchased around $239.
Now the big question; why but a $300+ processor when you can game with a $200 processor? Well, the real problem comes in when you run a CPU intensive task or a game. Games like Witcher 3 and Grand Theft Auto V suffer on a 4590 due to lesser processing power.
Overall, the Core i5 4590 is a solid processor that can work perfectly fine in modern games. The price point is a sweet spot for gamers who are on a tight budget.
Needless to say, it is perfectly fine and a wise decision to go with 4590 instead of 4790, especially if you are just going to play games.
9. AMD FX 8350
best amd processor for gaming under $150
Let's talk about AMD processors, shall we?
AMD hasn't released anything high end in a while, but it would have been unfair to exclude the AMD FX-8350 Black Edition from the list and here it is. The processor just costs around $147 and comes with 8 cores. Beefy, eh? As compared to Intel processors, the FX-8350 manages to do really solid.
The processor got paired with Nvidia's GTX 770 and the results were not bad. In all the tested games, the FX-8350 managed to maintain a VERY playable frame-rate above 40 at all times with all settings maxed out. The games were running on 1080p as it is still the standard resolution.
Gaming performance aside, there were some issues that were reported during the tests; the processor tends to get really hot, really fast. The second issue is subjective and is about processor's TDP. The FX-8350 has a hefty TDP requirement of 125W.
A lot more than its Intel counterparts. Keeping these issues aside, the FX-8350 Black Edition is certainly a good processor with respectable performance and multiple number of cores.
10. AMD FX-8320 Black Edition
AMD has somewhat become a perfect choice for gamers who are low on budget, after the FX-8150, the AMD FX-8320 is the perfect choice for a low-budget performance. Simply put, AMD is basically giving away an 8 core processor for a price lesser than $126.
The AMD FX 8320 Black Edition coupled with a capable graphics card can do wonders for gaming at medium to high settings in games which are CPU intensive.
The performance of this processor is commendable enough, in the testing process, the processor managed to run all the games perfectly fine.
However, due to the excessive amount of heat generated, the tests showed thermal throttling, something that can easily be taken care of by using an aftermarket cooler.
With that out of the way, the AMD FX-8320 Black Edition is the perfect CPU for budget oriented folks who just want to have some good gaming without nitpicking and cranking every single detail to the max.
11. Intel Core i3 6100
Best Budget Cpu for gaming under 150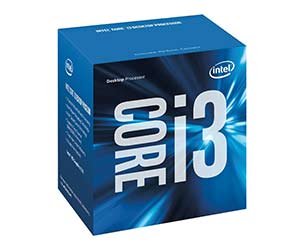 Currently, the cheapest way to jump to Intel's Skylake platform is the Core i3 6100. The processor comes for around $117 and is the cheapest solution you can use to enjoy a smooth gaming experience.
Clocked at 3.70 GHz, the i3 6100 has full support for DDR4 and DDR3L, it comes with 2 cores and is also capable of hyper-threading.
Surprisingly, despite the extremely entry level price tag, the processor manages to impress in almost all the gaming tests that are thrown on it. Yes, due to having lesser cores as compared to its siblings, it suffers in games like Witcher 3 and GTA V but the processor performs a lot better in games that are GPU dependent.
For instance, Crysis 3 at very high settings and FHD resolution ran at a respectable 100 frames per second. Well, of course, the GPU being used was a massive Titan X but luckily, there was no bottleneck to start with.
With its price tag and full DDR4 support, the Intel Core i3 6100 is your ticket to enjoy gaming without breaking your bank.
12. Intel Pentium G3440
Many of you would be surprised by seeing this processor in the list but believe it or not, Intel's Pentium series is still alive and kicking. The series now caters to gamers who are loyal to PC, the Pentium G3440 costs around $85 and is enough for gaming at 720p resolution.
What's best is that the processor draws the minimum amount of power and most modern power supplies are more than equipped to handle it without breaking a sweat.
The processor isn't a behemoth when it comes to handling tasks but coupled with a capable enough graphics card and decent amount of RAM, It can make your gaming experience a lot pleasant than you can imagine. With that being said, the processor offers a clock speed of 3.30 GHz, there are two cores/two threads and you're getting 3MB cache to start with.
CPU intensive tasks like video editing and compression take a huge hit, while the gaming performance remains decent and pleasant enough.
The Pentium G3440 by Intel is the perfect choice for low budget gamers who just want to have a smooth enough gaming experience at 720p without asking for too much.
Conclusion
There are plenty of good gaming processors to choose from, as you may or may not have noticed, there were some missing from the list, especially the 5960X and the 4790K by Intel.
There are several reasons for that; the 5960X costs a massive $1,000 and the 4790K is now replaced by a more powerful 6700K with the same price tag. However, if the 6700k is not something you want, and you're looking for something more modern than the 6700K, then take a look at the latest 7700K from Intel, the newly launched Kaby Lake processor actually runs on the Z170 chipset, and offers the same performance as the 6700K, but with more overclocking headroom.
It was a sad thing to see AMD missing out and having only two processors worth mentioning. Do keep in mind that due to their higher TDP requirement and higher thermals, most budget oriented gamers prefer to have Intel processors in their computers because no one wants to spend an extra dime if their requirements are being met.
The Core i5 4690K was added to the list because much like the GTX 970, it happens to be one of the most popular processors and fits the budget of almost every gamer out there who wants the best bang for their buck. With that out of the way, let us know if we missed any processor that you would have liked to see in the list.
More Amazing Tech Reviews ?