Buying a new gaming PC is perhaps one of the most thrilling experiences that one can go through. Although there is a huge difference between buying a gaming PC, and building one yourself, a lot of people would go for pre-built systems for different reasons.
The biggest reason is that prebuilt systems are readied up to your specifications. In many cases, you are not required to pick up the parts and assemble them as everything is already there. You get a preinstalled Windows, along with all the needed drivers.
If it is your first experience, you may want to go for a prebuilt system. Sure, the enthusiast community normally looks down upon the prebuilt system, but thanks to companies like CyberpowerPC and iBuyPower, it has become a lot easier for people to buy prebuilt systems.
I have already written an article on how to build a gaming PC, but I have not written anything on the best prebuilt gaming PCs. Today, I am looking at the ten best prebuilt gaming PCs you can buy in the market.
The list will be featuring some of the higher end gaming PCs that cater to hardcore gamers as well as some of the mid-range gaming PCs. The purpose of this list is to provide enough options to everyone so a one or another person does not feel left out.
Let's go ahead and have a look, shall we?
 Top 10 Best Gaming PC 2021
1. iBUYPOWER Gaming PC Desktop Slate 9210 – View on Amazon
There is no denying that when it comes to prebuilt PCs, iBUYPOWER is one of the best system integrators out there. Not because they have some really amazing products, but because they are so close to actual prices of those products, that you do not really have to worry about overspending on hardware that is not good enough.
Today, we are looking at a high end gaming PC from iBUYPOWER that comes with the following specs.
Intel Core i7 8700K w/ liquid cooling.
Nvidia GeForce GTX 1070Ti w/ 8GB VRAM
Z370 chipset.
16GB DDR4 RAM.
1TB HDD w/ 240GB SSD.
Windows 10.
Now the good thing about the PC is that it offers ton of expansion so even if down the lane you want to upgrade, you can easily do so.
As far as the performance is concerned, I do not think there is any game that this PC cannot handle on maximum settings. I have tested most of the modern games like Assassin's Creed: Odyssey, PUBG, as well as Black Ops 4, and Battlefield 5 and all ran without a hitch. Needless to say iBUYPOWER has done a great job with this gaming PC.
However, there are some minor quirks that I would like to mention here. You do not get a USB Type-C port on the front, and despite the 8700K being one of the hotter running processors on the market, the pre-installed liquid cooler is just 120mm radiator.
If you are okay with these minor issues, then for the price you are paying, the iBUYPOWER Slate 9210 is one heck of a gaming desktop PC that gives you solid frame rates regardless of the game you are playing. The PC is also ready for content creation out of the box thanks to its 6 core, 12 thread processor, and most importantly, for those who want to upgrade it in the future, the possibilities are there without any issues whatsoever. It is only held back by the lack of USB Type-C Port, and somewhat middling liquid cooler that might not be adequate for the 8700K.
Pros
Excellent gaming and rendering performance.
Loads of upgradability.
Ready to run as soon as you plug in.
Has all the required lighting right out of the box.
Cons
There is no USB Type-C on the front panel header.
The added 120mm liquid cooler might not be enough.
2. CUK Mantis Custom Gaming PC – View on Amazon
If you are looking for more powerful and up to date as compared to some of the other options available in the market, then do not worry. The CUK Mantis Custom Gaming PC is going to help you achieve the best possible gaming results in the given budget thanks to the hardware it comes with.
Although not many people might know about this company in the first place, the good thing is that they are reputable, and just like other good system integrators; they are not using any proprietary hardware, meaning that the upgradability factor is there for those who want it.
Specs are as followed.
Intel Core i7-8700K w/ liquid cooling.
Nvidia GeForce RTX 2070 w/ 8GB VRAM.
16GB DDR4 RAM at 2,666 MHz.
1TB solid state drive.
500w 80 Plus Bronze power supply.
Windows 10 Home.
B360M motherboard.
Now there is no denying that in terms of sheer horsepower, the CUK Mantis Custom Gaming PC is more than capable of delivering excellent performance. The good thing is that whether you are planning on gaming on this system, or content creation, both tasks can and will be handled with finesse, and absolutely no issues whatsoever.
All the modern titles that I could run on this PC, I ran, and all of them gave more than respectable frame rates. Given the price tag, this  PC crushes through the numbers like they mean nothing. I am also pleased with the aesthetic as green and black is a colour combination people often overlook. Last but not the least, there is plenty of room for expansion should you choose to switch the parts around.
There are a few concerns there, however. For starters, the power supply used is 500w Bronze certified, and the fact that despite having an unlocked CPU, the motherboard is still a B360M, which means that it cannot be overclocked.
These concerns can be an issue for those who are looking for a good performance by overclocking but if you are an average camera, you really do not have to worry about them as this PC performs exceptionally even with the specs given.
Pros
Performance in games is great.
Setup right out of the box.
Looks great.
Can be upgraded with whatever you prefer later down the road.
Cons
Power supply is not the best in the business.
B360M chipset does not make sense with the K series CPU.
If Intel is not something you are looking for because you want to have higher core count rather than frequency then definitely look at Centaurus Warrior 2.3. This AMD Ryzen powered PC is one of the best integrated systems that I have had the chance to look at in the modern day and age and for all the right reasons as well.
Instead of being labeled as just a gaming PC, this one is a gaming PC, and a work horse at the same time, thanks to the specs it comes with.  You can look at the specs below.
AMD Ryzen 7 2700X Octa core processor.
Nvida GeForce GTX 1080 w/ 8GB VRAM.
16GB DDR4 2,667 MHz RAM.
2TB HDD with 240GB SSD.
Sharkoon TG5 case with 5 preinstalled 120mm fans (Green LED)
There is plenty to like about the Centaurus Warrior 2.3; the AMD Ryzen is the star of the show with 8 cores 16 threads and great overall performance. The base clock is an impressive 3.7 GHz, and the CPU can boost up to 4.3 GHz. Needless to say, that both gaming and creativity tasks are handled with finesses. The GTX 1080 ensures that gaming at 1440p with high refresh rate is entirely possible, and you have 2TB of mass storage with an SSD as a boot drive as well.
As far as the downsides are concerned, there are not a lot to be honest. This is one of those prebuilt gaming PCs that nail every aspect and for all type of users out there. Honestly, at this point, I would only wish that the case would be a bit better.
Overall, the, the Centaurus Warrior 2.3 is one of the best gaming PCs available in this list. Simply because there are a lot of great things about it. The performance is great, upgradability factor is great, and the PC could easily serve you for up to 3 years, or maybe even more depending on the current situation of the PC market.
Pros
The gaming PC absolutely rules in gaming, and rendering performance.
Great flexibility when it comes to upgrading.
Comes with Windows pre-installed.
The case looks rather cool with LED fans.
The GTX 1080 means you will get great performance.
Cons
The case could have been better.
No official word on the type of power supply or the brand of power supply being used.
4. CLX SET TGASETGXM8500BR – View on Amazon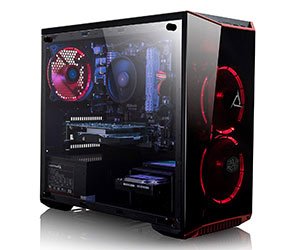 The last gaming PC on the list is for those who are looking for a much more affordable option and do not want to spend money on top components. The PC we are looking at is called the CLX SET TGASETGXM8500BR, and while the name is certainly a mouthful, the good news is that after looking at the specs, you will not have much of an issue.
The good thing here is that this PC is built for people who are not in the mood to pay a lot of money. However, do not worry; just because you are spending less money does not mean that you are buying something that is not powerful.
You can check out the specs below.
AMD Ryzen 5 2600X 6-core CPU.
Nvidia GeForce GTX 1060 6GB.
16GB DDR4 RAM.
240GB SSD + 2TB HDD.
Windows 10 Home.
As you can tell the specs are fairly decent. I mean you do not get the best possible specs out in the market, but considering the price tag, you are getting a fairly decent gaming PC. Not just that, even if you are doing video editing, the PC would be more than capable of that.
Performance in 1080p is good as it gets, and you will have no problems maxing out most of the games. The aesthetic side of things on this PC is good enough. You are not getting the prettiest PC out in the market, but the good thing is that the upgradability factor is certainly there, and you can easily make changes to your PC if the need arises later down the road.
The only downside is that there is not much information available on the case, cooler, and the power supply that is used in this case. Some people do have concerns with this.
All in all, I would say that the CLX SET TGASETGXM8500BR is pretty great as far as the overall performance is concerned. Sure, you might want to spend more and get a better PC, and that is entirely possible, but in the given price tag, you are hardly going to go wrong as you are still getting one of the most powerful options available in the market.
Pros
The performance is great.
The PC looks great.
Quality components.
Well built.
Has all the necessary stuff pre-installed.
Cons
Not much info on case, cooler, or the PSU.
5. CYBERPOWERPC Gamer Xtreme – View on Amazon
The first PC on my list is called Gamer Xtreme by CyberpowerPC. The company has been my favourite for a long time because even their prebuilt systems come with enough ability to customize and upgrade. Such is the case with the Gamer Xtreme I have on my desk.
Judging from the specs, the PC is targeted at mid-range gamers who want a decent performance at 1080p resolution, with respectable graphic presets. The PC clearly is not made for number crunching, but considering the price, it is more than okay.
For reader's convenience, I will be mentioning the specs of each PC under the subheading. The CYBERPOWERPC Gamer Xtreme packs the following specs:
Intel Core i5 7400 at 3.0 GHz.
AMD Radeon RX 580 4 GB GDDR5 graphics card.
8GB DDR4 RAM.
1TB hard disk drive.
6 x USB 3.1 | 2 x USB 2.0 | 1 x RJ-45 Network Ethernet 10/100/1000 | 802.11AC Wi-Fi | Audio: 7.1 Channel.
Windows 10 Home.
From the specs, it is pretty obvious that this PC is not something for the higher end niche. Still, during my testing, the PC performed well at 1080p, and ran almost all the modern titles with ease. Sure, there are some limitations that I would like to address.
Firstly, I noticed that the motherboard choice in different units is different, and although it should not create an issue, it is important that you are getting a budget motherboard. The case that comes with the PC is the Master Box lite 5 that has been modded ever so slightly.
Keep in mind that it does look like it has a tempered glass window, but it does not. Again, given the budget, it is more than okay. One thing that I did not like is the fact that CyberpowerPC is using a power supply from the brand that is not well known.
Now it is enough for the configuration you are getting it with, but if you want to upgrade your graphics card to something more powerful, I would suggest you to buy a new PSU unit as well. All in all, the CyberpowerPC is a pretty good option for people who want a good gaming experience.
Pros
Extremely affordable.
Nicely built.
Runs most games on 1080p.
Comes with all the required drivers and software preinstalled.
Cons
Power supply brand is not known.
The package does not consist of an SSD.
6. CYBERPOWERPC Gamer Supreme – View on Amazon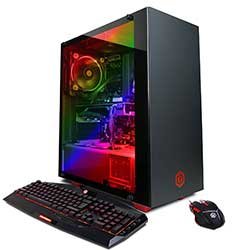 If you are looking for something a bit more powerful that can run most modern games without breaking a sweat looks the part as well, then the CyberpowerPC Gamer Supreme SLC8440A is the option to go. This PC is obviously on the more expensive side, but the good thing is that it makes up for it by performance.
Now speaking of specs, you get an overclockable CPU with a pretty beefy graphics card as well, so you should be all set. It does not matter if you want to play games at a higher refresh rate or a higher resolution, the Gamer Supreme can chew through most of the games you throw at it.
Intel Core i7 7700K at 4.2 GHz | liquid cooled.
Nvidia GTX 1070 8GB GDDR5 graphics card.
32GB DDR4 RAM.
6 x USB 3.0 | 2 x USB 2.0 | 1x RJ-45 Network Ethernet 10/100/1000 | Internal Wi-Fi 802.11 AC Wireless Networking | Audio: 7.1 Channel.
3TB hard disk drive coupled with a 256GB SSD.
Windows 10 64-bit Home.
These are some of the basic specifications that you will be getting with the Gamer Supreme, however, you should also know that the PC comes with remote controlled RGB LED lighting. The entire PC is built in the gorgeous NZXT S340 Elite, so you can pretty much show everything off thanks to the tempered glass panel.
I am pretty pleased with the PC, and how Cyberpower is handling all thing. Although, I must raise the same question I have raised before regarding these computers. If someone is paying so much, shouldn't they get branded, non-generic power supplies?
I am not saying the unit does not work well, even with an overclocked CPU, the system stability was there and I didn't run into any issue. However, using a branded power supply from the likes of Corsair or EVGA will make everything so much better.
Pros
Solid performance on either a higher refresh rate, or a higher resolution.
RGB LED lighting looks phenomenal from the tempered glass side panel.
Comes loaded with all the necessary programs.
Overclockable CPU gives you the future proofing.
Cons
The power supply unit is of an unknown brand.
The next gaming PC I am looking at is from a company called SkyTech (not to be confused with SkyNet). Jokes aside, this is an odd one out to be honest. It uses components that are relevant, and some components that are not.
Upon unboxing and reading the spec sheet, I was met with surprise. For starters, the ArchAngel is using an AMD processor from an older architecture, which means that it is still using DDR3 RAM when most of the world has moved over to DDR4. That is not all, this particular model ships with a GTX 1050Ti.
The good thing is that I did not notice any bottlenecking of any sorts, and if you want a cheaper variant, this also comes with a GTX 750Ti and a GTX 1050 variants as well. Specs are listed below.
Hexa-core AMD FX 6300 3.5Ghz.
Nvidia GTX 1050Ti 4GB GDDR5 graphics card.
8GB DDR3 RAM.
24X DVD ±RW Optical drive.
1TB hard disk drive.
As you can tell, the specs are pretty basic, but the computer can run majority of games at 1080p. Don't expect it to crunch numbers because it is not going to do that. With that said, I must say I was surprised to see an optical drive. Considering how it is 2017, and optical drives are becoming relics of the past.
There are some things that I really like about the SkyTech ArchAngel; for starters, it does not ship with any generic part, all of the items are branded, and from companies that are known around the world. Considering the price you are paying for this system, it is a pretty good bargain.
Though, there are few things I don't understand, for starters, the use of an older generation of AMD processor does not make sense to me. Neither does the inclusion of an optical drive in an era where almost everything is digital.
Still, if you are looking for a budget friendly gaming PC, then the SkyTech ArchAngel should serve you well in almost all the circumstances there are.
Pros
Cost effective PC that gets the job done.
Branded parts from well-known companies.
Can run most games on 1080p without compromising a lot on the settings.
Cons
No SSD.
AMD FX 6300 processor is from an older generation.
8. CYBERPOWERPC Gamer Xtreme – View on Amazon
Another CyberpowerPC makes it to the list, this time it is from the Gamer Xtreme series that I have looked at before. Now right out of the box, it should be made clear that the Gamer Xtreme series is a mix of mid to high end components. Which means that the hardware you get is a solid bag of components.
Enough to play all the games, but not a lot to break your bank and make you worry about overspending a lot. The Gamer Xtreme GXi10180A strikes an almost perfect balance between being powerful and budget friendly at the same time.
Like always, the specs are mentioned below for your convenience.
Intel Core i7 7700 3.6 GHz, quad core processor.
Nvidia GTX 1060 3GB GDDR5 graphics card graphics card.
8GB DDR4 RAM.
1TB hard disk drive.
6 x USB 3.0 | 4 x USB 2.0 | 1x RJ-45 Network Ethernet 10/100/1000 | Audio: 7.1 Channel.
Windows 10 Home.
With that said, you do get a tempered glass case and an Intel B250 chipset motherboard. That is because the 7700 does not support overclocking like the K SKU does. It uses a generic 700w power supply that manages to give you more than enough power even if you want your own graphics card.
You also get a DVD RW, which in my opinion is a useless inclusion. The case looks pretty good, and the overall performance of the PC after adding in all the factors. I do have some complaints that I must write down here. For starters, you do not get an SSD in the PC, and I believe at the price tag, it should have been there.
One more thing that I was confused about came from the fact that the GTX 1060 had 3GB memory instead of the much better 6GB variant. The 3GB does not perform as bad either, but it severely limits the amount of gameplay experience.
Pros
The CPU is definitely on the more powerful side.
Tempered glass case is good to look at.
700w power supply should be ample if you choose to upgrade.
Can be upgraded if the user wants.
Cons
3GB GTX 1060 is not enough for most demanding games.
There is no SSD included in the package.
The power supply is still from a generic brand.
9. CYBERPOWERPC Gamer Master GMA2200A – View on Amazon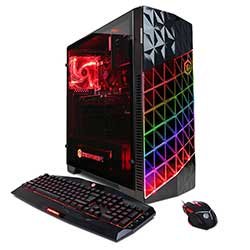 There is no way to deny that AMD's Ryzen lineup of CPUs was a success as soon as it arrived at the scene earlier this year. Ryzen gave a very tough competition to the Intel processor and managed to take a majority of the market share as well. Needless to say, the architecture made enough impact to deviate the prebuilt system makes from Intel to AMD.
The Gamer Master by CyberpowerPC is one of the first prebuilt computers that are powered by AMD's Ryzen technology. It is moderately priced but offers an 8-core overclockable processor. Something Intel has not been able to deliver to the mainstream system user.
AMD Ryzen 1700 3.0 GHz octa-core processor.
16GB DDR4 RAM.
2TB hard disk drive.
AMD Radeon RX 580 4GB GDDR5 graphics card.
2 x USB 3.1 | 4 x USB 3.0 | 4 x USB 2.0 | 1x RJ-45 Network Ethernet 10/100/1000 | Audio: 7.1 Channel.
On paper, the Gamer Master looks good enough, however, if given, I would definitely make some changes to it. For starters, the 2TB hard disk should be replaced with 1TB hard drive, and about 256GB SSD. It will increase the price just a bit, but it's worth it.
The RX 580 is a great card, but it would have been bette if they had used the 8GB variant instead of the 4GB one. The power supply is generic again as with all the CyberpowerPCs and the case looks good with the tempered glass, and supports full sized systems.
In conclusion, I like the Gamer Master but not to an extent that I will let it stay the way it is. For a lot of people, the ability to upgrade is there, and thus gives you a good enough chance that you will be able to upgrade should you need to in the future.
Pros
Ryzen 1700 is a great processor choice.
Enough RAM for every modern game.
The RX 580 is still good enough for 1080p gaming.
Enough storage option.
Cons
10. iBUYPOWER Ultra Gaming PC Desktop AM900Z – View on Amazon
iBuyPower is another famous company that is known for creating some amazing prebuilt gaming PCs. Apart from supporting some of the pro players of the industry like the Cloud 9 team, and a couple of other teams, they also make PCs for the average consumers.
The Ultra Gaming PC Desktop AM900Z is no different. Aside from the name that does not tell you anything about, the PC is packed with top of the line hardware, and enough specs to keep you going for the next few years.
Intel 7th Gen i7-7700K 4.2GHz air cooled.
NVIDIA Geforce GTX 1070 Graphics Card with 8GB Dedicated Memory.
16GB DDR4 2400 Mhz RAM.
1TB hard disk drive.
240GB SSD.
Windows 10 Operating System.
11AC Dual Band Wireless USB Adapter.
As you can see, the specs are pretty powerful to begin with. You do get case RGB lighting, and tempered glass, and the best thing about the PC is that you can customize it however you like. Swapping out products is easy thanks to the fact that it does not use proprietary hardware.
You even get a power supply shroud to make everything look nice and tidy. Overall, I am really pleased with the Ultra Gaming PC Desktop AM900Z. The cost to performance ratio is ideal, and this build is amazing for people who are not willing to go through the time and hassle of building the PC from scratch.
Can't say I am not satisfied, however, I would have preferred a liquid cooler, or a beefier air cooler since the Core i7 7700K is known for running on the hotter side. So it does need adequate cooling to be stable enough when overclocked.
Other than that, the PC is pretty much amazing. I have played games on 1080p with 144hz, and it went through every game perfectly. You can even do 1440p, but at that resolution, you are going to need a better graphics card.
Pros
Packed with top of the line specs.
Tempered glass and RGB, the perfect combination.
Can game at multitudes of resolutions, and refresh rates.
Easily accessible hardware makes upgrading a breeze.
Cons
A generic air cooler is not enough to cool down the 7700K.
11. CYBERPOWERPC Gamer Xtreme VR GXiVR8080A – View on Amazon
CyberpowerPC is back again with what seems like the most powerful PC in the list, and no, this is not an exaggeration. The Gamer Xtreme VR GXiVR8080A is as powerful as the name is mouthful, and to be honest, at this point, I don't mind the weird naming schemes. What's important here is the performance, this baby is an absolute beast in that department.
Now it does come with a Core i7 7700K, a processor which has been in some of the other computers that I have reviewed so far. Let me tell you the specs so you can decide for yourself.
Overclocked, liquid cooled Intel Core i7 7700K.
Nvidia GTX 1080Ti 11GB GDDR5X graphics card.
16GB DDR4 RAM.
1TB hard disk drive with 240GB SSD.
Windows 10 64-bit.
The performance is an absolute monster on this PC, and you can even push it to 4K if you are okay with compromising some of the settings. Needless to say, the Gamer Xtreme is one beast of a PC. The case can be customized to your liking, and all hardware can be swapped out.
If at any stage you feel like the storage option is not enough, Cyberpower does give you the option to choose between 3TB hard drive and 1TB hard drive as well. The SSD remains the same in both configurations.
Needless to say, with this PC, you will not be needing a substantial upgrade, however, I must raise the concern with generic power supply once again. This time it is a lot more serious, because we are talking about a graphics card that requires proper and stable source of power.
I personally would not trust a generic power supply to handle my GTX 1080Ti in any case. I wish Cyberpower starts providing different options in power supply selection to make things a lot easier for people in the market.
Other than that, everything in the PC is perfect, and it is definitely my favourite in the entire list.
Pros
Loaded with performance grade hardware able to handle any and all games.
Case customization is good, and you get lighting options along with tempered glass.
GTX 1080Ti leads the pack in performance without breaking a sweat.
Liquid cooled and overclocked CPU is certainly a good thing.
Different storage options.
Cons
Power supply is again from a generic brand.
12. CyberpowerPC Gamer Xtreme GXi10200A – View on Amazon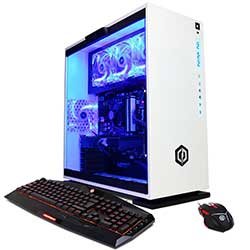 For anyone who does not want a high end experience like the previous options, CyberpowerPC has got you covered in that case as well. With their Gamer Xtreme GXi10200A gaming desktop, they aim to bring high speed gaming to the mainstream market, and they succeed in doing so.
The Gamer Xtreme GXi10200A is not packed with the most powerful hardware, however, the specs that accompany the system are still pretty decent for the price you are paying and will still let you play all the modern titles on respectable resolution and settings.
Intel Core i7 7700 3.6 GHz quad core CPU.
16GB DDR4 RAM.
120GB SSD with 1TB hard disk drive.
Nvidia GTX 1060 6GB GDDR5 graphics card.
Windows 10 64-bit.
I like the fact that CyberpowerPC decided to use a non K CPU and kept the cost down. The 6GB GTX 1060 is definitely a better addition, and a much, much better option than the 3GB variant.  It's good to see that CyberpowerPC is using the InWin case, and although the layout is somewhat unconventional, it is actually pretty good. Overall, I can't complain much about the CyberpowerPC Gamer Xtreme GXi10200A. It is a pretty decent gaming PC, no doubt. However, CyberpowePC should have opted for a proper air cooler instead of choosing the stock Intel fan.
I know the Core i7 7700 cannot be overclocked, but it is still a hot running CPU, and at least requires a good air cooler to cool it down in summers, or in intensive gaming tasks. But then again, the computer can be upgraded to your liking, so even if you don't want the stock cooler, there are several budget friendly options that you can opt for.
Pros
Solid performance at 1080p without sacrificing much of the settings.
Ability to upgrade is always a welcomed factor.
Use of an InWin case is tastefully done.
Cons
Stock Intel fan on a CPU that runs hot is not the best way to deal with temperature.
13. CYBERPOWERPC Gamer Xtreme VR GXIVR8060A4 – View on Amazon 
If you believe that a PC equipped with Core i7 is too much for you, and you want something slightly cheaper, but still with decent performance, don't worry. With the CYBERPOWERPC Gamer Xtreme VR GXIVR8060A4, things can be taken care of.
The GXIVR8060A4 is built for gamers who want to have decent gaming experience without breaking the bank. The specs are for a mid-range PC, but CyberpowerPC did not cheap out and you still get an SSD, and a casing that looks the part as well.
Intel Core i5 7400 3.5 GHz quad core processor.
Nvidia GTX 1060 3GB GDDR5 graphics card.
8GB DDR4 RAM.
1TB hard drive coupled with 120GB SSD.
Windows 10 Home edition.
As you can tell, the PC will cater more to people who don't want much after gaming. The Core i5 is a great option since games do not benefit from hyperthreading that much, so having 4 cores, and 4 threads is more than enough.
If I am to change anything at this point from the PC, the only thing I would do is add another 8GB of RAM. I have tested this RAM on several game, and I had issues with games running out of memory. Several modern titles require at least 10GB of RAM available to them to properly run.
Not having enough memory can create issues like stuttering, freezing, and memory loss. Believe it or not, this is not a pleasant thing to face, and your entire gaming experience can get compromised because of this.
So, if you have enough budget, I would suggest that you add another RAM stick and be done with it. Rest assured, as long as you are running games that are actually made for such hardware, you should have any issue whatsoever.
Pros
Decent performance on mid-high settings.
Budget friendly, and still powerful enough for majority of games.
Easy to swap hardware allows upgradability without any issue.
Having an SSD in this price is a bonus.
Cons
8GB RAM is not enough for majority of modern titles.
14. CYBERPOWERPC Gamer Ultra GUA3120A – View on Amazon
The last gaming PC on this list is perhaps the cheapest option there is, and for a lot of good reasons. It uses an older generation AMD processor, along with an older generation graphics card. Needless to say, it is built for people who want to play games like League of Legends, or DoTA, along with some other esports titles.
To be honest, at this point, it does not serve a lot more purpose than that. You can even use it for HTPC, but it is too big for that. The specs are mentioned below for the user convenience.
AMD FX-4300 3.8 GHz quad core.
8GB DDR3 RAM.
AMD Radeon R7 250 2GB graphics card.
1TB HDD.
Windows 10.
From the spec sheet, it is pretty evident that the PC is built for some casual gaming. It is by no mean a number crunching machine, and looking at the price, I never expected it to be. You are pretty limited with what you can run on this PC, so choose carefully.
You should upgrade the RAM to at least 16GB if you plan on smoothly running Windows 10 and gaming on it. An SSD would have been a nice addition too, but looking at the price, it would have been asking for a lot.
For anyone who wants a decent gaming experience without going overboard, the graphic the Gamer Ultra GUA3120A should be enough to get the job done without overcomplicating things in the first place.
Pros
Cheap, and effective for e-sports gaming.
Runs most e-sports games without any issue.
Still manages to look good.
Cons
The processor and graphics card are from older generations.
Barely has anything powerful enough to power.
Conclusion
I am the type of person who loves to build his own PC, and I assume you can tell that from my guide focusing on how to build a gaming PC. So, keeping that in mind, it was not easy for me to keep a neutral perspective towards this list.
I would very much prefer the hassle of building a PC yourself rather than buying it from a company who has built it for me, along with thousands of other customers. Still, I tried my best to stay as neutral as possible, and focus on the aspects that are important.
My favourite PC from the list is definitely the CYBERPOWERPC Gamer Xtreme VR GXiVR8080A. Simply because the performance is unbeatable in the list, and the PC has just too much power. It can do content creation, and crunch through any game you throw at it.
Sure, it is expensive, but the cost is justified with the groundbreaking performance it provides.