In the modern day and age, laptops are becoming more and more essential to the general public, it doesn't matter if you want to have a portal machine that's good for gaming, or handling workload, there are plenty of options available for you should you wish to go ahead and spend the money.
Thanks to the ever evolving technology, laptops have become a lot more powerful, as well as efficient than they used to be. You're no longer required to plug in your laptop into the charging after every hour or so, and those big cooling pads are slowly becoming a thing of past.
Companies like Dell, Asus, HP, Lenovo, and Acer are working day and night to improve what's already better, and believe it or not, they're succeeding very well. This has allowed them to release some of their most amazing laptops in the market for the consumers.
If you're new to this laptop buying experience, you're going to be welcomed with plethora of machines that will suit your needs, as well as your budgets. However, at the same time, the chances of you getting stuck in confusion are also there, thanks to how saturated the market is.
Keeping that in mind, we've prepared a list of 10 best laptops 2018 that you can buy at the moment; whether you buy them locally, or choose Amazon, these laptops are amazing in every possible way. Whether you want to game, or work, the list has enough options for you to choose from.
Best Laptops 2018
Editor's Choice
Best From Razer
Best For Multipurpose
Best Value
Huawei MateBook X Pro Signature Edition Thin & Light Laptop, 13.9" 3K Touch, 8th Gen i5-8250U, 8 GB RAM, 256 GB SSD, 3:2 Aspect ratio, Office 365 Personal Included, Mystic Silver - Mach-W19B
Razer Blade Stealth 13.3" QHD+ Touchscreen Ultrabook Laptop - 8th Generation Intel Quad-Core i7-8550U - 16GB RAM - 256GB SSD - Windows 10 - CNC Aluminum - Black
HP Spectre x360 13 8th Gen 16G512G Dark Ash 12" 2-in-1 Laptop
Dell XPS9560-5000SLV-PUS 15.6" Ultra Thin and Light Laptop with 4K Touch Display, 7th Gen Core i5 ( up to 3.5 GHz), 8GB, 256GB SSD, Nvidia Gaming GTX 1050, Aluminum Chassis
When it comes to the high end laptop market, Dell has always taken care of things using their Dell XPS lineup of laptops, the lineup has been around for years, and has been continuously becoming better and better. The true revolution was seen when Dell finally got rid of the bezels, and the made the screen gorgeous to look at, and the overall size, a lot smaller, and compactor as well.
As the name tells, the XPS 13 is a 13-inch model, but it does come with a 15-inch variant as well; as with many other laptops in the market, this one does come in different specifications, but ours was shipped with a Core i7, 8GB RAM, and 256 GB PCIe SSD. However, keep in mind that if you want to spend more money on something even more powerful, the options are certainly there.
Moving on, the 13.3-inch screen is fully touch enabled, and offers a high resolution of 3,200 x 1,800 pixels; Dell is proudly calling it the InfinityEdge display thanks to the almost bezel-less look and feel of it. Needless to say, it's one of the best displays we've seen in a long time. You can work on it, watch movies on it, and just use it for all around productivity, and it will shine through.
Thanks to Intel's Kaby Lake processor, and the overall greatness of the battery in the Dell XPS 13, the battery life remains amazing, with the laptop staying powered on for at least 7 hours of constantly playing a 1080p video on loop. If that's not impressive, we're not sure what is. As far as the overall performance of the laptop's concerned, it's actually really fast thanks to the perfect combination of the Core i7, coupled with a blazing fast SSD.
The Dell XPS 13 also offers you with a SD card slot, and plethora of other connectivity options like 1 x USB 3.0, 1 x USB 3.0 w/PowerShare, 1 x USB-C (Thunderbolt 3), and the headphone jack as usual. So, as far as the connectivity concerned, you're actually doing really good.
There are so many amazing things about the Dell XPS 13, however, there are some concerns that we would like to address here. For starters, the webcam is still placed on the bottom bezel, making things look awkward, and there's no Windows Hello on this laptop. Although these laptops shouldn't concern a lot of people, it's still important that we mention them.
Pros
Gorgeous, high quality touch screen.
Blazing fast speeds thanks to powerful hardware.
Ample connectivity options.
SD card slot is a welcome addition.
Available in a lot of different configurations.
Cons
Awkward webcam placement.
Windows Hello isn't supported.
Rating 4/5
Considering how everyone is releasing some of the best ultra-books in the market, Asus decided to capitalize on the situation and release the much loved Asus Zenbook UX310UA. This is the refreshed version, meaning that you are getting an upgraded processor, as well as some design enhancements.
The laptop is still keeping its all-aluminum design, something that we have grown fond of in almost all the laptops that are still staying true to the quality, and that is certainly something the consumers admire. As far as the build quality is concerned, it goes really well with the understated, minimalistic design of the laptop.
The laptop has backlit keyboard so that's certainly a good thing, however, the keyboard actually has a flex in it, and if you're someone who is a heavy typist, then you're going to feel the keyboard bend. Now ordinarily, this isn't an issue for people who don't work on their laptops, but this is definitely something we can't appreciate considering the price of the laptop.
As far as the specs are concerned, our unit came with a 7th generation i5 processor, 8 gigs of RAM, and 256 gigs of SSD. The laptop's screen size is 13.3 inches, and it offers a screen resolution of 3,200 x 1,800. As far as the connectivity is concerned, there's actually a decent amount of ports available.
The laptop comes with a 1 x combo audio jack, 1 x USB 3.1 TYPE C port, 1 x USB 3.0 port, 2 x USB 2.0 port, 1 x HDMI. While the ports are nothing out of the extraordinary, they're still enough for your daily use, especially the USB ports.
In case you're wondering, the overall performance of the laptop is pretty nice, in our testing, we didn't face any slowdowns whatsoever, and the laptop managed to run perfectly fine with decent acoustics, and thermals as well. Thanks to the SSD, the boot speed, and the overall speed of the laptop is pretty decent.
Sadly, the battery life isn't as impressive as we'd hoped. While PC Mark's battery test certainly reported a lower number in the range of 4 hours, the actual test proved somewhat better with the battery lasting more than 5 hours. Now it would have been really impressive a few years back, but considering how batteries are getting even better, it's somewhat a disappointing.
Pros
All-aluminum chassis.
Backlit keyboard.
Powerful hardware.
Gorgeous, vibrant screen.
Cons
Battery life is subpar.
Keyboard has flex.
Rating 4/5
While the market for 2-in-1 laptops has always been divided among people who love them, and people who don't consider them worthy, Lenovo has managed to stick around for as long as possible. The company has been releasing the Yoga Books, and some of them are actually 2-in-1s as well.
One of the latest Lenovo Yoga Book is actually a very inexpensive laptop that's available in the market, but keep in mind, that the lower price is actually a tradeoff for the specs, and this laptop is actually only built for extremely lightweight work load and nothing much.
Sporting a 1.44GHz Intel Atom x5-Z8550 quad core processor, 4GB LPDDR3 RAM, and 64 GB of onboard storage with the ability to expand it up to 128 GB with the use of micro SD card. You can see that the Lenovo Yoga Book isn't here to crunch numbers or perform heavy tasks. It's also paired with a beautiful 10.1 inch IPS touch screen with resolution of 1,920 x 1,200. There's a 2-megapixel camera on the front, and an 8-megapixel camera on the back.
Keep in mind that the I/O selection is very limited, and you only get a microUSB, microHDMI, 3.5mm audio jack. In addition to all of this, there's an 8,500 mAh battery powering this device. Now for those interested, the Yoga Book comes with either Windows 10 or Android 6.0.1 Marshmallow, but since our unit shipped with Windows 10, that's what the review is based around.
Considering how Yoga Book is made for artists, something that's really amazing, the company did away with an actual physical keyboard. Instead of that, there's this new tech called Halo keyboard that's present. Yes, it's a completely capacitive touch keyboard. Something that raised some eyebrows in the start, and while the keyboard did take some getting used to, it was surprisingly good afterwards.
The laptop also has a great battery life, is super thin, and has great ergonomics. Sure, the underpowered hardware is a concern, and the outdated microUSB port is also a very weird decision, but other than that, the Lenovo Yoga Book is actually a very good device, and it doesn't even cost much, so you can stop worrying about the price right from the get go.
Pros
Incredibly thin and lightweight.
Good for artists, and media consumption.
Amazing touch screen.
Halo keyboard is a nice innovation.
The create pad is cleverly implemented, and very useful.
Comes loaded with either Windows 10, or Android 6.0.1 Marshmallow.
Cons
The laptop feels severely underpowered.
The inclusion of a microUSB port is a step backwards.
Rating 3.7/5
For many, Apple's MacBooks are considered the gold standard of modern day laptops, and while it's true for the most part, the fact that these laptops are not running Windows is something that creates a perfect divide among the users. If you're spending so much money on a laptop, you'd want it to do all the things a Windows laptop can, but sadly, that's not the case.
Still, there's no denying that when Apple released the latest MacBook Pro, everyone was excited about it; for starters, the company implemented touch bar on top of the keyboard. If you haven't heard about it before, it's an OLED panel that contextually adds another row of functions on it. For instance, if you're messaging someone, it may add emojis. People who're using Photoshop or other editing tools may see shortcuts.
The MacBook Pro is armed to teeth with some great specs including a Quad-core 2.6-3.5GHz Intel Core i7 processor, 16 gigs of RAM, 256 gigs of SSD that can be upgraded to 2TB, as well as an upgradeable AMD Radeon Pro 450. While the specs are definitely amazing, this is by no means a gaming laptop, and everyone should keep that in mind.
MacBook Pro also has a gorgeous 15-inch screen with the resolution of 2,880 x 1,800 pixels, and in terms of connectivity, there's plenty available; you get 4x ThunderBolt 3/USB-C connectors, something that we are really impressed with.
As far as performance is concerned, it's really hard to doubt just how good the MacBook Pro performs, but for those wondering, it's one of the most consistent performers in the market, something that we love and adore. The screen also remains a favourite, as is the case with majority of laptops in the market, and while the touch pad is somewhat out of place at first, you get used to it really quickly, and start taking advantage.
Mac OS also remains an integral part of the MacBook Pro and is constantly becoming better and better. Last but not the least, the classic design, and plethora of connectivity options are there to make this laptop a fan favourite.
Though, keep in mind that there are some gripes; the battery life on the MacBook Pro is actually inconsistent, something that we didn't expect from a device of this caliber, and considering the price, the use of Radeon 450 Pro is concerning since it doesn't perform as well, and even though it can be upgraded to Radeon 460 Pro, we can't tell how good the performance is.
Pros
Top of the line performance with great hardware.
Gorgeous screen.
Great keyboard.
The touch pad is a rather nice addition.
Mac OS still works wonderfully.
Cons
The battery life is somewhat inconsistent.
The Radeon 450 Pro doesn't pack enough punch.
Rating 4.5/5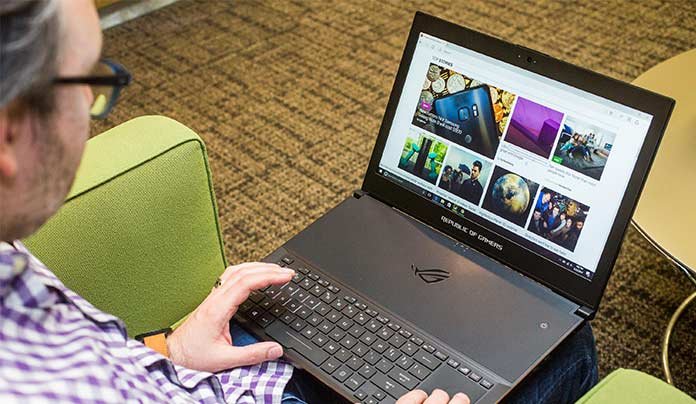 When you create a list of the best laptops, the entire spectrum becomes a lot broader than you may think, and in situations like this, you do have to add gaming laptops into the mix as they do qualify as some of the best. Keeping that ideology in mind, we're going to look at the Asus ROG Zephyrus GX501, a recently released gaming laptop that has a lot to offer.
Asus has left no stone unturned in the wake of one of the most powerful laptops in the market, the Zephyrus packs a hefty punch that can send several high end, equally priced laptops running away for their money. The configuration that we have comes with 2.8GHz Intel Core i7-7700HQ, Nvidia GTX 1080 with 8 gigs of VRAM and Nvidia Max-Q technology, 512 gigs of M.2 PCIe SSD with additional 4 more slots should you wish to upgrade.
You also get 16 gigs of DDR4 RAM, and a beautiful 15.6 inch, 1080p display with 120 Hz refresh rate, as well as Nvidia's G-Sync. As far as the connectivity is concerned, there's plenty to go on about, but the Zephyrus is packed with 1 x Thunderbolt 3 (USB Type-C), 4 x USB 3.0, 1 x HDMI 2.0, headset jack.
As far as the performance is concerned, the Zephyrus crushes every single modern title with great ease, and while the Nvidia GTX 1080 Max-Q is slightly slower than the full-fledged GTX 1080 we've seen in some of the other laptops, it's still important to keep in mind that at 1080p, the games don't stand a chance against this laptop.
Another amazing thing is that the keyboard is RGB backlit, however, keep in mind that it's not mechanical, and the lighting isn't individual key lighting, but still looks tasteful. Since Asus has decided to move all the cooling components at the back, the keyboard now sits at the front, along with the trackpad at the numperpad's location. However, you can actually turn on a digital numpad with just a press of a buttong.
This decision is certainly concerning for a lot of people, but you get used to it really quick, and for those who want to put the laptop on a desk, Asus does provide a wrist rest for you to use. Last but not the least, the overall design of the Asus Zephyrus is one of the finest we have seen. Just the right amount of outlandish, and professional.
With so many good things, you'd be hard pressed to wonder if there are points where the laptop lacks, and well yes.
During our testing, we've come to realise that the battery life is abysmal, and it would be a miracle if the laptop can last more than 3 hours. However, considering how small and slim this laptop is, it's actually a lot more understandable.
Pros
Amazing, top of the line performance.
Great build quality, solid design.
Armed to teeth with latest and greatest.
Top of the line speakers, and display.
Whisper quiet operation.
Cons
Really terrible battery life.
Rating 5/5
Microsoft has enjoyed a relative amount of success with their Surface line up of laptops, however, the journey was never this smooth as some of the early surface laptops had some issues holding them back. The good thing here is that Microsoft learned from their mistakes and decided to release something a lot better as the time progresses.
At the moment, the Surface lineup of laptops is considered to be one of the best for providing a completely untouched experience of Windows. Same goes for the Microsoft Surface Pro 4, a table that is fighting in the league of laptops, and is actually doing rather well.
In case you are wondering why the Surface Pro 4 made it to our list, it's because despite being a tablet, it is still running Windows 10, and can be coupled with a really amazing keyboard that's sold separately, thus turning into a full-fledged laptop.
The laptop comes in 6 different configurations, ours was the highest end model that came with an Intel Core i7 processor, 1TB of storage, and 16 gigs of RAM. You also get the Surface Pen in the package, the same pen that's fully compatible with the Surface Dial.
Needless to Say, Microsoft is not leaving anything behind when it comes to specifications, however, if you're not willing to spend much, you can get the lower end model for comparatively lower price, so there's always the option to go there.
The Surface Pro 4 come with a 12.3-inch PixelSense touch screen that is actually really good for designers, as for the Surface Pen, it comes with 1,024 levels of pressure sensor, making sure that the designers feel at home.
The overall performance is as robust as it gets, and it comes as a huge surprise that a laptop this small can perform so amazing in almost all the tasks that you throw at it. The battery life on the Surface Pro 4 is also something that happens to be amazing, and this is a great thing because laptops do need good battery life in the modern day and age.
The only real issue we have with the Surface Pro 4 is the fact that the Type cover doesn't come with it, and it costs a pretty penny in order to buy it separately, and while it may not bother everyone, people who are on a budget will definitely be concerned over this.
Pros
Comes in a variety of options.
Great performance.
Amazing touch screen.
Good for designers.
Cons
The type cover is something that you'll have to buy separately.
Rating 4/5
If you're not looking for a laptop that is built for really high end tasks, and you just want something that's affordable, and will get the job done, then don't worry, we do have some options for you. The Acer Switch 3 is based on the same foundation as several 2-in-1 laptops that have come before it.
The Switch 3 has one of the best build qualities that we have seen in a long time, the laptop is sturdy, lightweight, and an absolute treat to hold. Moving on, the specs are nothing fancy, but considering the use case of this laptop, it's actually a lot more understandable than you'd think.
The Acer Switch 3 comes with1.10GHz Intel Pentium Quad Core N4200 processor, 4 GB of LPDDR3 RAM, 64 GB of eMMC storage, 2-megapixel front, and 5-megapixel rear camera. As far as the ports are concerned, the Acer Switch 3 does offer some really good connectivity option, the ports include 1 x USB 3.1 type A, 1 x USB 3.1 type C, audio, MicroSD slot as well.
The Switch 3 has 12.2-inch touch screen with resolution of 1,920 x 1,200 IPS screen, the good thing here is that whether you're using it for media consumption, or you're just using the Switch 3 for something like productivity, the screen is going to be there for you, and make sure that your overall experience goes as smooth as possible.
Considering how it's a hybrid device, you can separate it from the keyboard, and use it as a tablet should you choose to, the good thing is that Switch 3 is actually very versatile, and it doesn't matter how you're using it, the overall experience remains as brilliant as possible.
Even the battery life on the Switch 3 is solid, while the PC Mark test reported somewhere along the 4-hour mark, during our testing, the laptop managed to run straight for 7 hours, something that is extremely impressive, especially when you look at the size of the laptop. Needless to say, we're really, really impressed by the small size, and the impressive battery timing.
There is just one small concern that we would like to point out, due to the 2-in-1 nature of this device, it uses a magnetic hinge design, and while the entire design idea is very clever, it's also tricky, something that can actually confuse the users at first, until they actually get used to it.
If you're okay with somewhat tricky hinge design, then the Acer Switch 3 is actually a great 2-in-1 laptop that can get majority of tasks done, especially the ones that don't require a really powerful hardware.
Pros
Gorgeous, colourful screen.
Amazing battery life.
Lightweight, portable, and well built.
Touch screen is extremely responsive.
Cons
The hinge design can be a bit tricky.
Rating 3.5/5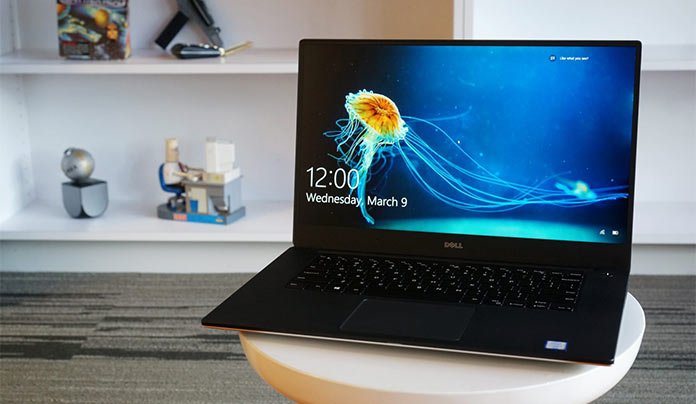 If the standard 13-inch Dell XPS isn't enough for you, don't worry. Dell actually has 2 versions of the XPS, this one comes with even better hardware, and a 15-inch screen, making it an almost gaming laptop, however, still classy enough to be considered a professional laptop. It still stays true to the legendary XPS design, and solid build quality.
The XPS 15 leaves no stone unturned, and offers some really solid performance thanks to the hardware that's packed inside this slim laptop. For those wondering, the XPS 15 comes with a Quad-core, 2.8-3.8GHz Intel Core i7-7700HQ, Nvidia GTX 1050 with 4GB of VRAM, 16GB of DDR4 RAM, and a 15.6-inch screen with 1,920 x 1,080 resolution. While the resolution may seem lower to a lot of people, it's still a standard for majority of laptops in the market.
The laptop also has a pretty decent amount of connectivity, it comes with 2 x USB 3.0, 1 x Thunderbolt 3.0 & USB-C 3.1 combo, 3.5mm headset jack, HDMI out SD card reader, this amount of I/O is actually plenty, so you shouldn't really have any issues whatsoever.
The XPS 15 still sues the same gorgeous, bezel less display that looks absolutely stunning, however, this comes as a tradeoff. To shave off the bezels, Dell had to move the webcam on the bottom bezel, and while it may not seem like an issue to a lot of people, you need to know that camera is placed in such a way that it'll always be looking at your nose.
So, keeping that in mind, if you're someone who uses Skype a lot, or actively takes part in video conferences, you may have to look somewhere else, or get an external webcam to get the job done. Another thing we didn't like about the XPS 15 was the underwhelming set of speakers. While majority of people are going to use headphones, for a device that costs this much, having good speakers is somewhat important.
Everything else about the Dell XPS 15 is great; the laptop has great screen, the battery life is top of the line, you can even game on it without much issues, and the laptop is one of the best looking laptops in the market with simple, understated design with plenty of good looks mixed very well.
The small things that actually hold the Dell XPS 15 back aren't that threatening to begin with, and the laptop is actually very, very satisfying.
Pros
Brilliant performance in both CPU, and GPU intensive tasks.
Gorgeous display.
Solid build quality.
Great design.
Amazing battery life.
Cons
Speakers aren't strong enough.
The webcam placement is extremely odd.
Rating 5/5
Few years ago, HP's stance on the high end laptop market was somewhat different, the company was largely focused on delivering business laptops and calling them high end. The HP ProBook series, and EliteBook series was one of the best of its time, and while it's still there, it's no longer the highest end option available.
As a matter of fact, that seat has been taken by the HP Spectre x360, and in all honesty, we can't really complain. The Spectre X360 is one of the best laptops in the market at the moment, and in case you are wondering, it does act as a 2-in-1 but doesn't cut short anywhere, making it one of the best laptops in the market.
HP has done away with the understated design of the traditional laptops that we have seen by them, the Spectre x360 comes donning black with gold/copper accents that look absolutely stunning. Even the logo that sits in the middle is completely different, and HP is using their new, minimalistic logo that looks amazing.
It offers great specs, however, we believe that the processor as well as the GPU could have been a bit better, the Spectre X360 offers a dual-core 2.7-3.5GHz Intel Core i7-7500U processor, 2GB Nvidia GeForce GTX 940MX GPU, 512 GB m.2 PCIe SSD, along with 8GB of DDR4 RAM. These are the specs our model had, and in all honesty, they're not special enough.
However, HP has made up for offering mediocre specs by giving a gorgeous 4K, glossy touch screen that looks absolutely stunning. Even if you're doing lightweight gaming, or watching movies, the screen is going to shine really, really well.
The HP Spectre x360 is also one of the best laptops in terms of design and build quality; the good thing is that the design doesn't look too outlandish, and that's a great thing. The overall colour scheme looks absolutely stunning. The Spectre X360 uses stainless steel hinges that can fold to 360 degrees, and will stand the test of the time without any issues.
The Spectre X360 also comes with a stylus that you can use to create art, and while it's not as accurate as a full-fledged graphic tablet, it's actually really good, and fun to use if you want to create some quick doodles, and if you're good with Photoshop, you can actually do some really amazing work using the stylus as well.
The Spectre x360 also offered one of the best batteries we have seen in the laptops that we have seen the market, it managed to last 9 hours on use, and this is something really, really impressive. Sure, the heavy workload will have an impact on the battery, but that's the case with almost all the laptops in the market.
Overall, the HP Spectre x360 is actually a very amazing laptop, it has all the bells and whistles you'd want from a modern day laptop. However, there are some things that really concerned us; for starters, for the price you're paying, you're getting a dual core CPU, and an underpowered GPU, and while it can still play games moderately well, it's not enough by any means.
We hope HP lowers the price on this laptop, and releases another Spectre x360 with powerful specs that are good enough for gamers as well professional users.
Pros
Incredibly stunning display.
Great battery life.
Amazing ergonomics.
Solid build quality.
Beautiful design.
Cons
Dual core processor is a stepdown.
GPU isn't as powerful as it should have been.
Rating 4/5
10. Dell Inspiron 15 7000 Gaming – Buy From Amazon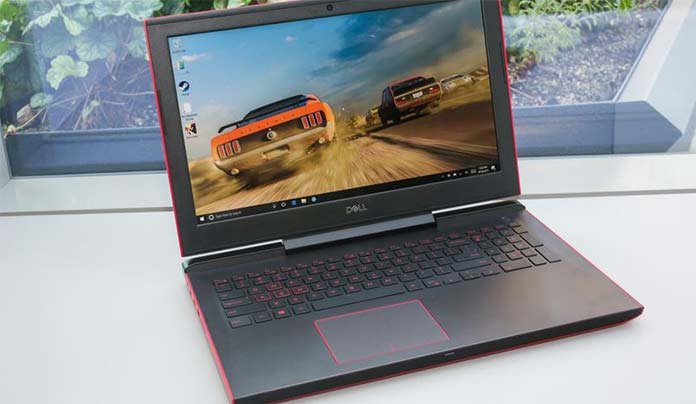 The last laptop on our list is again from Dell, however, this time, we're not looking at a super high end laptop from the XPS series. As a matter of fact, we're looking at something from the Inspiron series. Say hello to the Dell Inspiron 15 7000 Gaming. This is in fact one of the most affordable gaming laptops available in the market with some pretty decent specs to boot.
For starters, the Inspiron 15 comes with an Intel Core i7-7700HQ processor with an option for a Core i5 processor as well, you also get a GTX 1050Ti GPU with 4 gigs of VRAM. There's 16GB of RAM as well that will be plenty for almost all the modern games that are available in the market. As for storage, you get a 256GB SATA SSD paired with a 1TB hard disk drive for mass storage.
The connectivity on the Inspiron 15 is pretty basic, you get 3x USB 3.0, gigabit Ethernet, and SD card slot, nothing too fancy, and in all honesty, considering the specs, and the price you're paying, it's not really bad.
While other laptops are trying to be slim, and lightweight, the Dell Inspiron 15 7000 Gaming is shamelessly bulky, and heavier than the rest of the competition. At the same time, the laptop is majorly built out of plastic, however, the good thing is that the plastic is actually of good quality.
The gaming performance as well as the processing power remains as solid as we would like, gaming the Dell Inspiron 15 7000 Gaming one of the best laptops in the market. The same can be said about the battery life which is rather impressive despite all the powerful hardware that has gone inside the laptop.
Under light use, the Dell Inspiron 15 7000 Gaming managed to last a solid 10 hours. However, with web browsing, streaming, and other similar work load, the laptop managed an impressive 7 hours. This is an absolutely amazing battery timing. However, the important thing here is that when you're gaming, it's always better to plug in your charge in order to get the maximum possible performance without much throttling.
To be very honest, the only thing that we didn't like about the Dell Inspiron 15 7000 Gaming is the fact that the 15.6-inch 1080p screen isn't as good as it should have been. Don't get us wrong, it can be passed as a really good screen, but it doesn't offer the same level of contrast, sharpness, and colour reproduction as some of other screens in the same range. That coupled with the overall weight, and bulkiness of the laptop can raise some concerns.
If you're okay with all of this, then don't worry, as the Dell Inspiron 15 7000 Gaming is a great overall laptop that packs a solid punch, and can perform really, really well in almost all the games that are available in the games.
Pros
Solid gaming and processing power.
Amazing battery life.
Great specs for the price.
Cons
Bulky, weighty design.
The screen is just barely making it.
Rating 3.8/5
Conclusion
Writing this roundup wasn't an easy thing to do, mainly because some of the laptops were so good, that we had a really hard time making a proper decision. So much so that we ended up picking 2 of the laptops from the list and gave them the editor's choice. Yes, this is the first time that it has happened in our reviews, but the 2 laptops that we're talking about are so amazing that it would have been very unfair.
The first one is the Asus ROG Zephyrus GX501, while the laptop's biggest flaw was the f act that it has terrible life, but let's not forget that once you're over that, it's the most powerful laptop in the list with top of the line specs, brilliant screen, and performance that can rival some of the desktops in the market. Keeping all of these things in mind, it was pretty obvious that this had to be one of the laptops to deserve the editor's choice.
The second laptop is the Dell XPS 15; we've always loved the XPS series and there's no denying, however, the Dell XPS 15 is defying what modern laptops can be like. The laptop offers pretty powerful hardware that is capable of majority of workloads, and even gaming. The battery life, screen, keyboard, and connectivity options are ample. Sure, the awkward webcam placement, and somewhat weak speakers may hold the laptop back, but once you're over them, you have an amazing professional laptop that can also do some pretty decent 1080p gaming without breaking a sweat.
So, there you have it, folks. 10 of the best laptops 2018 reviewed and rounded up for you. These are some of the latest and greatest in the market, and are really capable machines. Whether you're looking for something to quench the gamer's thirst in you, or you just want something professional, these will be enough for you.