Ever since Playerunknown's Battlegrounds became a hit, the demand for gaming microphones went sky high as well. That is because the game became a reason for many people to start streaming on Twitch and other platforms. However, the use of gaming microphones is not just limited to streaming.
If you are someone who is actively engaging in voice overs, then a gaming microphone that has multiple directional settings would be ideal for you.  However, the focus today is on gaming microphones, and the article will be helping the readers buy the best one they possibly can.
Keep in mind that some of the microphones are also professional grade recording microphones, so they can definitely serve more than just one purpose. Gaming microphones are essential for streamers because it is a common case that the microphone that comes with the headset is not good enough.
You need audio clarity, and fidelity that is good enough, so when someone is watching your stream, they are not welcomed by several different noises coming from the background. The gaming microphones have multiple settings for directional sounds, so you can truly customize the experience of recording and doing voice-overs.
The article covers ten of the best gaming microphones you can buy now, some of them are professional mics that can either attach to a microphone holder, or just sit on your desk, while others are more traditional, clip-on microphones that are comparatively cheaper, but will get the job done without any issues whatsoever.
Let us have a look.
Top 10 Best Microphone for Gaming 2020
If I were to name one of the most popular microphones in the market, I would say the Blue Yeti. Despite the company releasing a Pro version of the mic with improved hardware, the original Blue Yeti remains on top of the list for years now. This is such a good microphone that even some of the best tech YouTubers like MKBHD have gone on the videos and praised it for streaming.
In fact, many famous streamers are using this microphone in their daily streams. The microphone has four directional settings that you can choose for different purposes, and on top of that, there is gain and volume controls as well.
For those who do not want to place the microphone on the table, you can always buy a good stand with boom filter, and have your own professional setup. The mic connects to any device you want with ease, there is no need for driver installation, or long, complicated processes that will bore you.
I was even able to use it on my phone with the USB OTG, and worked like a charm, so it is definitely a thing that you will like. The only problem I have with this mic is that the USB cable is awkwardly long, and the placement for the USB port is a bit awkward.
Other than that, the Blue Yeti is a near perfect gaming/professional microphone that will make your life a lot easier.
Pros
Extremely versatile.
Solid build quality.
Easy to use.
Excellent recording.
Four directional modes.
Cons
Awkwardly long USB cable.
Weirdly placed USB port.
If you find yourself on a budget, and you want a microphone that is good enough for streaming, and even some entry-level music recording then the Samsung G-Track Pro is a great option. Sure, the mouse does have a tacky name, but considering how it is by Samson, I have some faith as to how it will perform.
All the microphones that I have tested are being tested with PUBG on Twitch, the game requires proper coordination when you are playing a duo or a squad, one wrong step, and you can compromise your entire team.
The recording performance of this microphone was not bad at all, vocals were heard nice and clear, and while there was some background noise creeping in, it was nothing a boom filter cannot fix. The overall microphone design itself looks retro, and may feel cheap at first, but I can assure you that it is built using good quality material.
The microphone was relatively easy to setup, it uses a USB connection, and comes with a mini audio interface that will make your experience even better. Overall, I cannot really find anything wrong with the microphone.
Sure, it does not bode well with the overall colour scheme of my setup, but that is subjective, and I cannot hold it against the microphone itself.
Pros
Decent performance.
Minimal background noise.
Easy to use and setup.
Mini-mixer is a nice touch.
Cons
Picks up unnecessary background noise.
I have reviewed many Razer products belonging from different categories, and while I did not like all of them, some of the products managed to stand out quite a lot. So, when Razer introduced that they are releasing a professional grade recording microphone called Seiren, I was thrilled and scared at the same time.
Before I could review the original version, Razer came up with the Pro version and piqued my interest even higher. The Razer Pro is touting to be a professional game microphone that even producers would love. Seems like "For the gamers, by the Gamers" is no longer in play.
The unboxing experience was as smooth as you would expect, I must give Razer props over that. However, the performance is what makes me love this microphone even more. On paper, the microphone is packed with features that you would want in a professional microphone.
You even get a boom filter in the box, and at this point, the only thing missing is the boom arm. The performance is top of the line, and it is good enough to rival the likes of Blue Yeti, and the Blue Yeti Pro. However, the only reason many people would hold back from buying this microphone is the price tag.
The Seiren Pro is among the most expensive microphones you can buy, but it is also extremely amazing.
Pros
Top of the line performance.
Excellent unboxing experience.
Loads of benefit.
Solid design and build quality.
Easy to setup and use.
Cons
Beyond the reach of many average consumers.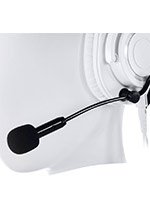 It is actually very surprising how not many people have heard about the ModMic, this is for all the people who are using high-end studio headphones that lack the microphone because they are being used for monitoring. I use AudioTechnica's ATH M50x while gaming, and before I shifted to Blue Yeti, I t tried the AntLion Mod Mic.
A friend lend me his to try out and I was actually surprised by the cleverness of this microphone. It is a small piece of hardware that attaches to the either side of your headset with a magnet, and the wire goes straight into your PC.
To make things easier and less cluttered, Mod Mic has also included some cable management accessories that will help you seamlessly manage the cables of both the headset and the microphone. The whole unit is rather small, and once it is installed, it is not easy to distinguish between the headset or the microphone unit.
The sound quality is surprisingly amazing on this little puppy. Granted, it has no match for professional grade microphones, but the performance is decent enough to let your Twitch followers know that you are still talking to them as well as your teammates if you are playing together.
The only complaint I have is that the ModMic requires a Y splitter if you want it to work on consoles and some other devices, and that accessory is not available with the whole package.
Pros
Surprisingly loud and clear.
Small, easy to install on any headset.
Fully retractable and blends nicely.
Dual microphone configuration.
Cons
The Y splitter is not added.
For many PC gamers, Zalman serves as a company known for creating some of the most impressive peripherals back in the day. These peripherals always targeted the budget gamers, and were not that expensive to begin with. Zalman is not the brand it used to be at one point, but they are still releasing new products.
The Zalman ZM-Mic1 is company's attempt at making a microphone solution for gamers who do not have hundreds of dollars to spare. Being the cheapest microphone on the list, this microphone is only for $7.
While it will not give you professional grade performance, the microphone is decent enough for communicating with your friend during online game. It may not be the best for streaming, because the audio quality is just average, but apart from that, it is pretty good.
In simpler words, I would say that the Zalman ZM-Mic1 is the perfect microphone for people who are on a budget, and want to upgrade to something better down the line. However, if you do not wish to stray from casual online gaming, then this is a perfect option for you to go for, and it will not burn a hole in your pocket either.
Pros
Extremely cheap.
Easy to use.
Cons
Average build quality.
Not multipurpose.
6. Audio Technica ATR2500-USB – View on Amzon
As a long-term Audio Technica user, it is safe to say that I get excited to use their products. I have been using the ATH M50x for over a year now, and these are by far the best sub $200 headphones that I have had the pleasure to use. However, you should know that the company also specializes in creating other audio equipment that caters to professionals.
The ATR2500-USB is a professional grade USB microphone by the company.  However, many gamers are using this microphone because of how clear the quality is, and the fact that the microphone is able to isolate the background is just an added benefit.
The build quality is solid as you would expect from an Audio Technica product, and using the microphone is an overall pleasurable experience. The microphone is also priced nicely, so anyone who is finding himself or herself on a budget can go for this microphone without any issue.
There are some caveats to this otherwise amazing microphone, however, they are more inclined towards music recording, and not streaming, or just doing voice overs. For starters, the instruments are not recorded that well, and the microphone only records up to 48 kHz. If you are okay with these small caveats, than the ATR2500-USB is an amazing microphone that will make your experience much better.
Pros
Exceptionally clear audio and recording.
Conveniently easy to setup and use.
Solid design and build quality.
Budget friendly.
Cons
Not good for instrumentals.
Will not record above 48 kHz.
7. Blue Snowball iCE Versatile – View on Amzon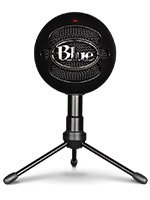 If the Blue Yeti is beyond your reach, but you are still looking for something reliable by the same company then do not worry. The Blue Snowball is a great microphone that you could go for. Sure, it is cheaper, and it literally looks like a snowball, but the good thing is that the performance is decent for streaming and VoIP.
Right off the bat, the microphone is extremely easy to use. For starters, you are not going to go through complicated setups that many people hate. Simply put, you are not going to go through the driver installation. It uses USB to establish connection, and once you plug it in, you can go ahead and use.
The microphone also supports all the programs that people use for broadcasting and streaming, so even if that is your concern, it should not be an issue. However, there are some issues that I have to address here. You need to know that apart from the USB port, there are no other inputs available.
However, when you consider the price of this microphone, it all starts making sense. Regardless, the Blue Snowball is a nice package if you are on a tight budget, and still want to be able to stream and record.
Pros
Inexpensive at best.
Good and clean audio recording.
Simple plug and play.
Cons
Lacks advanced features.
No other input.
There is absolutely no doubt that boom mics are growing in popularity. They can make even the simplest of headset into a full-fledged gaming headset without the need to spend extra money on an entirely new combination.
We have already reviewed and loved the Mod Mic, but the BoomPro from V-Moda follows a slightly different formula. You see, with the Mod Mic, you can use the microphone with nearly any device because the input has to go inside your computer, or your laptop.
Things are different here; the BoomPro mic will connect to a headset that has a 3.5mm jack that is not being used. What this means is that you are going to need a wireless headset to make it work.  This is a huge downside from my opinion, because given this; you are going to have to use your wireless headset for gaming.
Leaving many options out in the wild. The audio recording on the other hand is decent, with the mic being able to pick up all the details. However, at the same time, it picks up the background noise that might bother the listeners.
I would only suggest the V-Moda BoomPro if you have a wireless headset that you want to game on regardless of the conditions.
Pros
Light on the pocket.
Decent quality.
Cons
Only supports headsets that have a 3.5mm jack (wireless)
Manages to pick up a lot of background noise in louder environments.
9. Audio Technica AT2020USB+ – View on Amazon 
If you want a slightly different option than the ATR2500-USB, but still want the microphone to be from Audio Technica then the next option is the AT2020USB+. This is a slightly upgraded version of the AT2020, and a good alternative for someone who is not going to buy the ATR2500.
Do not worry, the signature build quality, and minimalist design is still here so you will not need to compromise anything. I actually find it better than the ATR2500 for some reason. The microphone has a good range, and the audio clarity is on par.
You do not need any additional equipment to get it working but if you are interested, you can attach a host of accessories like a boom filter, and even microphone stand if you prefer. Using this microphone for my stream went nice as there was absolutely no distortion, and I love the fact that the microphone is a simple plug and play.
For some reason, I was surprised when I found a tripod in the box for connecting the microphone, sadly, the tripod is useless as it is flimsy, and cannot even handle the weight of the microphone without wobbling.
Overall, the AT22020USB+ is an amazing microphone despite the useless tripod that it comes with.
Pros
Clean and crisp audio.
Simple plug and play.
Sturdy build quality.
Practical design.
Cons
The included tripod is worthless.
The last microphone on the list is the Rode NTG2, apart from being the last microphone on this list, it also happens to be the first shotgun microphone on the list. Shotgun microphones are almost half the size of a proper sized shotgun, and are used a lot for recording purposes.
I was not sure how my gaming experience was going to be with the microphone as this was my first experience with a shotgun mic. I have to say, I am pleasantly surprised, and impressed with the quality this microphone offers.
Sure, it may not be the most high-end microphone available in the market, but it provides a clean output, and everything can be heard loud and clear. Therefore, the streamers will not really have anything to worry about.
The microphone is definitely on the more expensive side, so you must keep that in mind, but considering how microphones are usually one time investments, it is not really a problem that cannot be fixed. The good thing is that you get all the accessories you need to use the microphone out of the box, but the microphone does support third party accessories as well, in case you are wondering.
There are some caveats that I must mention though, for starters, the windshield you get with the microphone is pretty awful to say the least, and the microphone lacks on and off switch. This can be troublesome for people who have to mute their microphones to attend a call or to talk to someone in their room.
If you can leave with these issues, then the Rode NTG2 is a pretty decent offering that will provide you with all the necessary features, and an amazing recording experience as well.
Pros
Brilliant output.
Convenient and easy to use.
Does not pick up a lot of background noise.
Works with a lot of devices with ease.
Cons
The windshield is pretty terrible.
The microphone lacks an on and off switch.
Conclusion
Testing the microphones was a treat because I wanted to know if I can find something that will replace my Blue Yeti, apparently, that is not the case here. The Blue Yeti remains the best microphone that I have used, and while the Pro variant might be better, it is not enough to convince me to upgrade.
Sure, there are microphones that will provide you some better features, but you need to take into consideration that the price to performance ratio on the Blue Yeti just throws everything out of the water. The microphone is amazing in different scenarios, and can even be used for proper amateur music recording if you wish to go that way.
Another good alternative is the Audio Technica AT2020USB+, if you are looking for different options. I would have picked the Razer Seiren Pro if it did not have the ridiculous price tag that accompanies the microphone.
I hope the list is good enough to help you the microphone that you have been looking for. If you think it needs some other microphones, feel free to let us know.