If you are looking for a microphone that you can use for voice chat during gaming, then the good news is that you have a lot of options available to you. USB microphones have been around for some time, and the good thing about them is their multi-purpose nature; you can use them for casual rounds of PUBG or Fortnite.
But if you want to stream, you can actually stream using a USB microphone as well. Buying the best USB microphone 2020 is not all that difficult either, but it can be confusing.
To make sure that our readers do not get confused when buying a microphone in the market, we have come up with this list of the best USB microphones available in the market.
Sure, you might be thinking that you can just save a lot of money and buy a $5 microphone, and you can, but it will not give you the same level of features, or even audio output that you would feel satisfied with. So, keeping that in mind, make sure that you do not end up with a bad microphone.
You can go ahead and check this list out for the assistance you need in selecting the microphone.
Top 10 Best USB Microphone For Streaming of 2020
1. Audio-Technica AT2020USB+ – Buy From Amazon
The Best Microphone For Youtube
When it comes to audio equipment – there are not many companies that can rival the prowess of Audio-Technica, they have been in the business for as long as one can recall, and not only that, they have released some impressive audio equipment. Their headphones are used by producers all around the world, especially for mixing and mastering the music, and their microphones are exceptional as well.
Today, I take a look at the Audio-Technica AT2020USB+, one of the highly revered microphones from the company's portfolio. I have been using the microphone for myself for some time now, and as a matter of fact, a lot of my streamer friends also use this mic.
For me, reviewing it was a joy because I got to test it all over again, and I have to say that the Audio-Technica AT2020USB+ gives you the best out of the box experience you would want from a microphone.
It is built like a tank, and the sound itself is clear and crisp without a lot of background noise creeping in, the frequency range is also decent. One of the best things here is that it uses the plug and play formula; you do not need to install any drivers, or proprietary software suite to get it working.
In addition to that, you also do not need any additional equipment to make it work. Last but not the least, the microphone is not going to cost you a lot of money either, so you have that satisfaction.
With that said, the only issue I have had with the Audio-Technica AT2020USB+ is that it comes with a tripod, and while it would have been a welcomed addition, it sadly can't stand the weight of the microphone itself, and struggles to maintain the balance.
If you don't have an issue with that, then the Audio-Technica AT2020USB+ is a near perfect microphone that you should go with.
Pros
Excellent sound.
Solid build quality.
Frequency range is among the best.
Simple plug and play.
You do not need any additional equipment.
Reasonably priced.
Cons
Tripod is a useless addition.
Best Budget PC/Computer Microphone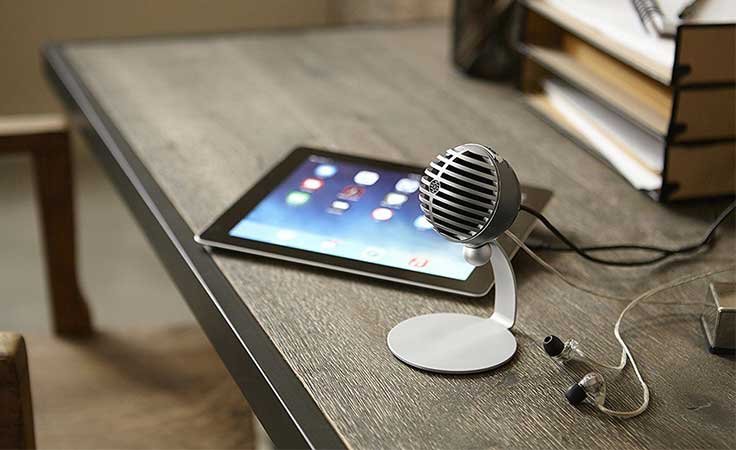 If you are looking for an affordable and low profile microphone that would fit anywhere you put it, then the Shure MV5 is actually a great option.
Before I delve deeper into the details, I have to tell you that Shure has specialized themselves in the audio industry by releasing some of the best products that catered to people with different price ranges. The MV5 is the middle of the road microphone that provides enough performance for everyone.
With that said, you are getting a great sound quality for the price you are paying, and it even comes with some DSP presets that I found out to be really useful. The reason why this is surprising to me is because normally, the DSP presets are not all that useful to begin with. The noise levels were decent as well, and I did not have any issues whatsoever.
The good thing here is that you can unbox this microphone and just use it as it is without actually needing any additional tweaking. You can even use this microphone for monitoring purpose if you want to. The one feature that everyone is going to love is that the microphone is compatible with nearly every device you would want to use it with.
There are a few downsides there and there; the microphone lacks the level of clarity would expect from something at the given price point, and in addition to that, the plastic build quality is not as good as you might want from the microphone.
All in all, the Shure MV5 is actually a great purchase, as long as you are okay with some minor inconveniences like a plastic build as well as some reduced overall clarity. Everything else is on point, and that is why it is a must buy for anyone who wants a low profile microphone.
Pros
Great quality out of the box.
Easy to use.
The DSP presets are actually useful.
Cons
Build quality is average.
Microphone is not as clear.
Video Review:  Shure Mv5
3. Blue Yeti (editor's choice) – Buy From Amazon
Best Usb Microphone For Youtube

 
For many people, Blue Yeti is considered to be the holy grail of microphones under the specific price point. Don't believe this? Just check out Twitch and see how many streamers are using this, even check out YouTube while you are at it. However, I would not blame you if you are having a hard time believing their views because there are sponsored as well.
With that said, the Blue Yeti is the microphone that I have used for the longest time, and I still do. Is it any good? Well, to be honest, it is a lot better than what you would expect from a microphone that runs off of USB. In fact, I know many people who have recorded music using this microphone as well; thanks to its 4 picking patterns that you can shift between on the fly.
The microphone itself is THX certified, and has excellent audio fidelity as well. Much like most of the other microphones on the list, you do not need any additional equipment to make it work, but you can pair it with a good interface for even better sound. The microphone even comes with a headphone input that you can use, it actually is a lot handier than you would expect as people can tune the volume of their headset with the volume of their microphone and have one control for both of the features.
Another great thing here is the solid build quality; the entire microphone is constructed out of metal, meaning that the microphone does carry a heft. However, that is also a good thing because you will not have to worry about breaking the microphone or something like that.
The things that I did not like are more of my personal gripes rather than objective; the button placement is a bit awkward with all the controls except volume and mute being on the back.
Pros
Best in class performance.
Excellent build quality.
4 picking patterns.
No additional equipment needed.
Cons
The controls are awkward to reach.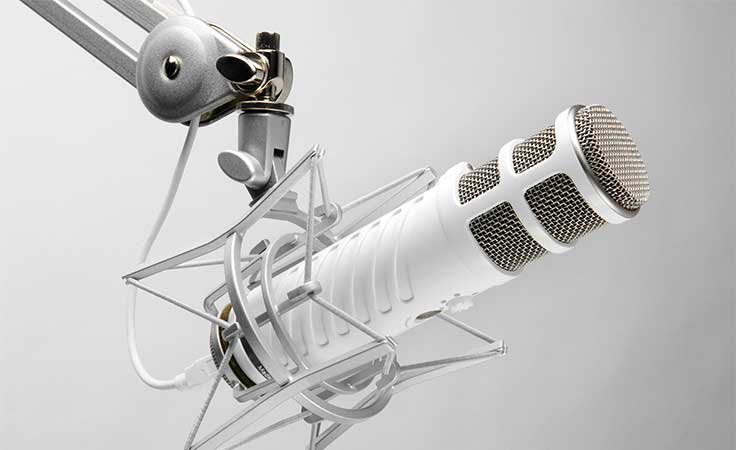 Rode is not stranger when it comes to delivering some fantastic microphones; I have tested and used their shotgun microphones and have never had any complaints whatsoever. The Rode Podcaster is no exception; sure, it is one of the most expensive microphones on the list, but for all the good reasons, it just provides you with such a great user experience that you do not feel like going back.
The first thing I noticed after using the microphone was just how perfect the voice tone was; I do not think I have ever used a microphone before that delivers my voice as close to the original as the Podcaster, you even get a built-in pop filter for added benefit, and the microphone still maintains the plug and play formula, so you really do not need to worry about having to go through complicated setup.
The build quality is another definite factor that I love about the microphone, and last but not the least, the microphone comes backed with 10-year warranty, which goes to show just how dedicated Rode is in creating a great product.
The only things I don't like about the microphone is that there is no mic gain control, and if you are going to use it to record instruments, you might not get the same level of performance as you would on vocals.
Overall, the Rode Podcaster is undeniably one of the best microphones available in the market; sure, there are some shortcomings but nothing that one can't overcome. It is a known fact that no microphone can actually handle every single aspect well, so it is more than understandable that Rode Podcaster is not as good in instruments.
Pros
Great audio performance.
Solid build quality.
The 10-year warranty is an amazing feature.
No latency during monitoring.
The built-in pop filter is great.
Cons
The microphone is not great for instrumental recording.
The lack of mic gain control can be problematic for some.
The last microphone on our list is from Audio-Technica again, and this time, it is the Audio-Technica ATR2500. The great thing about Audio-Technica as a company is that they always price their products in such a way that you do not have to pay a lot, and at the same time, you get some really great products as well. Keeping that in mind, the Audio-Technica ATR2500 is no different.
The microphone follows the same plug and play formula we have come to expect from these semi-professional microphones, and the good thing is that it seems to be working so far. However, there is more than just that; the build quality remains exceptionally sturdy, and the sound of the microphone is also great.
If you are an amateur musician who is looking for something decent enough to help yourself with recording, then the microphone will do a great job at that as well. Last but not the least, the sound isolation is among the best I have seen in a budget microphone, and that is saying something.
To be honest, the only thing that I did not like as much about the Audio-Technica ATR2500 is the fact that the provided microphone mount is really bad. This was the same case with Audio-Technica AT2020USB+ when I reviewed that one, but the good thing is that you do not need the mount to be able to use the microphone in the first place, so you can just not use it at all.
All in all, the Audio-Technica AT2020USB+, is actually a great option if you are looking for a good microphone and you happen to be on the budget. Sure, the bad mounting stand is something that you might not like at all, but as far as the raw performance and value for money is concerned, you cannot go wrong here.
Pros
Great value for money.
Simple and easy to use.
Amazing quality.
Solid build quality.
Cons
The included stand is just average at best.
Watch: The Best Microphone For YouTube 
Conclusion:
Reviewing the best microphones of 2020 was not a difficult task. Especially when I have had the pleasure to use most of them. The good thing about all of the options in the list is that they are all USB supported, you do not need to invest in expensive interfaces just to power them. Keeping that in mind, the list ensures that your buying experience becomes as smooth as one could expect; I don't think it could get better than that.