Getting calls from an unknown number is annoying at its best. Thankfully, you can get a 3rd party app on Android, and call the blocks that you did not want to attend. You can just get the Best Android call blocker and you will not have any issues with unwanted calls.
1. Safest Call Blocker – Download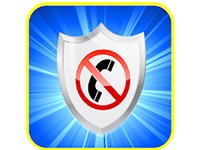 Safest call blocker is among my favourite call blocker applications on the Play Store; the reason being simple, it takes care of everything without giving you gimmicks that would ruin an otherwise great experience. So, keeping that in mind, you should definitely opt for Safest Call Blocker, I can assure you that the experience will be great.
You can block unwanted numbers with ease, and the best thing is that the Safest Call blocker is completely free as well, so you really do not have to worry about paying for a feature that should be free.
2. Calls Blacklist – Download
Although Calls Blacklist is one of the vaguest names, I had my doubts with this call blocker app at first, but once I started using it, I can assuredly say that this is one of the best call blocker apps that you are going to use. The app is pretty simple and easy to use, and thankfully, does not have any stupid notifications that can ruin the overall experience.
You can just download the app and get to work by blocking all the numbers that you do not want to receive any calls from. The process is simple.
Receiving calls from a number that you do not have stored, or you do not recognize can be annoying, especially if you are getting the calls again and again. In situation like this, the best thing one can do is block the number. While some phones have the feature to block numbers by default, not every phone does.
Mr. Number is a great app if you are looking to block numbers and make sure that you do not get any unwanted call from a number that you do not recognize. The app is non-invasive, and works without an issue.
4. Master Call Blocker – Download 
Master Call Blocker is another impressive application that you can get from the Google Play Store, the app lets you block all the calls that are bugging you. Honestly, the app is not difficult to use at all. I am mentioning this because I know a lot of people who are bothered by call blocking apps because they found them difficult to use.
The good thing about Master Call Blocker is that it works flawlessly in every single condition, and you really do not have to worry about not having enough to go around about with Master Call Blocker.
For the longest time, Truecaller has been one of the top call blockers available on the Google Play Store, as well as the iOS store. Truecaller is a complete package, because it not only can block unwanted numbers for you, it can even identify the caller, in case a friend is calling you from a new number.
For me, Truecaller is definitely the best call blocker on Android, or any platform for that matters, and a 10/10 recommendation as well. So you do not have to worry about not getting the proper experience with a good call blocking app.
6. Avast Mobile Security and Antivirus – Download
You might be wondering what an antivirus application is doing on a list of programs that are basically for call blocking. That is the beauty of Avast Mobile Security and Antivirust. Apart from providing protection against viruses, it also protects your phone from any unknown callers.
That is not all, the application is also really good when it comes to providing an overall security, and I can assure you that you will not have any issue whatsoever. It works really well, and does not create any issues either, making the experience much better.
7. Call Blocker Free – Download 
The last call blocker on the list is simply named Call Blocker Free. I got concerned because of that, thinking that it might not do the job. That is because there are some apps that are just available on the Play Store. Thankfully, that is not the case. Call Blocker Free works as intended, and I am glad it does.
Sure, the interface might look a little ancient, and too simple for some people, but overall, the main objective is that the app works, and it works well. So there are no issues whatsoever.
Conclusion
If you head over to the Google Play Store right now and look for the call blockers, you would end up with 100s of results. The list prevents that from happening, and only talks about the best possible options that you can download and use. I can assure you that your experience would be good.