We already published a round-up about the best gaming cards, however, the list was mostly targeted towards the high end gamers and was comprised of beasts like GTX 980Ti Amp! Extreme and GTX 970.
But today, we are going to bring you another list that targets the gamers who are on a tight budget.
Gaming cards that don't belong to the enthusiast level are often looked down by the hardcore gamers. However, it is considered that the budget gaming cards are actually better in giving you a pretty solid price/performance ratio.
With that out of the way, the market is sprawling with a striking number of mid-range gaming cards. The cards come from both NVidia and AMD so the fear of being stuck with one side.
Today we are going to take a look at 10 best gaming cards that are targeted for the gamers who don't want to spend more than $200 when it comes to a gaming card. All the gaming cards have been carefully cherry-picked to ensure the best bang for the buck.
So without further ado, let's take a look at all of the Best Budget Graphics Cards you can buy under Two hundred Dollars.
Top 10 Best Budget Graphics Cards For Gaming Under 200$
10. EVGA GeForce GTX 750Ti SC: Buy Now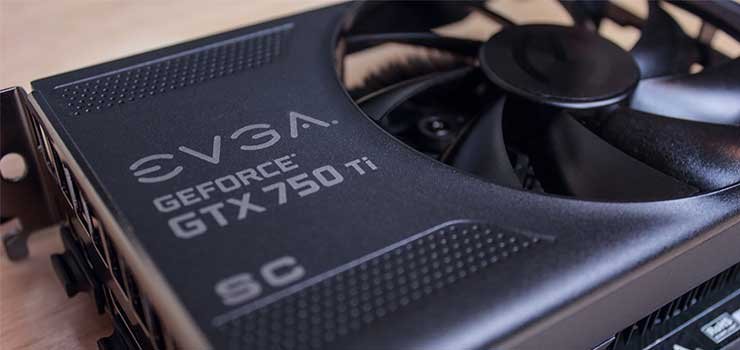 The first one on our list is the GTX 750Ti SC by EVGA; the SC stands for Super Charged. This particular gaming card comes for around $110 from Amazon and is more than enough for your bare gaming needs.
The GPU comes in 3 different variants from EVGA and this one is suited more for the budget oriented gamers. The GPU comes with 2 gigs of VRAM and considering how it is Super Charged, It is moderately overclocked to give you better performance over the reference GTX 750Ti.
Speaking of performance, just like this GPU won't break your bank, it won't be breaking any benchmarking records. These GPUs are mostly made for gaming at a really low level or watching high definition videos. In some cases, people use these gaming cards in their HTPCs.
However, a striking amount of people are using the GTX 750Ti for gaming purposes as these GPUs are perfectly capable of running games like Counter Strike: Global Offensive, DOTA 2 and League of Legends without breaking a sweat.
So if you are one of the gamers who'd rather spend a tad above 100 bucks to have a smooth gaming experience than spend 100s of dollars buying something very overpowering for their gaming need, get this without giving it a second thought.
9. MSI R7 370 GAMING 4G: Buy Now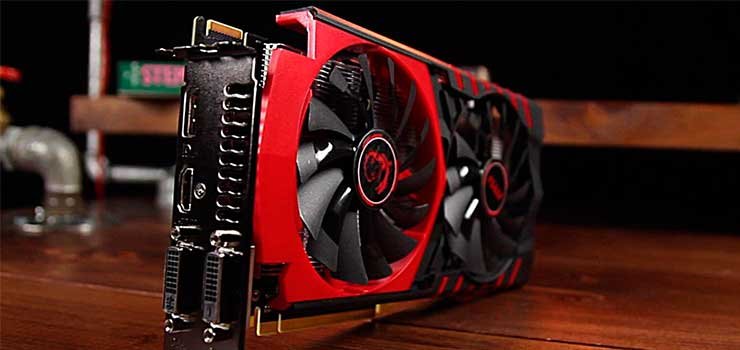 Now we have the MSI variant of the R7 370; the variant in concern comes with 4 gigs of VRAM and MSI's signature red and black Twin Frozr V cooler. At $154.99, you get the 4 gigs variant. In all honesty, this GPU is capable of delivering perfectly playable frame-rate.
Do keep in mind that if you wish to push Crysis to deliver you 60 frames, this card isn't built for the job. However, modern games will work and will give you a respectable amount of frame rate.
The MSI R7 370 Gaming 4G is the perfect graphics card for budget oriented gamers, it is cheap and performs the task it is intended for. With that said, this card does come with a custom PCB and a cooler in order to adjust the factory overclock.
8. Asus Strix Radeon R7 370: Buy Now
Next up on our list is the Asus Strix Radeon R7 370, as you may or may not know, the gaming cards that carry the Strix branding come with factory overclocked specs and a customized PCB.
Do keep in mind that the gaming card is still an entry level GPU and overclocking it beyond its suggested limit would be the perfect equivalent of killing a GPU. Other than that, as long as you are running it under the suggested clock speed and temperatures, everything should be fine.
With that being said, the GPU costs mere around $150 for the 2 gigs variant and around $180 for the 4 gigs variant. If you are looking to game on a higher resolution, then the smart choice would be to get the one that has a higher amount of VRAM for a smoother experience.
The GPU does come with a custom cooler and PCB for improved quality and stability so people who are concerned with aesthetics will have an easier time choosing this gaming card.
7. Asus Strix GTX 950: Buy Now
Representing the green time, we have the Asus Strix GTX 950, much like the other gaming cards that come with the Strix branding, this particular gaming card is also factory overclocked and has a custom PCB as well as a custom cooler design to provide better stability, efficiency and more performance in modern games.
The gaming card retails at about $168 and comes with 2 gigs of VRAM, bear in mind that lesser amount of VRAM doesn't equate to lesser performance. For instance, take the 8 gig R9 390X into consideration against the 6 gig GTX 980Ti; the latter is built like a tank and breaks the competition without breaking a sweat.
The Strix GTX 950 by Asus is more than capable of handling modern games and providing respectable and playable frame-rates. That and thanks to its power efficiency, you won't be needing a higher amount of power supply to power this gaming card.
6. EVGA GeForce GTX 950 FTW Gaming: Buy Now 
We are again talking about a GTX 950, however, this one's from EVGA and happens to belong to their FTW Gaming family. IF you're not familiar with that term, all gaming cards in this particular family are factory overclocked and are rated to perform better in all tasks thrown at them. The GTX 950 is no different; it comes with 2 gigs of VRAM and costs around $169.
The gaming card incorporates EVGA's proprietary ACX 2.0 cooling solution to provide improved stability, and thanks to its custom cooler and custom PCB, the GPU does come with a slight headroom for overclocking. But then again, don't try to push it way too far.
The GTX 950 is a decent gaming card that will help you achieve a good amount of frame-rate on modern games. It's been called the best bang for the buck in such an elegant price range. With that said, the GTX 950 manages to hit the 1080p sweet spot without heating things up.
5. MSI GTX 960 2GD5T OC: Buy Now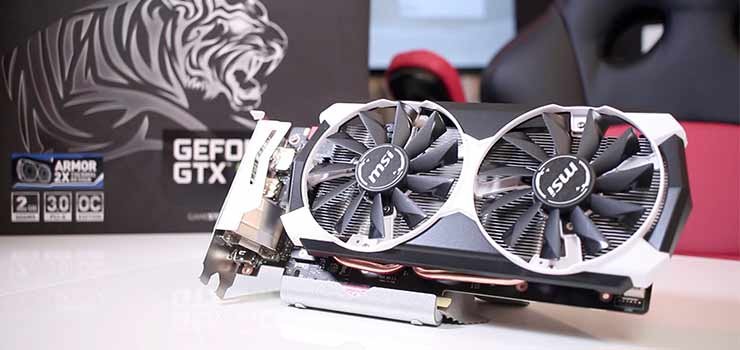 We now have the GTX 960 by MSI, it is a slightly powerful gaming card than the GTX 950 but still needed to be mentioned in the list. This particular one comes from MSI and has factory overclocks and a really pretty aftermarket cooler.
The GPU has 2 gigs of VRAM and a decent amount of core and boost clock. Speaking of the stock and boost clocks; the GTX 950 by MSI comes with 1178 MHz of base clock and 1241 MHz of advertised boost clock.
For those who don't know, the advertised boost clocks are never precisely given; the gaming card will always manage to boost more than the advertised speed. For instance, the GTX 980Ti Amp! Extreme will boost up above 1,500 MHz speed instead of the advertised speed that lies in the 13xx mark.
The GTX 950 by MSI comes with a black and white shroud that will go well with almost every color scheme considering how both colors happen to be neutral.
4. MSI GTX 960 GAMING 2G: Buy Now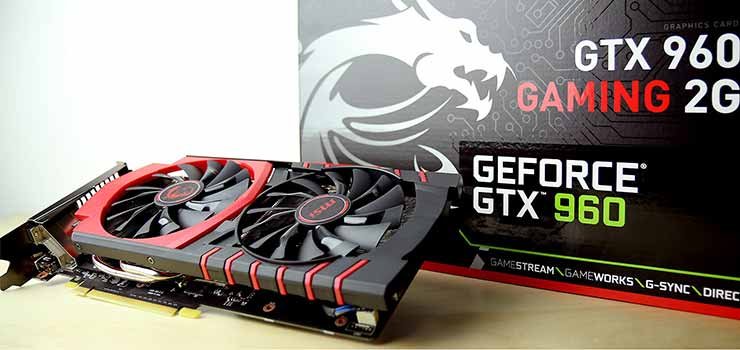 Costing slightly higher than the usual MSI GTX 960, we have the MSI GTX 960 Gaming 2G, this one belongs to MSI's family of gaming cards that use MSI's signature red and black aesthetics and the famous Twinfrozr V cooler. The GTX 960 Gaming 2G also comes with a higher clock rate as compared to the rendition we previously talked about.
Considering how this gaming card belongs to the gaming series, it comes factory overclocked and has a slight potential of manual overclocking as long as every aspect of overclocking is kept under a check. The GPU offers 2 gigs of VRAM that is effectively clocked at 7010 MHz and has a base clock of 1190 MHz and it boosts up to 1253 MHz.
Do keep in mind that these readings are from when the card is in Gaming mode; if you put it in OC mode, you'll get a higher core as well as a higher boost clock.
A key factor about this gaming card is how effective with power consumption it is, the GPU only requires one 6 pin PCI-E power connector to power up and won't be requiring a power supply higher than 450 watts under the usual set of system components.
3. EVGA GeForce GTX 960 SSC: Buy Now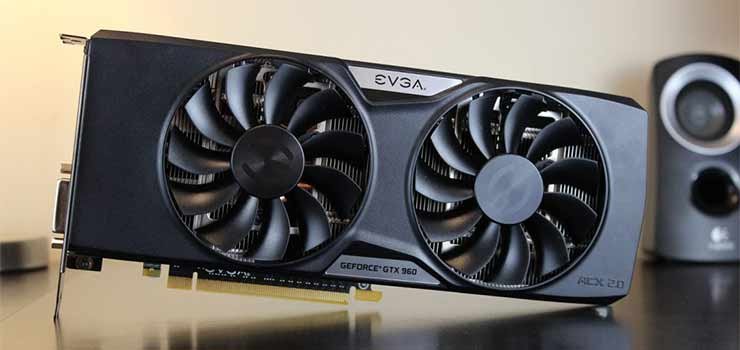 The reason the list is so populated by the GTX 960s is because it is a pretty capable gaming card for the price you're paying for it. This time, we are talking about the EVGA GeForce GTX 960 SSC. The card is one of the top of the line GTX 960 from EVGA's variants and offers a custom cooler as well as custom PCB.
The GPU comes with 4 gigs of GDDR5 memory that is effectively clocked at 7010 MHz and offers a base clock of 1279 MHz and a boost clock of 1342 MHz. The gaming card uses EVGA's ACSX 2.0+ cooling technology and has 2 fans to keep the temperature down.
For those wondering, yes, this gaming card does come with a factory overclock and can be slightly tweaked in order to give you a better performance.
When it comes to the price, this particular GPU costs slightly higher than what you would pay for other GTX 960s but considering how you are getting 4 gigs of VRAM and a cool looking design.
2. Gigabyte GTX 960 G1 Gaming: Buy Now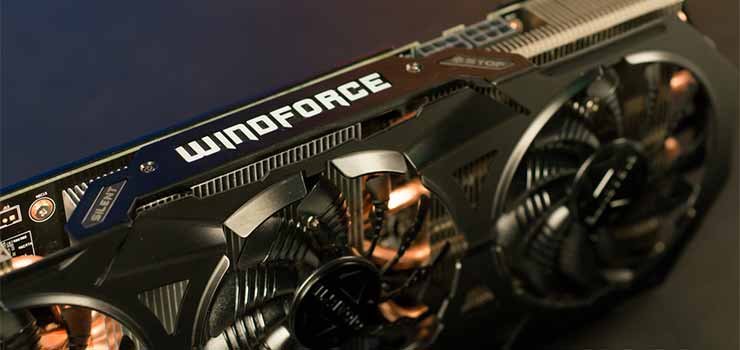 2 years ago, Gigabyte broke the ice and brought their G1 Gaming series; the first 2 gaming cards to join the ranks were the GTX 970 and GTX 980. Now Gigabyte is offering the GTX 960 G1 Gaming, quite simply one of the fastest GTX 960s available in the market at the current moment.
The G1 Gaming series is known for having an amazing factory overclock, in addition to that, these gaming cards can further be overclocked manually, all thanks to Gigabyte's Gauntlet program in which the chips get cherry-picked to ensure the highest standards of overclocking as well as stability.
The GTX 960 G1 Gaming comes with 4 gigs of VRAM that is effectively clocked at 7010 MHz, in addition to that, the GPU has a base clock of 1241 MHz and a boost clock of 1304 MHz. Moving on, the gaming card slightly costs higher than the rest of the GTX 960s we talked about but considering how it overclocks like a king and offers a lot of value.
1. Sapphire Radeon NITRO R9 380: Buy Now
The last one on our list also happens to the king, we are talking about the Sapphire Radeon NITRO R9 380, as you may or may not know, the NITRO series by Sapphire is highly praised for their overclocking abilities and performance and the R9 380 doesn't tell a different story here.
Although the GPU comes in both 2 gigs and 4 gigs variant, we are talking about the bigger one that costs about $220 on Amazon. The GPU is not expensive and more powerful than the GTX 960 that we have talked about previously.
That being said, it comes with a custom PCB as well as Sapphire's own custom cooler to make sure that the gaming card gets maximum stability, performance and efficiency. The Radeon R9 380 is the perfect gaming card for gamers who are willing to play games at 1080p as it delivers unprecedented performance in such an amazing price rate.
The best thing about this particular gaming card? It overclocks like a champion and manages to keep the thermal levels in control.
Conclusion
While the high end market is mostly dominated by Nvidia, the mid-range market tells a completely different story. Nvidia did a good job at pricing their GPUs, but were overwhelmed by AMD's price/performance technique.
Despite the given price-tag being tricky, it wasn't easy to pick all the gaming cards because of the amount of better ones available in used. However, most modern gamers prefer to buy their components while they are still sealed. Call it a royalty of some sort. With that out of the way, we can assure you that finding better gaming cards than the ones listed in this article while keeping the price in mind won't be an easy task to begin with.
We saw Nvidia taking the lead because of their aggressive pricing ability, but thanks to the sheer performance in this budget, and despite the competition being tough AMD managed to get the crown by having the most powerful gaming card in the given price range.
Feel free to let us know if you think we have missed any gaming card that would have been worthy enough to be named in the list.
Looking for More Amazing Gadgets?