Although there was a time when many people were under the illusions that computer speakers are no longer relevant mainly because the headphones evolved so much. There are still people who want to buy the best computer speaker just for the sake of enhancing their experience. Whether they are looking for the best computer speaker under 100, or going in the market with no specific budget in mind, there are plenty of options available both in terms of price, and terms of speakers.
This saturation has led to a fair bit of confusion among the first timers who are not really sure what to spend on, and how to spend. To tackle this glaring issue among the people who have never had a smooth buying experience when it comes to a computer speaker, I took it upon myself to talk about some of the best computer speakers available in the market that are under $100.
The reason why there is a price tag is that it will help people find products that are well suited for multiple purposes. Whether you want to listen to music, or watch movies, the suggested speakers will cater to all the specific needs of the users.
Top 10 Best Computer Speakers Under 100
Edifier R1280T Powered Bookshelf Speakers
The first speaker on the list is by Edifier, and it is the R1280T. A combination of two speakers that are made with the mind to allow the user to keep them on their bookshelves. Yes, speakers on a bookshelf is a thing, and it works really well as it allows you to truly enjoy the listening experience without any hinderances that might come in the way.
The set of speaker can connect to pretty much anything that you wish to connect it with, and will provide a uniform listening experience. Being a music buff, I was pleasantly and thoroughly surprised by the performance of the R1280T, the duo has one of the most powerful audio I have seen on a speakers of this size; the bass is power, and so is the treble. Everything blends in quite nicely.
Users can adjust the bass and treble as per their need, and everything else is on point as well; you can connect them to your PC, or your mobile phone with all the appropriate connectors included with the pair of speakers in the box.
With all the good things aside, there are not many negatives, however, I must mention that if you increase the volume to the box, you will eventually feel the distortion creeping in. In addition to that, there are no wireless capabilities included with the speaker.
Pros
Brilliant audio performance in all frequencies.
You can connect the speakers with your computer, or your mobile phone.
All the required connectors are included in the box.
Cons
Distortion can be a glaring issue on the max volume.
The speaker does not come with wireless capability.
Mackie CR Series CR3
If you are in the market looking for a fairly reference sounding speakers, then the Mackie CR Series CR3 might be the pair for you. Mackie has been in the business for some time now, and have made some pretty decent offerings to audiophiles who are just beginning their journey in this vast world.
The good thing about CR3 is that the sonic performance is among one of the best that I have heard so far. The speakers deliver good frequency range, and nothing feels over or underpowered. This is one of the best things about reference gear. You even get the volume and power switch on the front, allowing for easy control.
The speakers have enough power backing them, so it can get pretty loud, and does not sound tinny; the whole setup is also light and easy to carry, so there are no issues whatsoever when it comes to carrying them if you wish to do so.
The CR3 by Mackie are not bad speakers by any means, however, there are some things that are less than desirable. For starters, there are not enough ports around for people who prefer connectivity as a main thing. The speakers also have a lack of wireless option, and there is no manual equalizer adjustment that many people prefer in these speakers.
Pros
Decent, well balanced audio and sound quality.
Good amount of power to drive them.
Portable, lightweight, and easy to carry around wherever you want to.
Cons
There are not many ports available.
No wireless options.
No EQ control.
Creative GigaWorks T20 Series II
Almost everyone who ever has spent money on audio equipment knows about Creative; the company has always been vocal about the amazing products they provide. Today, we are looking at the Creative GigaWorks T20 Series II, amazing speaker set that is surely going to deliver an amazing performance on all fronts.
Right out of the box, the speakers present you with a great look and feel; you can easily tell that Creative has done an amazing job in creating these speakers. Everything else becomes apparent once you fire up the GigaWorks as the speakers happen to have an amazing, room feeling audio quality that does not distort, even at higher volumes. The build quality is also among the best, enough to keep you satisfied. Creative has also ensured that the price tag is not ridiculously high, meaning that nearly everyone can easily get his or her hands on the Creative GigaWorks T20 Series II without breaking the bank.
As far as the audio performance is concerned, I really did not feel like there is something missing concerning the performance. However, I must talk about the bass response feeling a bit unnatural, but when a friend heard music on it, the remarks were a bit different, and so I would assume it is subjective.
Pros
Beautiful looks.
Great build quality.
One of the best sounding speakers with sound that can fill up a room.
Brilliant price point that is affordable by the masses.
Cons
The bass response feels a bit unnatural to a trained, nitpicky audiophile.
Bose Companion 2 Series III Multimedia Speakers
I am not going to hide the fact that Bose is among one of my favourite companies when it comes to audio products. Their headphones have been in my arsenal for as long as I can remember. However, today, I am looking at the Bose Companion 2 Series III Multimedia Speakers. A pair of speakers from Bose that are probably among their cheapest products.
The low price does not mean that the speakers are bad by any means, as a matter of fact, the Bose Companion 2 Series III Multimedia Speakers are among one of the best sounding speakers I have had the chance to test. The speakers are small, and lightweight, meaning that you can easily carry them whenever you want.
In addition to that, you can use them with the standard headphone jack, expanding your connectivity options by a fairly good degree. The speakers provide a powerful sound that is not the best in class, but it is enough to make the most out of any situation when it comes to playing music, and even watching movies.
Although the speakers are loud when it comes to output, I must say that the sound can feel a bit muddier as compared to the competition. In addition to that, the speakers leave you with a desire to have wireless option as well, limiting your overall control over the speakers, that you would have with wireless.
Pros
Powerful sound.
Easy to carry.
Decent build quality.
Use a headphone jack.
Cons
The sound can feel muddier at times.
The speakers do not offer any wireless capability.
Edifier R980T 4″ Active Bookshelf Speakers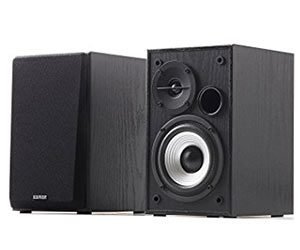 Edifier is back on the list with the R980T bookshelf speakers. Not everyone wants a humongous speaker set for audio, sometimes, subtlety is good. With that said, the R980T speakers look good as they are, and considering how they are by Edifier, I do trust the build quality as well.
Moving on to what really matters, the Edifier R980T 4″ Active Bookshelf Speakers sound really nice for what you are paying. They are not the best sounding speakers, but judging by the price tag, I do not think you could have asked for more. The speakers even provide a decent amount of bass, despite not having a dedicated sub-woofer. Last but not the least; you also get extra cables just so you can get the chance to have multiple connectivity options if you wish to go that route.
There are some things I wish the speakers had; for instance, the bass is there, but it can feel underwhelming at times. One more thing that I would like to point out is that the switches and controls are located at the back; making it harder for most people to be able to control it properly.
Pros
Decent audio performance.
The build quality is good.
The speakers are reasonably priced.
Cons
The bass is somewhat middling.
Controls are located in the rear, making it a pain to access.
Logitech Speaker System Z523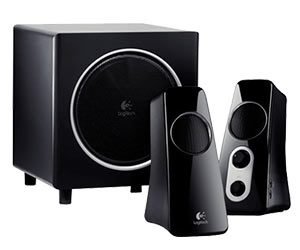 Logitech's impressive line of audio equipment has been around for quite some time. Not many people might know but they have released some fine speakers that perform really well. Today, we are looking at the Logitech Speaker System Z523, a good speaker system that does not break the bank, and does not cost a lot of money either.
Right off the bat, I have to tell you that the Z523 is the first speaker on the list that comes with a sub-woofer as well, making the overall package much more appealing to people who don't want to spend all the money, and still get the most out of the budget. You get great sound for what you are paying, and thanks to the sub-woofer, the bass is also great. There is a good amount of connectivity options available and the volume plus bass controls are helpful as far as the control is concerned.
In the given price range, it is hard for the Logitech Speaker System Z523 to go wrong; the speakers provide nearly everything and more to the consumer, and does not hold back. If you take a deeper look at the speaker system, there is not a whole lot of wrong with the speakers. Sure, there are better options available, but they are also more expensive. Therefore, you always need to keep that factor in mind.
Pros
Great audio performance.
The added sub-woofer is a great touch.
Solid build quality.
Plenty of available controls on the speaker system.
Cons
There really is not anything wrong with the speaker system.
Avantree SP750
If you are in the market looking for a bunch of speakers that provide a decent performance, and have Bluetooth connectivity as well, then look no further and go for the Avantree SP750. Although the speakers from a company not many people, including me, have heard about, it is still exciting to see the options available for people who don't want to spend a lot of money when buying something.
The Avantree SP750 is so far the first wireless pair of speakers on our list, and I will not deny that I was pleasantly surprised upon receiving these for testing. Considering how this was my first experience with this comp any, I started my testing with no expectations, and to be honest, I am really pleased by the way the speakers perform. The speakers are small enough so it is confirmed that they will fit wherever you want them to fit.
The sound is really good, and the Bluetooth connectivity is a great touch, especially for people who prefer having full control over the music that they are playing. The build quality and design are just average at best, and the speakers might feel flimsy and cheap to some people, so that is important to keep in mind.
Pros
A cheap wired and wireless option.
Small footprint, making the speakers easily relocatable.
Decent sound quality.
Cons
The build quality is cheap.
Design feels generic at best.
Micca MB42 Bookshelf Speakers
If you are looking for a pair of bookshelf speakers on the cheap, then the good news is that there are countless options available. Sure, not many people might want to go for bookshelf speakers, but I will not deny the fat that they speakers are widely available, and for cheap. The speakers I am looking at right now are the Micca MB42 Bookshelf Speakers.
These are probably the most simplistic looking, smallest speakers I have tested so far. But don't be fooled by their small stature; when it comes to performing, these are among the best speakers with respect to performance; they sound decent enough for what you are getting them for, and the build quality is also great, especially when you factor in the price part. You get all the necessary accessories that you want to connect the speakers and to ensure that they can blend in well with the rest of the room.
At the price you are paying for the speakers, there is not much that can go wrong with the pair; the price is good, and the performance with regards to the price is also respectable. There are some competing speakers that are of the same price, but with better performance, but not in all the cases.
In simpler terms, I would only recommend these speakers if you happen to be looking for something that can easily fit in wherever you want them to fit in. If that is not all you want, then opt for options that are bigger, and sound better as well. It is just what my observation and experience with the speakers would suggest.
Pros
Small size.
Decent sound quality and output.
Cons
Similarly priced speakers offer better performance in the market.
Cyber Acoustics 2.1 Computer Speaker with Subwoofer CA-3602 FFP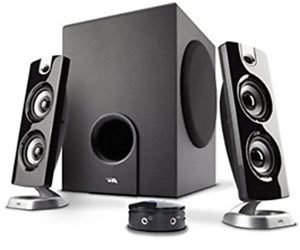 As I am getting closer to the end of the list, I am looking at speakers that are from companies that are not famous as compared to some of the others in the list. For the ninth entry on the list, I am looking at the Cyber Acoustics 2.1 Computer Speaker with Subwoofer CA-3602 FFP. A set of speakers that also comes with a wooden sub-woofer with a 25-inch driver; making it the second set on this list to have a subwoofer.
The speakers are nicely made with futuristic design that might not be for everyone, but it is tastefully done, and looks good in most settings. You get a control pod that houses the connectivity options as well as the controls for bass, as well as volume. The separation between both of the speakers is pretty good, making the speakers able to fill out a room with sound. The speakers are nicely priced, and I don't think you can find a better option in this range.
I don't have much to complaint as far as the performance is concerned, I just feel like the sub-woofer starts rattling when pushed higher. Then considering the price, it should not come as a surprise at all, because the speakers do cost cheaper than many other options available in the market.
Pros
Decent price to performance ratio.
The sound separation is good.
The sub-woofer is a nice addition.
Cons
The bass starts rattling when turned higher.
The design might feel outlandish to some.
Logitech Z200 with Stereo Sound for Multiple Devices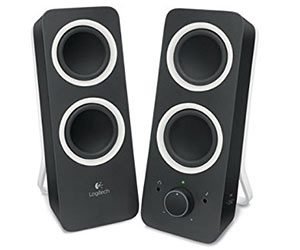 The last offering on this list is again by Logitech, and this time, I am looking at the Logitech Z200 stereo speaker that are made with versatility in mind. When I say versatility, I mean that the speakers are made to provide good performance for people who want to keep these stationary, as well as people who prefer mobility.
Considering how the speakers are low-powered, they can run with your smartphones as well, and without any issue whatsoever. In addition to that, you can use them with your computer too. Now judging by the stature, these are not the biggest and most bad speakers in the market, but the performance they provide is decent enough to keep you going for a longer period.
I don't really think I can talk about how the speakers are not good enough for many people, these are for people who are on a low budget, and keeping that in mind, I don't think you can go any better than this. They sound pretty nice, are built nicely, and don't take a lot of space either.
Pros
Solid build quality.
Good design.
The controls are on the front, and easy to use.
Can be used with multiple devices with ease.
Cons
Only a few people can properly enjoy the sound quality.
Conclusion
After testing 10 of best computer speakers under a 100, I can only say that it has been a thrilling experience to say the least. Sure, these speakers are not made for everyone, and people might even prefer going for something on the higher end, but if you are finding yourself on a budget, and you want to buy something that does not break the bank, then you are right at home.
As always, I have to pick one speaker set as a winner, and in this article, the best one in my opinion is the Logitech Speaker System Z523. It provides one of the best sound qualities, and a long list of features that make it an impressive buy, and considering how you also get a sub-woofer that offers solid bass, and brilliant listening experience, you just can't go wrong with this set.
If you think the list needs more speakers, or better ones, feel free to comment below, and I will surely check out the options, and make sure that they are properly reviewed in the future articles when this one needs updating. Hope it helps you buy the best possible speaker for your computer.