For those who do not know, a dash cam, or a dashboard camera is basically a camera that is mounted on your vehicle's dashboard. The dash cam is usually looking towards the windshield, and capturing all the view. Dash cam is great for a lot of things, including capturing footage that can be useful in many cases.
For instance, dash cameras have helped regard instances of accidents upon impact as well, confirming that the person driving the car was in fact involved in an accident. These cameras make it really hard for people to claim fraud insurance.
Similarly, in several countries, dash cameras are used to make sure police officers are recorded, and if stopped, they do not go ahead of their jurisdiction. Needless to say, the uses of dash camera spread far beyond the spectrum modern day would tell you about.
Dash cams are a lot more than just hobby devices, and can be useful in a lot of different instances. However, not every country is open to the concept of dash cam. Austria is one of the countries where the use of dash cam is strictly prohibited, and is followed by a heavy fine.
At the same time, there are some countries that openly support the use of dash cam, and have permitted them in the law. If you are in the market looking for a dash cam, you will be presented with a lot of options.
It is safe to say that you want the best possible option to choose from, and that is why, I am reviewing the best dash cams that you can buy in the market.
Top 10 Best Dash Cam 2021
Anker is a company largely synonymous with products like power banks, chargers, charging cables, and a couple of other products as well. So, when they announced the Anker Roav dash cam, the excitement was certainly there, because of company's history of solid products.
The Roav lineup is strictly for dash cams, and is supposed to make your driving experience a lot better, and safer. It comes with a Sony Exmor sensor that is capable of recording crisp video at 1080p. Remember, the goal here is to record video that is clear enough.
For its price, the Roav has a good list of features that are more than enough for the majority of users. For starters, you get the feature in wh9ch the camera keeps recording when parked on impact, it also allows you to connect your smartphone with the camera wirelessly.
The camera records the video at 145-degree angle, making it a lot easier for the driver to make sure that everything is captured. There are some minor shortcomings that I did not like about the Roav, for starters, the camera does not come with a storage option, so you will have to buy that separately.
In addition to that, another important thing you should know is that there is no option of GPS recording available. If you are okay with these small issues, then the Anker Roav dash cam is an amazing an amazing option for you.
It has all the right features such as parking monitor, good video capturing angle, solid build quality, and the ability to shoot amazing looking videos.
Pros
Videos come out super clear.
Parking monitor is a nice feature.
Can connect with your phone.
Cons
2. Thinkware Dash Cam X500 –

View on Amazon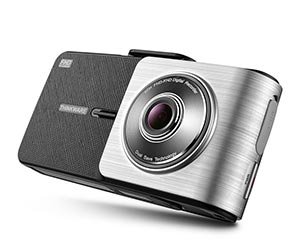 The Thinkware Dash Cam X500 is one of the higher end dash cameras available in the market. The camera is aiming to make the overall user experience a lot easier. The camera comes at a higher price, but that is justified by the amount of features that the user is getting.
The camera records video in HD through a wide angle lens, it also has the capability of automatically record and save footage of driving, as well as collision (if any). The X500 also comes with a feature known as GPS encoding, the feature allows you to see the exact location of the incident.
While this feature has a very specific use case, it can be really handy in certain scenarios, making the overall job a lot easier. Another feature that I really love about the Thinkware Dash Cam X500 is the fact that it comes with a built in red-light and speed camera database.
The database alerts the user of nearby speed cameras, as well as red-light cameras, ultimately making them follow the traffic safety rules properly. This is a feature that can significantly reduce over speeding in several case.
The Thinkware Dash Cam X500 is an amazing camera, but there some downsides to the otherwise brilliant dash camera. For some reason, the driver assisting feature that is built-in the camera is rather easy to trigger. So much so that it almost becomes unusable.
In addition to that, the user interface can be a bit too confusing for the newcomers, and there is no easy way to navigate. These are some of the issues that hold the Thinkware Dash Cam X500 back, but do not stop it from becoming a wonderful dash cam.
Pros
Records clear video.
Comes with several advanced features.
Built in red-light, and speed camera database helps the driver follow rules properly.
Records video automatically at time of driving or collision.
Cons
Driver assistance features trigger easily.
Navigation is a bit difficult.
3. Z-Edge Z3 Plus Dash Cam – View on Amazon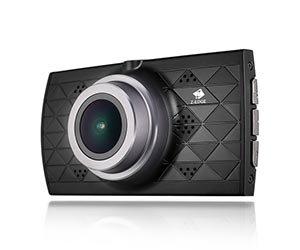 For anyone who finds themselves in the market looking for a cheap dash cam, the Z-Edge Z3 Plus dash cam is a great choice. At the time of writing, this is one of the cheapest dash cams available in the market. Normally, the lower price associates with a severe lack of features.
The good thing here is that the Z3 Plus covers almost all the essential features that you could want in a dash cam, and manages to keep the price low. You get a rather decent video quality, good enough to actually show everything that the camera records.
The camera also comes with a 32 GB microSD card, it is not the biggest capacity, but is more than enough to record a pretty long video. In case the storage runs out in the middle of recording, the camera will loop over, and start recording again. This will overwrite all the previously recorded footage.
The camera also has a g-sensor that it can use to detect any collision, or incident. In addition to that, you also get parking surveillance mode, something that is mostly found in the higher end cameras. Overall, the Z-Edge Z3 Plus dash cam is a pretty good, but it does lack some of the basic functions.
Functions that are becoming increasingly popular, and even necessary for a lot of people. For starters, you will not be getting any GPS encoding with the camera, and there are no advanced safety features to begin with.
If you are okay with these shortcomings, and you are just looking for a simple dash camera, then the Z-Edge Z3 Plus dash cam should be more than enough for the basic use.
Pros
Quite inexpensive.
Records decent looking footage.
Comes with a 32 GB microSD card.
Cons
Does not come with GPS encoding.
No advanced safety features.
The next product on my list is the Rexing V1 dash cam, it is actually one of the larger dash cams in my list, however, the good thing is here that the size is not too big to hinder the overall experience. Rexing V1 dash cam is also on the affordable side, making it one of the better options.
Sure, you do lose some features, but the camera makes it up for that by providing you an ease of access, and footage that is clear enough. If you are wondering whether or not, you will have access to advanced feature. The thing I like about the V1 is the modular nature.
The camera itself is barebones, but you can purchase the GPS system separately, something I would definitely recommend. However, if you want to spend more money, you can also invest in the upgraded version that comes with dual cameras, dual channels, and integrated GPS.
The capturing part of this camera is actually not bad at all; whether you are driving in day-time, or night time you are going to like the overall capabilities of the camera. Making sure that you don't get blurry footage, or footage that is really difficult to see.
The lack of GPS, and some advanced features might make the Rexing V1 dash cam sound like something that is an incomplete package, but solid performance and overall good build quality allows the camera to have a spot on our list.
Plus, the fact that you can pay extra and get the GPS module is just a good deal because you are not really paying a high amount for the camera, even with the price of GPS module included. So, it's all good.
Pros
Is not too heavy on the pocket.
Shoots videos with detail in both daytime, and night.
Cons
You have to buy the GPS module separately.
5. FalconZero F170HD Dash Cam – View on Amazon
If you are looking for something so compact it can fit in your pocket, the FalconZero F170HD dash cam is a really good option. While I am not reviewing the camera for its portability, the fact that it is so small is nothing short of astonishing.
The video recording capabilities are nice enough on the FalconZero F170HD dash cam, however, the camera does not pack a lot of advanced feature. The good thing is that it does have some basic features like g-sensor, loop recording, and auto on and off. While these are not enough for most people, they should do the job.
You would be surprised to know that the camera also comes with GPS that allows you to overlay the recorded video on Google Maps along with the coordinates. This is one of the best features I have seen in a dash cam and I would love to see this make its way in other cameras too.
For those who want to make sure that nothing is tampered with, the dash cam comes with a lock file button, and in addition to that, time stamping feature as well. This will ensure that the footage that has been recorded does not get tampered with.
To be honest, aside from the steep price, I don't think there is anything wrong with FalconZero F170HD dash cam. It has a lot of amazing features, and it is actually small enough to blend in.
Pros
Small, compact build.
Records FHD video at 30 frames per second.
Comes with GPS, and other necessary features.
Cons
If the Rexing V1 was on the larger side for your taste, do not worry. I have another amazing dash cam from Rexing that is on the smaller side, and still manages to pack some nice features in the package. Smaller dash cameras are becoming more and more popular, and I admire that.
It allows the person to not worry about having something large obstruct the view, and keep things minimal. The Rexing F9 dash cam is built just for that, and the good thing is that despite the smaller size, you do not lose the features that you thought you would.
You get 170-degree wide angle recording at full HD resolution, it has the g-sensor, motion detection, wide dynamic range, and night vision as well. All of these features contribute towards making the F9 dash cam an amazing option for people who want the best of both worlds.
The camera is also able to lock the files, making sure that no one is able to tamper with them. The only thing it really lacks is GPS encoding. Something I personally would have loved on the camera. If you are okay with the lack of GPS encoding, then the F9 dash cam should serve you well in all situations.
In conclusion, the Rexing F9 Dash Cam is a pretty good option for anyone who is looking for a dash camera that is small, and has some good features. The lack of GPS is off putting, and I am not going to deny that, but if are on a budget, you cannot get anything better than this.
Pros
Allows full HD recording.
Comes with all the basic functionality like g-sensor, night vision, wide dynamic range.
One of the widest lens in a dash camera.
Small enough to easily mount in your car.
Cons
Does not have GPS encoding feature.
7. Nextbase 512G
 
If you are looking for something that belongs to the higher end spectrum, then you are at the right place. The Nextbase 512G is one of the more expensive cameras on the list, and for all the right reasons. The camera's primary focus is to provide the best possible features, and be compact.
You get full HD recording, and a lot of other options that will make your driving experience a lot better, and in one way or another, safer as well. The Nextbase 512G comes with wide dynamic range, an f/1.6 aperture, GPS, g-sensor, and all the other features that are important in a Nextbase 512G.
The overall performance and shooting on the Nextbase 512G is rather impressive, it comes with a CPL filter on the camera. In case you don't know, this filter gets rid of the sunrays that fall on the windshield. Thanks to the filter, you will not be able to have sunrays mess up the recording, and will give a clear video.
It even has an internal microphone that is pretty good for recording pretty much all the details there are in the audio. Overall, the Nextbase 512G does a pretty good job at being a decent dash cam for recording videos.
Whether you are using it with all seriousness, or just a hobby, it will provide you a decent experience without creating any issues whatsoever. The only issue I have is a rather small 2 MP sensor. Still, it does not hinder the video quality all that much.
Pros
Really good with recording videos.
Comes with some nice features.
GPS is always a good option.
CPL filter is an amazing feature.
Cons
The camera sensor is just 2 MP.
Yes, Garmin is the leading company when it comes to navigation, so it was only natural that the company comes up with a good dash cam as well. I am looking at the Garmin dash cam 55, a simply named dash cam that manages to offer a lot of good things for a price.
For starters, this is the first camera on this list that offers recording in 1440p, the rest of the cameras record on 1080p for the sake of comparison. You can still record videos at 1080p at both 60 frames per second, and 30 frames per second if you want to.
Needless to say, the 3.7-megapixel CMOS sensor is more than enough for capturing good quality video that is clear enough. The camera does come with all the basic features you would want from a dash cam including g-sensor, GPS tracking, and Wi-Fi connection with the app.
Needless to say, Garmin wanted to make sure that the user experience is as good as possible, and in my opinion, they have done a good job at that as well. The dash cam 55 is also loaded with additional safety features that are important for a dash cam.
The image detail is fantastic thanks to a good camera, and videos come out really good looking. There are not many issues with the Garmin dash cam 55 except for the fact the app does not provide enough control over the camera itself.
This is something that should be addressed in order to make the overall user experience a lot better. As for the rest, I do not think I have seen a better dash cam than the Garmin Dash Cam 55.
Pros
Amazing recording capabilities.
Shoots at 1440p at 30 frames per second, or 1080 at both 60 and 30 frames per second.
Is loaded with ton of safety features, making the experience great.
Has a smartphone app.
Cons
Smartphone app does not provide enough control.
The next dash cam I am looking at is the Mio MiVue 658, while the name is certainly on the odd side, the good thing is that the camera is a pretty good performer for the price you are paying.  You do get some nifty features, making sure that the feature conscious people are thoroughly pleased.
The Mio MiVue 658 comes with GPS stamping, as well as time stamping, ensuring that all the videos tha are shot on the camera carry a proof. It is easy to install and mount, allowing for a seamless installation experience. It has decent video quality, and the videos come out well with just the right amount of detail.
The camera is also pretty compact, allowing you to easily mount it, without cluttering the dashboard at all. The camera also gets free updates on speed camera database, so it can tell the driver whenever there is a speed camera nearby.
The Mio MiVue 658 is not something that is well known, but upon testing, you feel glad that you did test it. There are several features that stand out and make the MiVue 658 a good option for those who are looking to buy something that is different, and still functional, as well as practical.
Another great thing about the MiVue 658 is obviously the touch screen on the camera. Touch screen interfaces have become the norm, but what most people do not understand is the implementation. Luckily, this is the best implemented touch screen I have seen on a camera, making the user experience excellent.
The only thing I did not understand about the camera is why the parking mode only works with the smart box, and not without it. This is strange because you have to buy the smart box separately, and that makes it a lot less tempting.
Still, there is no denying that the Mio MiVue 658 is an amazing, all purpose dash camera that is going to handle all the recording work with great ease. There is literally nothing to worry about if you buy this camera as it does the job perfectly.
Pros
Good video quality.
Decent set of features.
One of the best touch screen implementations.
Cons
Parking mode only works with SmartBox that needs to be purchased separately.
10. Snooper DVR-4HD
With the Snooper DVR-4HD, I will be concluding my list of the best dash cams in the market. The whole journey has not been easy, especially when you have to drive around for countless hours in order to test all the cameras. Still, it is my job to make things easier for the readers, and have them pick the best option.
The Snooper DVR-4HD is actually a very promising dash cam with some quirks that manage to hold it back just a little bit. Before I go ahead and discuss those in detail, I have to say that the camera's performance is one of the highlights.
It is a full HD dashboard camera that gives you great video quality, and a lot of features to go along with it. For starters, you get safety camera alerts that are updated regularly. This helps the driver drive more carefully, and drive better.
You also get a long list of additional safety features that are normally missing from the majority of the cameras that I have been testing over the course of two weeks. You also have a GPS function that works really well, and there is an accelerometer that can warn you about collisions that are imminent.
This is a great option for drivers of all expertise because you never know when you can collide even when you are looking. The camera does offer motion detection as well, and can start recording automatically. A lot of people think of this feature as a gimmick, but it can save one from a potential grand theft auto.
The camera also has a smartphone and desktop application that you can use, and while I did use it, the experience was average at best. Seems to be that most of the focus went in making the camera better, and I do not mind that at all. The Snooper DVR-4HD is an amazing camera to use.
Now the quirks that I faced with this camera are not going to change your mind about this because they do not hold enough weight. The camera is loaded with features that the user can enable, sadly, enabling all of them can hinder your overall experience, and cause distraction.
In addition to that, one thing that I did not like at all is the fact that the dash cam requires dual power adapter if you want to use the camera alongside the sat-nav. This is understandable, because you have to power two things at once, but there should be an option for a more powerful power adapter.
Last but not the least, the desktop software needs some work on it. While the smartphone app works well, it is the desktop software that ended up giving me the hard time. When you put aside these quirks, you realise just how good the Snooper DVR-4HD actually is.
Rest assured, it is definitely among my top rated dash cams, and easily one of the best dash cams you can buy in the market.
Pros
Excellent video quality.
Offers you safety camera alerts.
The camera is also loaded with additional safety features that are very useful.
Supports SAT NAV as well as GPS.
Comes with desktop, and mobile app.
Cons
SAT NAV requires additional power adapter.
The desktop software needs tweaking.
Final Thoughts
Like I have said before, reviewing the dash cam was not an easy task. As a matter of fact, it was daunting to say the least. Driving is one thing, but driving constantly, just to check different cameras, on different routes can be difficult, and exhausting.
Still, it was something that I had to do in order to properly evaluate all the cameras. The thing with dahs cameras is that there is no way you can do a proper evaluation if you are not using them during driving. At the end of the day, I would only say that it was a worthy experience.
If you want my opinion on the best dash camera, then my top pick would be the Garmin dash cam 55, it was an obvious pick thanks to Garmin's ability to deliver great products time and again. That coupled with a flawless GPS system, and it was a perfect match.
This time, I am also going to talk about a runner up that came close to my pick in one way or another, and that would be the Snooper DVR-4HD. Apart from some minor quirks, the overall experience was a lot better.
The one feature that really impressed me was the SAT NAV, and even though it required a separate power adapter, it was the feature that a lot of dash cams should have. It will definitely make the experience better