For anyone who is in the market looking for fitness trackers, the good news is that there are a lot of options available for you to choose from. I like this because you can easily make decisions based on different price ranges, and it never really creates any issue for you.
However, for people who do not have the proper experience or understanding about fitness trackers, it might be a bit difficult to make a purchase, and given the options, they might get confused as well.
Fitness trackers are great for people who are looking to track their activities while they are working out. Even though the modern day smartphone does come with a barebones fitness tracker, it is best to buy a separate one solely because of the number of features you get in a fitness tracker.
Keeping all of that in mind, in this roundup, we are going to be looking at some of the best fitness trackers of 2021 that you can buy from the market. The good thing is that we are going to review them, and based on our views, buying a fitness tracker will be a lot easy for you. So, do keep that in mind.
Top 10 Best Fitness Trackers 2021
We are going to start from the basics by looking at Moov Now; one of the most affordable fitness trackers available on the market that pairs well with Android, as well as iOS.
Now the thing that you need to know about this fitness tracker is that it does not come with any advanced features; it also does not run on Android Wear, and keeps thing very simple, to say the least.
The tracker itself is small and comfortable to wear for longer times without making your wrists uncomfortable, or sweat profusely – this is one thing that I always look for in a fitness tracker, and one must always keep that in mind. The battery life is long, meaning you will not need to worry about running out of battery any time soon.
You can wear the tracker in the shower, or even in the swimming pool without having to worry about malfunctions, and the app available on both Android, and iOS works really well, and without any issue whatsoever.
The things that I did not like about the Moov Now was mainly the syncing process that was actually a hassle to work with, and if you want the coaching option to work, you are going to need a smartphone with you at all times. Everything else about the Moov Now is great, and it is one of the best fitness trackers available in the market.
Pros
Works well with both Android and iOS devices.
It is easy to use, and can be worn in showers and pools.
Tracks a number of different activities with ease.
Long battery life.
Comfortable to wear.
Cons
The syncing process can be a hassle.
The next fitness tracker I am reviewing comes from a company called TomTom, and I know what you are thinking about the name of the company because I did find myself in the same situation.
However, there is nothing to worry about as TomTom is very serious about what their product is; the TomTom Spark 3 is actually a really nice looking fitness tracker, and the one feature that allows it to play music without needing a phone connected with it.
There is a lot to like about this fitness tracker; from the simplistic look, to good battery life, as well as the ability to play music without needing a phone. As for the fitness part, you get heart rate trainer, as well as GPS navigation. You do get a screen on the Spark 3, so the navigation part is a bit easier.
However, there are some things about this fitness tracker that are not as perfect; for starters, the menu itself is not easy to navigate, and feels more like a maze than a menu, and in addition to that, the music quality is mediocre at best, and the syncing the tracker with your phone can be a hassle in certain situations.
If the above mentioned drawbacks are not a huge concern for you, then the TomTom Spark 3 is actually a great fitness tracker that should help you get the job done with great ease and without any issue whatsoever.
Pros
The fitness tracker is inexpensive.
Allows you to play music without needing a phone tethered to it.
The heart rate trainer is precise.
The GPS navigation is another great feature to have.
Cons
Menus can be confusing.
The sound quality is average at best.
When it comes to fitness trackers, not many companies can rival the likes of Garmin. They have been in the business for a long time, and have delivered some fantastic products to say the least.
Today, I take a look at the Garmin Vivosmart 3; a rather simple and barebones fitness tracker that is trying to make a name for itself in a heavily saturated market.
The Vivosmart 3 is minimalist to a point you would not notice yourself wearing it, and it is a good thing because it states that it is not here to replace a full-sized watch.
It only covers the basic, but the features it does have area really well implemented. The tracker offers feature such as rep counting, auto activity tracking, as well as auto notification. Garmin's focus no providing great heart rate monitoring is also there and the Vivosmart 3 delivers on that promise.
However, considering how the tracker is basic, there is no availability of GPS on board. Normally, it should not be an issue for a lot of people, but if GPS navigation is a thing you want, you might want to look somewhere else.
All in all, the Garmin Vivosmart 3 is a capable fitness tracker that does not cost a lot of money, and gets the job done easily, without any issues whatsoever.
Pros
The Garmin Vivosmart 3 focuses on being simple and makes that a great formula.
The heart rate tracking works perfectly.
The rep counting is a great feature.
Automatic notification, and activity tracking is another great thing we need to see more.
Cons
The tracker does not have GPS.
It is obvious that a list containing the best fitness trackers would not be complete without a fitness from Samsung. Keeping that in mind, we are taking a look at the Samsung Gear Fit 2; now Samsung has always tried to make the most out of whatever they offer, and the Gear Fit 2 is no exception; as a matter of fact, it is one of the best fitness trackers that are available in the market.
Keeping in mind, you get all the essential features you would want from a fitness tracker in a device that looks minimalistic and could easily be worn without feeling out of place. As a matter of fact, you can actually wear your standard watch in one hand, and the Gear Fit 2 in the other without looking like you belong to other realm.
The looks are overall refined, and the Gear Fit 2 has a lot better compatibility that happens to be broader as compared to some of the other options available in the market. In addition to that, the overall value of the device is also a lot.
During my usage, I have had no issues with how the device is, the only thing I can complain about is the battery life which is basically subjective as different users will get to experience a different battery life. Keeping that in mind, the Gear Fit 2 is a great fitness tracker for anyone who wants to buy one.
Pros
Impressive value for money.
Understated and minimalistic looks.
Has all the necessary fitness trackers available.
The compatibility is a way broader as compared to some other options.
Cons
The battery life is a hit and miss.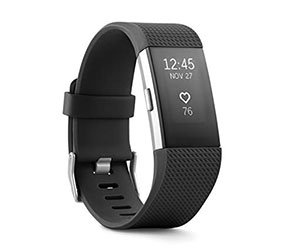 In a market that is saturated by fitness trackers, there are a few companies that manage to make the best possible products. Fitbit is one of them; for years, Fitbit has graced the users with some great fitness trackers, and today is no different; the Fitbit Charge 2 is actually one of the best fitness trackers you can find in the market.
The Charge 2 is a minimalistic fitness tracker that allows you to change bands, the tracker also comes with a multi-line OLED screen. The Charge 2 also offers a heart rate monitor that remains on all the time, providing real time updates. In addition to that, the companion app that comes with the Charge 2 is also one of the best I have seen.
The Fitbit Charge 2 is also one of the more affordable fitness trackers, and on top of that, you also get 5-day battery life which happens to be really impressive.
There are a few things that the Fitbit Charge 2 lacks; mainly the GPS and water resistance is missing from the fitness tracker, but if you are okay with that, then there is no problem whatsoever with this otherwise great fitness tracker that should help you track your fitness the way you want to.
Pros
The Charge 2 offers great value for money.
The bands can be replaced.
The battery lasts 5 days.
Always-on heart rate monitor is a great feature.
Multi line OLED display is a joy to have.
The companion app is great.
Cons
The Charge 2 lacks support for GPS.
There is no water resistance.
The last fitness tracker that I am going to review is from Huawei; the company is already famous for their amazing smartwatches, so testing a fitness tracker comes with a lot of excitement. Is it any good? Well, the Huawei Fit actually focuses on providing the basic functionality rather than gimmicks that are becoming more and more common in most of the options that are available in the market.
Keeping that in mind, the Huawei Fit keeps the design simple and practical to say the least; it does look a lot like a full sized watch, which is not necessarily a bad thing because the design element is really well executed. You also get the water proofing so you should be at peace knowing that this tracker can go literally anywhere with you.
In addition to that, there are other features such as the heart rate and sleep monitors; the Huawei Fit also supports stop and go workout routines, so you will not have any issue on that front either.
As far as any shortcomings, I honestly did not find any glaring issues in the Huawei Fit; sure, it follows a very traditional design but that is not bad at all, and it also happens to be a great value for money, which again, is a great thing. However, the one thing that I did not like as much is the fact that the overall feature set of this fitness tracker is comparatively less when you bring in the competition.
Pros
Great value for money.
Traditional design looks discrete.
Has all the necessary trackers.
Cons
You do not get a lot of features with the fitness tracker.
Conclusion:
It has already been stablished that fitness trackers are not made for everyone. However, there is a niche market that does use these trackers, and keeping that in mind, it is important for us that we make sure that the market gets the product that they are looking for. As far as these fitness trackers are concerned, we spent a fair amount of time testing out these fitness trackers because let's be honest, you can't just test them in one day. Here is to hoping that the list helps you find the best possible fitness tracker there is.