Peripherals on PCs have come a long way, gone are the days when you had to stick with something standard looking without the option to properly color match everything. The famous manufacturers have taken a step forward and created some of the best gaming peripherals for the general consumer to buy, and the best thing is that there isn't an insane premium that requires to be paid.
As a matter of fact, these gaming peripherals are some affordable, and are available in a lot of different price tags. The peripheral in concern today is gaming headset. Gaming on a gaming headset is different than your standard headset for music because these headsets are turned for gaming.
They are known for providing amazing directional audio, that makes a drastic difference in how one plays the game, and hears a sound. This is to make sure that the players are fully aware of the direction someone is coming from.
Gaming headsets are available in abundance, from the bigger brands like Corsair, Razer, Logitech, as well as some small, no-name brands. This saturation is something that can confuse people, especially when they are buying a gaming headset for the first time.
Well, if you find yourself in the market looking for a gaming headset, and you're on a fairly limited budget, we have something for you. We decided to gather 10 of the best gaming headsets that cost $100 or less than $100, tested, and reviewed them for our readers.
This article will help you pick the best gaming headset under $100. So, let's not waste more time, and start looking at what we think is a good gaming headset. Let's begin.
Top 10 Best Gaming Headset Under 100 Dollar
[table id=21 /]
1. Kingston HyperX Cloud II
Normally, people associate Kingston with RAMs, solid state drives, and USB storage devices. However, for those who don't know, the company recently decided to take a jump into the gaming peripheral industry. Kingston decided to use their HyperX brand, and released some gaming peripherals under that brand name.
The result was rather amazing since the original HyperX Cloud became one of the best gaming headset to grace the market. After a short while, the company released their mechanical keyboard, and gaming mouse as well.
However, today, we are looking at perhaps the best product from Kingston; the HyperX Cloud II. For those who don't know, this headset is built upon the original HyperX, however, Kingston has done some significant changes in how the headset is used and offered to the gamers.
You know longer get the feeling that you're using something budget oriented as the HyperX Cloud II uses premium finish, and materials through and through. You get a solid build quality, an epic design, and extreme level of comfort.
For those wondering how this headset sounds, the good news is that it is by far, one of the best sounding headsets we have used. Whether you're playing games, listening to music, or watching movies, the headset is going to deliver on all fronts and give you a well-rounded, and highly satisfactory performance as far as the sound quality is concerned.
Microphones are something that can be lackluster on gaming headsets mainly because the manufacturers focus more on the sound rather than the microphone quality, and well, the good news is that the attached mic is excellent for in-game chat. Sure, you should definitely get something better, more professional if you want to do voiceovers, but if you're looking for a microphone that will allow you to perfectly communicate with your team mates during intense gaming session, the attached microphone is more than enough. One really good thing is that the mic can be detached, so in case you want to replace the existing mic with something like Mod Mic, you'll be more than able to do so.
The headset also comes with a carrying case should you choose to carry your headset along with you. While a lot of people may not be carrying this headset around, it is still a tasteful inclusion.
Overall, the Kingston HyperX Cloud II is a well-rounded gaming headset which despite being marketed as a gaming headset, can serve as a great way to enjoy music as well. The only thing that we don't like is that the cable can't be detached. Considering how we have a detachable microphone, a detachable cable feature was a lot better.
If you okay with this minor hiccup, then we can assure you that your experience with this headset will be a lot more pleasing than you may think.
Pros
Excellent value for money.
Great, well-rounded sound quality.
Happens to be extremely comfortable.
Microphone is one of the best and can be removed.
Comes with a carrying case.
Cons
The main cable can't be detached.
2. Corsair Void USB RGB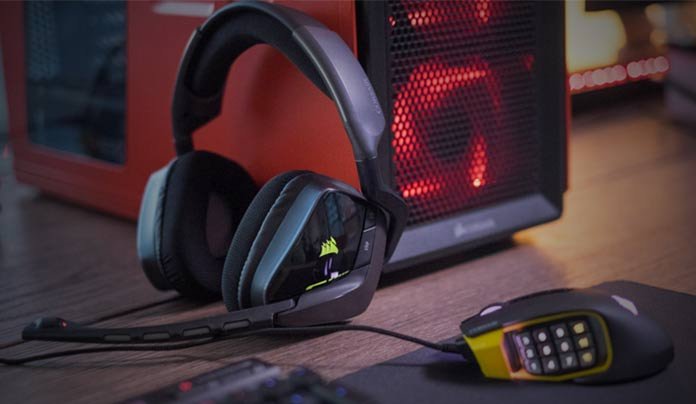 In attempts to make their gaming peripheral lineup even more appealing, Corsair released the Void series of headsets. Offered in Dolby wireless, USB, and stereo configuration, the Void headset was definitely one for people who either love Corsair's attention to detail, or just want sheer performance.
Considering how we have reviewed almost everything by Corsair in the past, we decided to take Void for a spin to see just how good the headset is. For the sake of references, the headset that we reviewed is the Corsair Void USB RGB, this one comes with Dolby 7.1 through USB, and has RGB lighting on the Corsair logo as well.
Sure, the RGB isn't something a lot of people need on a headphone, it's a nice thing to have anyway, especially when it has become so damn common in the modern day and age. With that out of the way, the Void is a tasteful mix of high quality plastic and metal.
The overall build quality is sturdy, and the ear cushions are made using some kind of breathable memory foam that allows your ear to stay without sweat and comfortable. Another interesting thing is the design of these cushions, these aren't your standard round cushions, as a matter of fact, they resemble the shape of your ear, and if you don't have extremely large ears, they'll fit right in.
The headset is pretty much plug and play, plug it in and off to the races, however, if you want control over the equalizer, or some other fancy options, then Corsair Utility Engine is what you need to install. From there, you can control the lighting effects, mute and unmute the microphone, set the microphone volume, and other similar options.
Oh, did we mention that there is a button on the left ear cup that allows you to mute and unmute microphone, and you also get voice prompts telling you when the microphone's turned on or off. In addition to that, there is a tactile volume rocker under the left ear cup, allowing you to easily increase or decrease the volume.
Moving on, the sound quality of this headset is amazing, as far as gaming, and movies are concerned. Our testing revealed that this headset is heavily tuned for gaming, and while this may bother some people, it's not really a bad thing since Corsair manage to take one thing and perfect it rather than focusing on all the things.
Overall, the Corsair Void is a great gaming headset, and the only complaint we really have is the fact that the microphone's side tone isn't good enough. Side tone is basically the ability of hearing yourself when you talk. This isn't a feature everyone wants, but still is nice enough to have it on board, at least you'll be able to hear yourself when talking.
If you're okay with this small inconvenience, the Void is a great headset that should serve you well in almost every aspect of your gaming.
Pros
Stylish, gamer-esque design.
Great comfort.
Solid build quality.
RGB lighting is a plus.
Cons
Microphone's side tone is really underwhelming.
3. Razer Kraken Chroma
Razer's existence in the gaming peripheral market dates back to the days when membrane keyboards were still considered elite, and 3,000 DPI in a mouse was considered to be a lot. A lot of things have changed since then though, the company's focusing more on quality control, and less on making things fancier.
Razer's Chroma lineup was their take on the RGB craze, however, instead of releasing new products under the Chroma moniker, the company took a clever route and upgraded their older peripherals with the Chroma lighting, along with some other much needed upgrades.
One such product is the Razer Kraken Chroma, based on the classic Razer Kraken headphone, the Chroma is not just a pretty facelift, but actually a lot more than just that. For starters, the Kraken Chroma has been upgraded with a better design, and overall solid build quality, and even new drivers.
The headphone features virtual 7.1, and while the experience isn't as good as true 7.1, it is not a bad thing either. With that said, the sound quality on the Razer Kraken Chroma is rather good, thanks to the large ear cups, and the sound drivers that sit under them.
In addition to that, there are a lot of other offerings that are being given by the Razer Kraken Chroma, for starters, the Chroma lighting looks great, even though there's only one zone for the lights. The microphone is pretty good, and while a lot of gamers have confessed that the microphones on the gaming headset are just bare minimums, we can assure that your gaming session won't have any issues whatsoever.
However, if you plan on doing voice overs using the same microphone, we would not suggest that as the experience may not be up to your liking. Speaking of liking, we really like the design and construction on the Kraken Chroma, the nicely braided cable and the matte black design is perhaps one of the best looking designs that we have seen.
Another good thing is that the headset is compatible with PS4, PC, and Mac, so regardless of the platform you have with you, it'll run just fine.
Sadly, the good things about Razer Kraken end here, while we love the fact that the sound quality is one of the best, it greatly gets affected by the subpar comfort. We honestly couldn't figure out what seemed to be a problem here, and it seemed like that the somewhat bigger ear cups were the reason behind the lack of comfort.
If you are okay with your ears hurting after a while, then the Razer Kraken Chroma is a great headset to go for. It has pretty much everything you would need a gaming headset, and the RGB lighting is a plus one.
Pros
Looks great.
Offers brilliant sound quality.
Chroma lighting is tastefully done and easy to control.
Runs on Mac, PC, and PS4.
Cons
The headset is uncomfortable.
4. Logitech G633 Artemis Spectrum
The Best Gaming Headset For PC Under 100 $
Simply put, Logitech is a company that has done a lot for the PC community, especially in the peripheral side of things. That's because Logitech has been making peripherals way before gaming peripherals became a thing and started replacing your standard set of peripherals.
With that said, Logitech's offering for the best gaming headset in the market is the much revered Logitech G633 Artemis Spectrum. Now, there are 2 versions of this headset, you get to choose between a wired version, and a wireless version. We picked up the wired version because it was better suited for the budget we're targeting.
Simply put, not a lot of headsets in the market can rival the brilliant sound quality that is given by the Artemis spectrum. It's perhaps the best sounding gaming headset in the market, and the good thing is that it isn't just good for gaming, but for all sorts of tasks that involve media consumption. Whether you're listening to music, talking to someone on Skype, watching movies, or playing games, the Artemis Spectrum shines through with great performance through and through.
Another great thing is that it happens to be compatible on almost every single platform there is, which means that you can use it on your consoles, your laptop, and even your mobile devices in many cases, making it top of the line in almost every regard.
Another important thing that you should keep in mind here is that the Artemis happens to be extremely comfortable, this actually surprised us because from the looks of it, the headset looks pretty damn physically imposing, but after thorough testing, we can assure you that the comfort won't be problem you'll be facing.
As far as the microphone is concerned, that's another area where the headset really does well since the microphone happens to be really good, and offers extremely clear voice output. While it's not as clear as some of the high end microphones have to offer, it's actually good enough, and will make your experience a lot more pleasant.
Another good thing about this headset is that for those who choose to go with the wireless version, they can actually remove the battery, and replace it themselves. Something a lot of other headsets don't really allow.
Last but not the least, for those interested, the Logitech G633 Artemis Spectrum does support RGB lighting that can be controlled using the Logitech gaming software for those who are interested. All in all, the Logitech G633 Artemis Spectrum is what we would like to call the perfect gaming headset.
The only downside is that the headset doesn't come with a carrying case, or a stand. Something that may seem necessary considering the fact that the headset is rather large.
Pros
Great audio quality, with amazing microphone.
Solid build quality and design.
Really, really comfortable to wear for longer periods of time.
Works on almost every device there is.
RGB lighting is tastefully done, and easy to control through Logitech Gaming Software.
Cons
Doesn't include a carrying case.
Check out video Review Logitech G633
5. Creative Sound BlasterX H5
Creative is one of the leading audio companies in the market, and one of the most recognized as well. As a matter of fact, a lot of people actually know about this company mainly because of the fact that they are known for producing some of the best soundcards, as well as a lot of other audio related products.
While they haven't tried much of their luck in the gaming peripheral market, we were genuinely thrilled to test out the headset mainly because we have had a great experience with some of the previous products released by Creative.
The Sound BlasterX H5 gives a very positive experience right out of the box, it is one of the few analog gaming headsets in the market, which means that it will actually be able to take advantage of the sound card/chip that is on board your computer, or whatever device you're using.
While people who are using low end devices can't really benefit with it, but if you have a high end PC that has a good sound card, then you're in for a treat because when it gets coupled with good hardware, it manages to perform excellent through and through.
Aside from a stellar, no compromises sound quality, another good thing is that the Creative Sound BlasterX H5 happens to be great at comfort too. Needless to say, this is easily one of the most comfortable headsets available in the market, the type that you can wear for hours without really running into any issues.
Another really amazing thing that we liked about this headset was the fact that both the microphone, and the main cable can be detachable. While this feature may look like a gimmick to a lot of people, there's no denying that it actually happens to be one of the best features around. This allows for easy replacement of the defective parts since cable is the first thing that generally fails.
To be honest, the only thing that is lacking in this otherwise amazing headset is the fact that you can't rotate the ear cups on the z-axis, and while it's completely subjective, it can be annoying for some people. If you're okay with it, then the Creative Sound BlasterX H5 is an amazing headset that you should definitely check out.
Pros
Great audio quality.
Lightweight, and sturdy construction.
Attractive design.
Microphone and main cable can be detached.
Has an analog connector, allowing it to be freely compatible.
Cons
The ear cups don't swivel on the z-axis.
6. Steel Series Siberia V2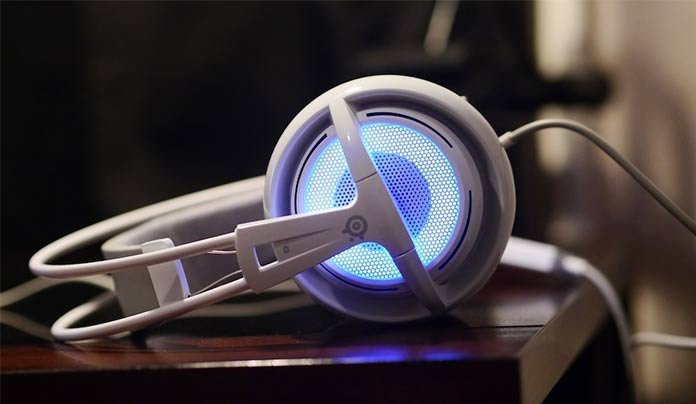 Steel Series is another company in the market that is known for creating some of the best gaming peripherals, as a matter of fact, the gaming peripherals made by Steel Series have gone to eSports as well, and are the main choice for a lot of professional gamers out there.
The headset we are looking at today is the famous Siberia V2, one of the best headsets that is being offered by Stele Series at a very stellar price. For those who don't know, the Siberia V2 happen to be quite an old headset, however, the good thing is that despite being old, it still remains an amazing headset.
With that said, we are going to start by looking at just how good the audio quality is, while Steel Series isn't going to win any awards for being really, really good with audio output, the Siberia V2 gives an amazing sound quality that will make all the gamers happy. Apart from great sound quality, another thing that you should keep in mind is that the headset offers amazing audio isolation, meaning that your gaming sessions will be amazing regardless of the environment you're playing them in.
Another part where Steel Series did it right with the headset was the construction because the Siberia V2 happens to be one of the properly constructed headsets in the market that have a solid build quality, and a great design. Now the design isn't too epic, and won't win any awards, it's good to see that simplicity is something that we rarely get to see in the modern day headsets.
There's no RGB, or no fancy software to use with this headset, everything is kept simple and extremely functional, just how we like it. Unlike some of the headsets in the market, this one features a 3.5mm jack, meaning that things are analog, and the headset will be able to use your computer's sound chip to get power.
Something that is both good and bad., good because if you have a high end motherboard, then you can expect some great sound quality, but if you don't have something high end, the result may not be as pleasing. Whatever the case maybe, we can assure you that the headset will not disappoint you.
Overall, we love the Steel Series Siberia V2, and there's no way it can change, however, you should know that while it's a good gaming headset, the bass is somewhat muddy, and congested. While it may not be an issue for a lot of people, it can actually be bothersome for some.
If you're okay with somewhat muddy base, then the Steel Series Siberia V2 earn a recommendation from us.
Pros
Overall sound quality is pretty good.
Solid build construction.
Design is simple yet effective.
Can work on all devices.
Cons
The bass feels muddy and congested.
Cnet: Long cable that's detachable after about a metre. Inline volume control. Hidden microphone.
7. Turtle Beach Stealth 400
For a lot of people, Turtle Beach happens to be a company responsible for releasing a lot of amazing gaming headsets for consoles, however, for those who don't know, they are pretty dominant on the PC as well, but they aren't as prominent as some of the already established names that have been in the industry for years.
Keeping that in mind, the Turtle Beach headset we're looking at today is called the Turtle Beach Stealth 400, for those who don't know, it's basically a really affordable wireless headset that is aimed at getting the job done in a rather spectacular fashion.
First things first, right off the bat, the headset offers crystal clear sound and the best part is that it doesn't really require you to do a lot of tweaking, as a matter of fact, it can work perfectly fine without the extra tweaking that some people may prefer to do, and present an amazing sound quality.
The fact that it's wireless is another amazing addition, and for those who are wondering about the battery timing on the headset, in our testing, it managed to give a respectable 12-15 hours on proper gaming and music usage. Something that is respectable enough for a wireless headset.
Another good thing is that the headset includes an optical cable should you want to use that, and a slew of other accessories which were nice to see. Not to forget that you also get a detachable microphone that works as intended, and should be great for voice chat during the game.
Last but not the least, we really, really like the fact that this headset is one of the best built gaming headsets in the market. While it may not feel as heavy as a tank, the fact that Turtle Beach didn't compromise is something that we commend really well.
Sadly, all good things must come to an end, and while the headset doesn't really have a lot of deal breaking downsides to begin with, it's our duty to inform the reader about what's wrong and what's not. The only real gripe we have with the headset is the fact that despite being really good with the sound quality, it's primarily good at gaming, and not so much at music, or movies.
If you're okay with the somewhat subjective downside, then we are more than willing to recommend this headset to you.
Pros
Great sound quality for gaming.
Has a detachable microphone.
Headset is wireless and boasts an amazing battery life.
Affordable, with nice build quality.
Cons
Isn't as good for movies and music.
8. Logitech G430
Best Budget Gaming Headset 
For those who don't wish to spend as much on something as high end as the Logitech G633 Artemis Spectrum, the Logitech G430 is actually a great choice. However, considering the moderately lower price tag, we must inform you that the headset doesn't come without its fair share of sacrifices to begin with, luckily, these sacrifices aren't drastic enough to extremely lower down the overall value of the headset.
Simply put, the Logitech G430 is probably one of the most affordable gaming headsets in the market that offers 7.1 surround, and while surround isn't necessarily something everyone love, it's still a nice feature to have, and in games where it's really important to get audio cues, surround can help you out of several different situations.
Another great thing about this headset is that despite being something that is made for the budget conscious people, the headset actually provides a pretty decent amount of comfort. The ear cups are covered with a cloth like material that doesn't really feel that premium, but manages to be plenty comfortable, so you can stop worrying about the headset becoming uncomfortable during long gaming sessions.
We thought that Logitech would give up on a good microphone for the headset, but we are pleased to tell that such isn't the case. As a matter of fact, the microphone on the G430 is surprisingly good, and most importantly, clear as day. Just keep in mind that Logitech didn't build this microphone to allow you to do voice overs.
Last but not the least, another really good thing about this headset is the fact that it happens to be so lightweight, and while a lot of people associate that with cheap build quality, we can assure you that Logitech hasn't compromised the build quality either, so you can expect the same good quality here as well.
However, not all things are positive about this otherwise amazing headset; for starters, Logitech's decision of going with a blue wire, and a general blue and black colour scheme isn't something that looks good, especially when the blue colour is so heavily prominent. I mean, yes, the G633 had blue accents too, but they weren't over the top.
In addition to that, you should also keep in mind that the headset does not come with programmable buttons, or any dedicated keys that you can use. If you are okay with these minor inconveniences, and find yourself on a tight budget, then the Logitech G430 is a great headset for your money.
Pros
Headset is super affordable.
Sounds great for the price you're paying.
Solid, lightweight build quality.
Wonderfully comfortable.
Microphone is clear.
Cons
The colour scheme is really odd.
No programmable buttons.
9. Steel Series Arctis 5
If Steel Series' Siberia V2 isn't the thing you want, or it's too simple for you, then the good news is that there are other options that you can choose from, without looking at some other company. That's where the Steel Series Arctis 5 comes in. This is a newer version as compared to some of the other Steel Series' offering, and happens to be one of the best in the market.
To start off, there are a lot of good things about the Arctis 5, and for the fans who are wondering, it does have RGB lighting too, but that's not what we are here to look at. We are here to see just how good the headset actually is, and if you want the shorter answer, it's plenty good.
For starters, the headset has a suspension style headband, and while that is something that won't make sense to a lot of people, it's simply a way of making sure that the headset is extra comfortable, and even if you wish to wear the headset for longer periods, you don't have any issue with the comfort, whatsoever.
With that out of the way, if you are wondering whether or not the headset offers good audio quality, we can assure you that Steel Series has not compromised on how good this headset sounds. For those wondering, this is perhaps one of the best sounding headsets in the market available, and we are not even kidding.
In addition to that another thing we really like is how tasteful the RGB lighting is. Now this is certainly something that will come as a surprise to a lot of people, but the Steel Series Arctis 5 is definitely one of the best headsets when it comes to the RGB lighting, and while it adds absolutely no real benefit whatsoever, if you are someone who wants to have great looks, then the Arctis 5 is going to do the job splendidly.
Steel Series has also done a great job with the software as the software that comes with this headset happens to be one of the easier, more intuitive one with a lot of ways to control the lighting, and the headset itself. We can only wish that other companies take cues too, and create something similar, or better.
Last but not the least, Steel Series' take on the microphone is easily our favourite, mainly because the microphone is so damn good, and clear. Just keep in mind that if you are planning on doing voice overs, then you're going to need something better, but for normal voice chats, and in-game chats, the microphone is plenty.
The only real gripe here is that the cable is not as easy to deal with as we would have liked. It's just awkward and convoluted, and that can be an issue for a lot of perfectionists. If you're okay with it, then the Arctis 5 is a great headset.
Pros
Clear microphone.
Great sound quality.
The headset is lightweight and comfortable.
Solid construction through and through.
RGB is tastefully done, and looks great.
Cons
Cable is awkward, and annoying.
10. Kingston HyperX Cloud Stinger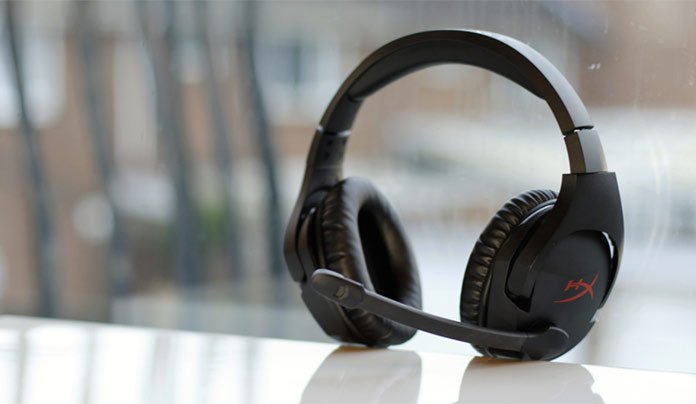 The last headset on our list is another one from Kingston's HyperX series, however, this time, it's for people who are on a fairly strict budget and want something good enough that will provide them with a decent enough performance.
In case you haven't guessed it already, we are talking about the HyperX Cloud Stinger, a budget gaming headset that does pack a punch or two, and is perfect for anyone who's looking for a good experience. Now the good thing is that there are some solid points about this headset, for starters, as far as the gaming is concerned, the audio happens to be really, really solid.
The headset looks fancy, has a decent build quality that goes well with the price, and nothing is awkwardly placed here. One surprising factor about the headset was definitely the microphone performance, that is something that certainly took us by surprise because we honestly didn't think a headset like this could perform so well.
The only downside that we noticed during our weeklong testing was the audio sometimes suffer when it comes to highs and lows, but if you're okay with that, and want to have a great experience with comfortable listening experience, then the Kingston HyperX Cloud Stinger is a wonderful gaming headset for you.
Pros
Doesn't cost a lot.
Offers great amount of performance.
Sounds great.
Clear microphone.
Solid and comfortable build quality.
Cons
Audio suffers with highs and lows.
Conclusion
Oh, boy! Choosing and reviewing 10 gaming headsets wasn't an easy thing to do at all, especially when the options that we had at hand were so good. Sure, there are some dumb choices in some of the offerings, but that is something that can be forgiven. Overall, we tested some great gaming headsets under 100.
Sure, while you're not really spending a lot of money, it's important to keep in mind that it's all about the price to performance ratio, and we would like to inform you that there's no way that you're going to be regretting your decision.
It was actually quite difficult for us to pick the winner, but much like any other list, it's important to pick the one product that is always ahead of every other, and in that case, the victory goes to the Logitech G633 Artemis Spectrum.
In case you are wondering, it's actually a lot easier to explain, simply put, the headset manages to offer a lot of performance, and has everything right. Plus, not to forget that the headset is also available in a white option should you wish to go that route. Overall, it's clear that the Logitech G633 Artemis Spectrum is the winner here.
Well, that's it for this list, if you wish for us to look at some other great headsets, feel free to comment down below, and we'll check out just how good the headsets you suggest are.