A motherboard or a mainboard in computer terminology is that piece of hardware on which every single computer sits, and gets the power from.
Yes, we all know that a processor is known as the brain of the computer, but even a processor needs its power from motherboard.
Now, ever since the inception of computers, the motherboards have evolved a lot. Gone are the days when you had a huge, awful looking motherboard in your computer, and you didn't have a lot of options either.
As the time progressed, manufacturers like Asus, Gigabyte, MSI, Asrock, EVGA, and several other brands are bringing out motherboards suited for all consumers as well as prosumers. For those who don't know, you can get a motherboard for as low as $40.
With that said, there is a market specified for people who are gamers, and the companies are capitalizing on that market by bringing in their gaming series motherboards.
These motherboards are comparatively more expensive, but pack a lot of different features such as advanced power phase designs, quality capacitors and chokes, and a colour/design scheme that is more aggressive, and aimed at gamers.
For instance; the red and black, as well as grey and black colour scheme is something that is very, very common in gaming motherboards.
If you are wondering whether or not a person who is not a gamer can actually use these gaming motherboards and take full advantage from them, the answer is probably a no.
These motherboards are built for people who are into overclocking as they provide better power delivery that keeps everything stable.
In addition to that, you get features like auto over-clocking, XMP profiles for your RAM, extra slots like M.2 as well as U.2 slot for the blazing fast storage options.
All in all, gaming motherboards are definitely worth the money if you have the extra cash.
Today, we are going to take a look at some of the best gaming motherboards 2021 that are available in the market. So, without further ado, let's take a look.
Top 13 Best Gaming Motherboard of 2021
[table id=11 /]
1. ASUS ROG Maximus IX Hero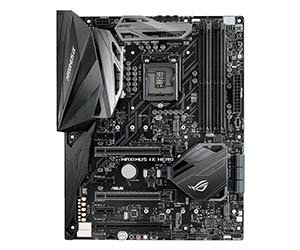 The first gaming motherboard in our list is Asus ROG Maximus IX Hero. The Hero motherboards from the ROG lineup are the perfect balance between the really high end Formula motherboards, and the affordable Ranger motherboards. With that said, the IX Hero is more than just a face lift.
You get the same amazing ROG exclusive features, and a completely monochromatic design language, meaning that there are no red accents on the motherboard anymore.
While this decision may seem odd to some people, it's good because it will allow the users to actually use pretty much any colour scheme they want, and it'll look good.
With that out of the way, you do get some exclusive features such as the Intel Optane technology, and in addition to that, the motherboard comes with Aura sync option, which means that all the device; Asus or otherwise that support Aura lighting technology can be synced together.
This option is something that was missing from the motherboards of the previous generation, however, it's nice that Asus is made it a standard. In terms of the socket, and other features, pretty much everything else remains the same as the VIII Hero, and you are still going to run the LGA 1151 socket.
A really cool thing about the ROG Maximus IX series is that almost all of them have support for 3D printed accessories, so in case you happen to have a 3D printer at home, you can go ahead and use your creativity to create custom shrouds, or heat spreaders, something that we really, really loved.
The good thing is that the motherboard is backward compatible with the 6th generation of processors, so even if you're just looking to do a motherboard upgrade, you have a great choice of doing so. Making the motherboard an amazing choice even for people who are still stuck at the older series.
Overall, the Asus ROG Maximus IX Hero is a great motherboard with tons of connectivity options, and thanks to the gamer oriented monochromatic design, it'll fit in every build there is.
2. Asus STRIX Z270E GAMING
As we all know, Intel recently released the Z270 chipset along with their 7th generation Kaby Lake recently, and while this generation of processors aren't a huge upgrade over the previous generation by any means. For those upgrading from 3rd, or 4th generation, there are quite a lot of advantages.
Like Broadwell, Kaby Lake is fully compatible with the older Z170 chipset as well. With that out of the way, today, we are going to take a look at the Asus Strix Z270E Gaming motherboard, in case you're not aware, Asus decided to merge their ROG and Strix branding when they released their Asus ROG Strix GTX 1080 last year.
While the Strix lineup of motherboards is slightly different than the ROG lineup, the ROG presence can be seen on this motherboard. Now this motherboard is pretty high end, and offers a great lot of options in the price you're paying.
Considering how RGB is the next big thing, Asus has implemented a clever RGB system known as Aura sync, this means that you can now sync in your Aura featuring products to have the same lighting scheme or type. Just the way you like it.
With that said, the motherboard features a stylish black design, with ample amount of heatsinks available across the board, plenty of options such as built in WiFi module, and all the other high end features you'd expect from an Asus motherboard.
3. Gigabyte GA-Z270X-Ultra Gaming
With the release of Intel's 7th generation Kabylake platform and Z270 chipset, more and more add-in board partners are stepping in and bringing their own versions of the Z270 motherboards. We've already looked at some really amazing options from the likes of Asus, MSI, and today, we are shedding some light on one offering from Gigabyte.
Say hello to the Gigabyte GA-Z270X-Ultra Gaming, as you can tell from the name itself, Gigabyte has made this motherboard specifically for gamers who are into the best of both worlds. Now obviously, any gaming motherboard would be incomplete with the implementation of RGB LEDs, and Gigabyte has one ahead and cleverly implemented the RGB system as well.
In addition to supporting the latest Kabylake, the motherboard is backward compatible with Intel's 6th generation of Skylake processors. You also get the Z270 exclusive features like Intel Optane, however, do keep in mind that Optane is something only limited to the 7th generation of processors.
With that said, there's no doubt that this motherboard is armed to death, it offers a wide variety of features including Intel's USB 3.1 Gen2 over Type-C, latest Realtek codecs, USB DAC-UP 2 with adjustable voltages, and a lot more goodness. In addition to that, considering how this is a Z270 motherboard, it also supports overclocking without a hassle, and should be able to give the user some pretty amazing speeds.
Last but not the least, Gigabyte claims that this motherboard is VR ready, so for those who are planning on running Oculus Rift, or HTC Vive, this is certainly something to look into.
4. Asus Z170 Deluxe
Asus has been the FrontRunner when it comes to top of the line PC components, they have been supplying some of the finest made graphics cards, as well as motherboards, and some other options like their gaming peripherals, and not to mention their displays. However, two departments where Asus really shines is motherboards and graphic cards.
Today, we are going to look at the Asus Z170 Deluxe motherboard; and even though Asus never marketed it as a gaming motherboard, it still qualifies as one due to the amazing list of features.
First things first, the motherboard is obviously a standard ATX form factor, and comes in a brilliant white over black layout; the PCB is black, while the VRMs, and pretty and other aesthetics are white. The motherboard also supports Intel's 6th gen of Skylake, and 7th gen Kabylake processors once they are out, you can run 4 DDR4 RAM sticks in dual channel and have them OC up to 3,700 MHz.
The motherboard also supports all the latest SSD options like M.2, U.2, and comes with a slew of different slots that will fill your enthusiast needs. Last but not the least, for those looking to achieve stable overclocks, Asus has put top of the line components that will give you the stable performance you want so much.
5. Gigabyte GA-Z170X-Gaming 7
So, the next motherboard on our list is by Gigabyte, another really good company to go for, just like Asus. The motherboard we are looking at is the Z170X-Gaming 7, and as the name suggests, it is built for gamers.
The motherboard offers a red, white, and black colour scheme that actually looks more neutral in a PC build than it sounds; it happens to be beefed up with all the latest and greatest connectivity options that are wanted by the gamers, and it simply looks too good. Let's take a look.
As we stated before, the motherboard is basically a Z170 series motherboard that comes in your standard ATX form-factor that should fit in majority of mid-tower chassis, and all the full-tower ones as well.
However, looking at the aggressive aesthetics, one may think that the motherboard looks bigger than it actually is. It comes with 4 DDR4 slots, 3 PCI-express slots for Crossfire/SLI, the motherboard also has the USB 3.1 on USB Type-C connector as well.
The motherboard also comes with 2 PCI-express x4 gen 2 slots for M.2 based SSDs which also have support for the PCI-e NVME, and SATA based solutions.
Overall, the motherboard is a great offering from Gigabyte, and an absolute dream for people who are looking to build stable computers with even stable overclocking speeds. The Gigabyte Z170X Gaming 7 is a definite winner, and a sure choice for a lot of gamers and enthusiasts alike.
6. MSI Extreme Gaming Intel X99
Let's take things up a notch, shall we? The next offering on our list is basically from Intel's prosumer grade X99 platform. Compared to LGA 1151 that is used on the Z170 chipset, the X99 platform supports LGA-2011-V3 processors that offer more than 4 cores, quad channel DDR4 support, and a lot of features that aren't available in the other chipsets.
So, without further ado, let's take a look at the MSI Extreme Gaming Intel X99 motherboard.
If from the looks of it, the motherboard feels intimidating to you, that's because it is. As compared to the other standard ATX motherboards on our list, this one happens to be E-ATX (extended-ATX), and it's comparatively bigger than other motherboards you will see.
It comes with not 4 but 8 RAM slots that support DDR4 and OC at 3,333 MHz, and in addition to that, is capable of running these memory kits in quad channel.
The motherboard also comes with all the modern connectivity options and a total of 5 PCI-express x16 slots that you can use as you please, you can use these slots in the following configuration when pairing graphic cards; x16/x0/x0/x0/x0 or x16/x0/x0/x16/x0, 16/x0/x0/x8/x0 or x16/x0/x0/x16/x8, x8/x8/x0/x8/x0 or x8/x8/x0/x16/x8, x8/x8/x0/x8/x4/ Needless to say, this a pure enthusiast class motherboard built for extreme levels of performance.
7. Asus Maximus VIII Hero
The next up we are going back to the Z170 realms and this time we are looking at a somewhat flagship motherboard from Asus; the ROG Maximus VIII Hero is a part of the Asus' ROG lineup that is basically their top of the line motherboards that are designed for gamers in mind.
As compared to the previous generation of ROG motherboards Asus ditched the majority of colour scheme and went with grey on black, however, the red accents are still there on the VRMs and heat-spreaders, and boy do they look good. So, without further ado, let's take a look at the Maximus VIII Hero.
The motherboard comes in the standard ATX sized layout as well as the features you'd expect from any other high end ROG motherboard. Considering how the RGB lighting is trending, the Asus ROG logo on the Z170 is completely RGB.
For those interested, there is an Alpha version of this motherboard that offers on-board AC wireless, as well as the ability to connect LED strips to the headers that are present on the said variant. Still, despite the 2 lacking features, the Maximus VIII Hero is a worthy motherboard to be in the ROG lineup.
The motherboard comes with Asus' award winning bios that comes with a lot of overclocking profiles as well as some of the finest manual overclocking controls you can find. Overall, the Maximus VIII Hero by Asus is quite simply one of the best gaming motherboards you can buy at the moment.
8. Gigabyte GA-Z97X-Gaming 7 
While the 6th generation of mainstream processors is on the rise, we haven't forgotten about the brilliant 4th generation also known as Haswell by Intel. The next motherboard is the Z97 motherboard that supports the Haswell series of motherboards, and is one of the flagship motherboard of the Z97 family.
In comes the Z97X-Gaming 7 by Gigabyte. This black and red motherboard is packed with features that are loved and adored by the gamers and enthusiasts alike. So, without further ado, let's take a look.
Considering how the motherboard is based on a Z97 chipset, it supports both 4th generation (Haswell) and 5th generation (Broadwell) processors, however, you should keep in mind that sticking to Haswell is the smarter choice thanks to options like 4690K and 4790K processors.
You get 4 DDR3 slots on the motherboard that are able to be overclocked to an impressing 3,200 MHz. In addition to that, you also get a slew of other connectivity options such as the amazing M.2 and your usual PCI-e slots.
Overall, the Z97X-Gaming 7 is an amazing motherboard with a lot to offer, and an affordable price tag as well.
9. MSI Z170A Gaming Pro
The next motherboard we have on our list is by MSI, and this one is a Z170 motherboard that supports 6th, and future 7th generation of Intel processors. The MSI Z170A Gaming Pro is one of the highest end offerings, and it actually deserves a spot on the list.
Much like other gaming motherboards we reviewed, this one also comes with the same red and black accents that have become a norm for pretty much any motherboard that has the name "Gaming" in it. However, that doesn't mean this motherboard isn't good enough. Without further ado, let's take a look.
The motherboard is your standard issue ATX sized motherboard with black PCB with red and black over the heat-spreaders, it offers 4 slots for DDR4 RAMs that can run in dual channel mode. Considering how the motherboard runs a Z170 chipset, it can support both the Skylake and the upcoming Kabylake lineup of processors.
An interesting feature which everyone loves and adores is the inclusion of RGB lighting, the front facing side of the motherboard is basically RGB illuminated and can light up according to your personal preferences, and look really good while doing so.
Overall, the MSI Z170A Gaming Pro is a really, really amazing motherboard that comes with high quality components, that will let people overlock their precious PC components with great stability.
10. Gigabyte GA-Z170X-Gaming 3
We're finally moving down to the affordable range and taking a look at another Gigabyte offering, this time we are looking at the entry level Gigabyte Z170X-Gaming 3. This motherboard proves that the "gaming" moniker isn't only available for those who are willing to spend above $200 to buy a gaming motherboard.
Although it isn't as aesthetically pleasing as the Gaming 7, or the other motherboards in the list, the red and black colour scheme really works for it, and the gaming aesthetics are really pleasing. So, without further ado, let's take a look.
Considering how the Gaming 3 happens to be a mid-range motherboard, a lot of people might be thinking that it can't overclock, well, we've got news for you. In our testing, we managed to push the Intel's Core i5 6600K on 4.4 Gigahertz from the stock 3.5 Gigahertz frequency, all of this was done using stock voltage, and we used Corsair's H115i GTX.
The motherboard comes with 3 PCI-e x16 slots that are capable of 3-way crossfire or 2-way SLI, it supports an M.2 slot for your blazing fast storage needs, and pretty much all the features you'd expect from a gaming motherboard. However, you should know that the RGB lighting isn't something available in the entire Gaming lineup, but there's a cool looking red LED tracing where the sound circuits are.
All in all, the Z170X-Gaming 3 is a motherboard that does not disappoint, even if it doesn't have the look for it, it still manages to be a pretty decent, pretty stable overclocking motherboard that can go inside your budget build.
11. Asus Z97 Pro Gamer
When Asus realized that their ROG series of motherboard isn't something everyone can afford, they come up with a slightly toned down Pro Gamer series, in terms of features; this series provided the same bios, and the overall red and black aesthetics without the ROG branding.
Gamers rejoiced as it proved to be really good even when pushing the clocks beyond their factory numbers. Today, we are going to look at the Asus Z97 Pro Gamer; the motherboard is available in more affordable H97 version as well, but that can't overclock the Intel's "K" SKU of processors.
Despite being the budget oriented motherboard, it does come with an M.2 slot, a couple of PCI-express x16 slots, and 4 DDR3 slots capable of RAM overclocking up to 3,200 Mhz. For those of you who don't know, the motherboard is a Z97 motherboard that supports Intel's 4th and 5th generation of processors.
You can go for 2-way SLI or 2-way Crossfire thanks to the two corresponding slots available on the motherboard. As for the bios, it offers similar features to the bios found on the ROG motherboards, and Asus' top of the line motherboard fan controller that works brilliantly.
Overall, the Asus Z97 Pro Gamer is a worthy motherboard for those who want a gaming series motherboard in their built without spending a lot of money. It's affordable, and it's capable of delivering a really stable experience.
12. MSI Z97 Gaming 5
We're almost done with our list, and now we are focusing more on the budget friendly motherboards; the next one is the MSI Z97 Gaming 5. We won't exactly call it a mid-range motherboard as it does have some features that are for entry level high end motherboards.
So, without further ado, let's take a look at just how good the MSI Z97 Gaming 5 motherboard is.
For starters, the motherboard follows the same red and black scheme we have seen on pretty much every other gaming series motherboard, it comes with the usual features that are built into the Z97 chipset. You will get the M.2 slot for blazing fast transfer speeds, a slew of other slots for your SLI or your Crossfire needs, and the gorgeous black PCB along with red accents on the head spreaders.
In short, there is nothing about this motherboard that doesn't scream "gamer" whether you are looking at the long list of features, or just the looks. The Gaming 5 motherboard by MSI is a definite winner.
13. MSI H170 Gaming M3
The last motherboard on our list is the MSI Gaming H170 M3, and as the name of the motherboard suggests, it is built for budget oriented gamers who don't want any overclocking, and just have a gaming series motherboard in their build.
With that said, if you are familiar with Intel's Skylake series of processors, you should know that if you flash the older bios on this motherboard, you can actually overclock your non-K processor as well. The older bios is required because Intel patched that up through a bios update.
With that said, this motherboard is basically the entry level motherboard into the Skylake series. Yes, there are DDR3 Skylake motherboards too, but most people who are updating to 6th gen are looking to shift to DDR4 as well.
The motherboard does offer the same black and red aesthetics you find on almost all the gaming motherboards, or other components that has the word "gaming" in them, but that's acceptable considering how most gamers want that aggressive feel.
Overall, the MSI H170 Gaming M3 is a budget oriented motherboard that will be suitable for majority of budget gamers. Yes, it has support for M.2 SSD, and the latest and greatest PCI-express slots, and that makes it one of the best bang for the buck.
Conclusion
While gaming motherboards have been around for quite some time, a lot of people are still confused whether or not these motherboards can be used by consumers who are not willing to game. By all means, go ahead. These motherboards are only known as gaming motherboards due to slight changes in aesthetics, and the inclusion of Killer LAN over Intel's very own chip. However, you should also know that if you are building a gaming rig and colour coordinating your components, you may end up taking benefit from the red and black, or grey and black.
Overall, there's no denying that all of the motherboards on the list are built to provide the best possible performance that goes well with the budget an individual consumer has.