The earbuds in the market are of all kinds and unless you have done your homework, you will be lost in all the flashy names. Now once you have decided that instead of headphones you want to have earbuds, you have to make another choice of whether to choose wireless or wired earbuds.
This is no easy matter and to make it easy for you this article includes a few key points that have to be considered while choosing between wired and wireless earbuds.
Lest start the list of Best Wireless Earbuds you can buy in 2022
Top 10 Best Wireless Earbuds 2022
The Best Fit Earphones

Bose is undoubtedly one of the greatest companies when it comes to good audio products. The reason behind that is rather simple, they have created some exceptionally amazing earphones, as well as headphones. Additionally, Bose has done a great job with other audio products such as speakers as well. Needless to say, they know what they are doing.
Today, we look at the Bose SoundSport; one of Bose's top of the line pair of wireless earphones that are in the market and that are here to make a name for themselves. The first thing that I love about these is that they have a great fit. Probably one of the best I have seen so far. Additionally, the earphones also give a great connection, meaning that the connection will not drop unexpectedly. The pricing on these earphones is also one of the best; they refrain from being too cheap, or too pricey. Last but not the least, Bose's signature sound quality is there as well, so you are certainly getting your money's worth.
There are a few downsides though. Although the earphones fit in nicely, they do come with a bulky design, and the battery life is average at best with 6 hours of use. This is not the worst, but in a market where we have the same sized earphones giving up to 12 hours, you expect more.
Pros
Good sound quality.
Great fit.
Solid connection.
Competitively priced.
Cons
The battery life is average.
Design is a bit bulky.
Best True Wireless Earphones
A company like Jabra needs no introduction. They have a long history of some amazing products, and they know how to create good sound as well.
Today, we look at the Jabra Elite Active 65t. These earphones are the Active variant of the standard 65t with added benefits such as somewhat better battery life as well as the design which I think looks much better, even though a bit industrial. The good news is that there are a lot of other features that make the Active 65t so good. The earphones are fully sweat resistant, they come with a truly wireless design; they are comfortable to wear, and have a snug fit. The sound is excellent, and the overall quality is top notch. They are great for listening to music, or making calls. You get 5 hours of battery life, with the charging case holding 2 full charges.
The only downside that I found on these otherwise amazing, and flawless earphones is that the fit of these earphones is on the tighter side, and it might not be for everyone.
Overall, the Jabra Elite Active 65t are great for all purposes, and work without any issues whatsoever. If you are looking for a good audio experience, with maximum freedom, this is the way to go.
Pros
Great sound quality.
Amazing battery life.
Solid build quality.
Great for all purposes.
Fully sweat resistant.
Cons
The fit might be too tight for some.
The battery life on the BT 100 NC is around 7.5 to 12 hours contingent upon utilize, yet these earbuds likewise work while charging—a component that can be exceptionally useful on crosscountry flights or long workdays.
In the event that you have to interface with a non-Bluetooth source, the BT 100 NC works in listen-just mode corded by means of an included ⅛-inch earphone jack. These earphones are water and sweat safe, as well, so in the event that you get got in the rain or sweat on a hot day, you won't have to stress over them shorting out.
All things considered, the neckline can hinder vivacious exercises, so in case you're searching for your most logical option for hitting the rec center or going on a run, look at our manual for the best remote exercise earphones.
It has a light and comfortable neckline with double amplifiers that guarantee clear calls, notwithstanding a couple of unforeseen components that are very pleasant to utilize. The earbuds have magnets that can connect when you hang them around your neck.
When you isolate the magnets, the Level U Pro will auto-answer an approaching call; they additionally delay your music when stuck together. The about nine-hour battery life ought to get you through most days, and ought to these earbuds run out early afternoon, they will work by means of Bluetooth while charging.
Pros
Cozy
Compact
Great sound quality
Light
Cons
Storage is not proper
Not a good construction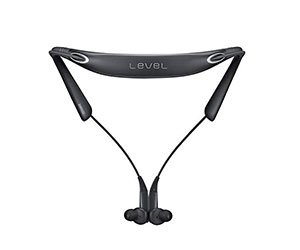 On the off chance that our select sold, or you claim a Samsung gadget, the Level U Pro is likewise an extraordinary decision. These earbuds are sufficiently agreeable to be worn throughout the day, can work remotely while charging, and sound rather great.
It additionally has some decent extra elements, for example, magnets on the earbuds that auto-stop your music when stuck together and enable the Level U Pro to auto-answer approaching calls when isolated. Samsung telephone and tablet clients get much more controls and elements on account of a Samsung-just partner application.
The outline of the Level U Pro is agreeable and light. In our tests, in spite of the fact that the neckline wasn't exceptionally adaptable, the bended joints had enough give that the combine fit the majority of our specialists similarly well.
The links that associate with the earbuds are thin and unpretentious, and the volume, play, and delay catches are anything but difficult to get to. The Level U Pro sounds awesome on calls because of its double amplifiers, which decrease echoes and foundation clamor.
The impact is not a gigantic change in noisy conditions, but rather it can help with common café or office commotion. In our tests the double mics were less effective in lessening wind commotion, which wasn't amazing for this sort of earbud.
Pros
compact microphone
great maximum volume
UHQA ready
Cons
not compatible with jogging
loud treble
In case you're an Apple client and need Bluetooth earbuds that match effortlessly, charge by means of a Lightning connector, and have a great time bass-helped sound, the BeatsX will be ideal for you.
It's very costly considering its absence of extra elements, however it's a strong arrangement of earbuds, and its pocketability alone might be justified regardless of the cost for a few people. Recognition for a job well done:
Beats earphones when all is said in done have made some amazing progress as far as sound quality. Gone are the times of uproarious and inadequately characterized bass that smears and stifles everything else in a tune.
The BeatsX has a treble-and bass-supported sound profile that in our tests conveyed somewhat fly to consonants and cymbals, and added an additional oomph to basslines that combined pleasantly with current pop, hip-jump, and electronic music. Is it an impartial or "audiophile" sound? No, however it's a considerable measure of fun.
The expressed eight-hour battery life ought to be sufficient for a normal day, contingent upon your utilization. In any case, if the battery kicks the bucket, you're up the creek without a paddle: Although these earphones charge rapidly by means of a Lightning link, they don't work while charging. This confinement is really standard for Bluetooth earbuds, however it's important on the off chance that you intend to utilize your set on a long flight.
Pros
Good design
Good sound quality
Easy to use
Cons
Look cheap
The X3s got a fresh out of the box new makeover, and it looks awesome. The modest plastic of the X2s is supplanted with more shabby plastic, however this one just looks and feels way better.
Particularly operating at a profit and silver alternative that we got an opportunity to survey. The earbuds are certainly slimmer this time around however they're still genuinely massive. Particularly subsequent to including the new wings and ear tips.
On the splendid side I had no issue keeping these in my ears whether I was sitting at a work area or really going for a run. A decent change from the Freedoms that turned out recently. The earbuds are likewise somewhat calculated now which, when joined with the slimmer lodging by and large, helps these shoot sound straight down into your ear. We'll get to the genuine sound quality somewhat later in the audit, however to the extent fit goes these are a victor.
The link is pretty much the same, however the following huge change you'll discover is with the control module/mic. It's as yet situated around 2 or 3 crawls underneath the earbud, yet the module on the X3 is presently only a smidgen greater on account of it likewise now lodging the battery.
So, it isn't excessively massive or unwieldy. It's anything but difficult to utilize and furthermore looks only somewhat more beautiful. ou can raise or lower volume with the best and base catches, however you can likewise skip between tracks by holding them down for a moment or two longer. In the event that you need to get to Siri or the Google Assistant essentially hold the center catch down.
Tapping that same center catch will likewise stop/play music.Jaybird claims a battery life of 8 hours with the X3s, which coordinates that of the X2. It would've been pleasant to see them step forward in this office however I figure battery innovation isn't exactly there yet considering how little it should be to fit in these. So, we got a little under 8 hours of playback by and large to high volume which is still truly great.
Pros
Great audio performance
Good bass control
Good adjustment
Good battery life
Cons
The earbuds have no left and right signs
Specific charger
The Model 3 earphones aren't your normal Bluetooth combine of in-ears. ADV.Sound composed these with MMCX associations so you can without much of a stretch swap between links. Alone this isn't anything new.
Higher end IEMs have been doing this for quite a long time. In any case, the Model 3 set themselves apart by accompanying a standard wired link and also a remote one. This implies you would you be able to swap between them at whatever point you need.
To the extent playback controls go the Bluetooth link will do all that you require them to. With a progression of taps, double taps, and long presses you can skip between tracks, play/delay music, actuate Siri or Google Now, and answer or end telephone calls.
When you switch the wired choice you'll have the ordinary issues with controls that rely upon the gadget you're utilizing. Android gadgets won't have the capacity to come back to past tracks while iOS gadgets can and there's no alternative for volume control here.
ADV.Sound claims a battery life of 5 hours with the Model 3 which was right on the money. We got around 4.5 on the principal run and 5 hours on the second. It isn't the best battery life ever however it's unquestionably aggressive. Particularly considering how little the real battery must be since it can fit in the beneficiary.
Pros
Good sound quality
Interchangeable cords
Cons
Not a good battery life
The fortunate thing about these headphones is that they don't cost a considerable measure. While we were hesitant to test them since we didn't recognize what we were getting, the testing went well.
You'd be astonished on how well the outline fits for these headphones. It's not blunt, and that is a decent sign. The entire plan dialect takes after a straightforward dark shading plan with red.
Senso has made an awesome showing with regards to keeping everything negligible as could be expected under the circumstances.
The earphones accompany a decent conveying case, and you get three distinctive size ear tips. On the off chance that you are stressed over the fit, the headphones do have delicate finished adaptable ear cuts on the two sides to make the fit less demanding to control.
Senso was sufficiently benevolent to give a little auto charger you can use to charge the headphones in the auto. Despite the fact that this is bizarre, we welcome it and seek more organizations receive this trend.
As after Senso headphones, the good thing is that they can convey genuine high devotion sound quality. Without a doubt, you're not going to get a similar execution you get from the top of the line headphones, yet what you're getting is all that could possibly be needed.
Another fortunate thing about this item is these headphones accompany an IPX7 rating. The rating implies you won't need to stress over wearing them amid your extreme exercise sessions since they'll function admirably.
Pros
Good sound quality
Good number of accessories
Can play number of audio files
Easy to use
Cons
Size
9. HearFuse true wireless earbuds – Buy From Amazon 
The universe of wireless sound is brilliant, and keeping in mind that we are as yet making moderate strides towards going genuine remote, what's to come isn't far-removed. Genuine remote is now here, and after Apple did it, more organizations are attempting their best to idealize it further.
What we are taking a gander at today is known as the HearFuse True Wireless earbuds. They might be the littlest remote earbuds we've seen up to this point.
They are alluring, yet looks wouldn't win them anything until the point when they indicate promising execution. The earbuds deliver with Bluetooth 4.2. Likewise, they offer a sweat confirmation plan which implies that your exercise sessions won't have the capacity to do much harm to the headphones.
Given the most recent Bluetooth tech, the battery life can reach up to 5 hours of music playback and 120 hours of standby. The headphones offer creative controls where you can accept calls and play or respite music by tapping on the earbuds. You likewise get commotion cancellation as well.
Pros
Good sound quality
Great design
Usage of two people
Cons
Not a good battery life
The Tone Pro depends on the necklace outline where a unit easily sits on your neck, and earphones protrude from it. While it isn't the genuine remote plan and may look somewhat strange to a few, the jewelry has every one of the controls for your headphones.
Aside from simply facilitating the controls, the jewelry is likewise furnished with a vibrator that goes off each time there's a notice. Presently, this isn't something that is exceptionally valuable to somebody who is simply tuning in to music on their gadget. In spite of the fact that, the way that they have this component exists is awesome.
LG has made these headphones for individuals who get a kick out of the chance to be dynamic and exercise. These headphones do bolster Bluetooth 4.1 and innovations, for example, aptX, with the goal that ensures your listening knowledge is smooth.
To the extent the sound quality is concerned, the LG Tone Pro sounds great. On the off chance that you have utilized the LG QuadBeats, the sound is a considerable measure like them. In any case, the genuine preferred standpoint here is that the Tone Pro are remote and they look cooler than the QuadBeats.
To wear these earbuds, basically put the accessory around your neck with the two units sticking around your shoulders like two closures of a scarf. The accessory is made out of a ultralight shape memory combination with the goal that it complies with the state of your neck.
To be sure, it felt exceptionally agreeable and lightweight when we attempted it on. When you need to utilize the earbuds, simply pop them out of the previously mentioned pockets and place them in your ear. The earbuds, clad in delicate elastic spreads, sit cozily inside the ear. LG has incorporated a couple more earbud covers in the event that you need distinctive size alternatives.
Pros
Easy to use and wear
Good sound quality
Vibration notifications
Cons
Not a good design
Buyer's guide
There are a few factors you have to consider before buying wireless earbuds
1. Price difference
The cost always depends on the brand but even if the brand is same you would have to pay a different price for wireless earbuds and wired earbuds. The reason why the wireless earbuds are a bit costly is because they are without any cords which is a big relief.
Not only do you have to stop worrying about the tangles, you can take the music anywhere without carrying the device to which it is connected for music. The high prices are justified because not only do you get the freedom to move anywhere with music playing in your ears, you also get to change the music using your earbuds and not the primary device to which it is connected.
That means no pulling out the cell phone to change the music also no more cords, so a few extra bucks on wireless earbuds is not that bad. You can even change the volume just using your wireless earbuds and this option is not available with wired earbuds.
2. Sound quality difference
Mostly the users use the earbuds for music but you can also be a gamer and require amplification for best gaming experience. So the sound quality for each experience would be different.
The wired earbuds here win, because they give a natural sound output with good quality and this is where the wireless headphone lacks. The reason is because the primary device for the music is connected to the wired headphone and there are no signal problems that are common with wireless earbuds if they are not within the range.
The background beats are more audible with wired earbuds than with wireless earbuds. For gamers, there is a good news, because they can use either of the headsets and have almost the same sound quality.
3. Usage difference
What the headphone is being used for is of great importance because if it is jogging or work, you would not want to pull the phone out to change the volume so the wireless headphone works best here.
If you move a lot, make sure you do not have to worry about any cords getting stuck somewhere and where you were going to change the song you are stuck taking care of the knots. If you can manage with cords and can keep the phone in your hand all the time, you can go ahead and get the wired earbuds.
It all depends on the activities we engage in every single day and if they involve lonely bus rides or sitting somewhere and reading with music playing in your ears, you can always go ahead and get wired earbuds because the sound quality is great and so is the cost.
The range is the problem with the wireless earbuds and so if you can keep the primary device for music nearby, then using wireless earbuds is a breeze. You might not have the exact same sound quality, but you can easily change your songs using the earbuds.
There are great deals on some wireless earbuds and so if you are really willing to buy wireless earbuds you can get those deals. But they come and go so you mostly stuck with low budget earbuds and they include earbuds or wired earbuds.
The Bluetooth range is important too and so class 1 Bluetooth is preferred so you can keep the primary device as far as you can and move freely. If you think you will not have any problems with the signals, then you can buy a wireless headset.
Then again the best we can do is guide you, because once you try both earbuds, it is your choice to buy the one that is according to your requirements. If you want to engage in strenuous exercise then sweaty palms would not want to touch the phone, and this is where a wireless headphone comes in handy.
Staying within range should be considered too but for purists the wired headsets are the best. The durability is the same for both the earbuds but the sound output is not. For gamers both earbuds are recommended but music is a very serious matter.
The wireless earbuds are however sensitive because of the high-tech technology used so they should be properly saved somewhere with a proper casing. The wired earbuds are rock solid but the cords are a major problem and storing these earbuds is hard work too but not as much as storing wireless pair. Instead of paying attention to the flaws, make sure you see the benefits they both offer.
That helps you choose easily. The movement is a factor and so are the signals. The sound quality is a major factor and so is safety of the headsets. If you think you can handle wireless earbuds and can keep them safe you should go for them otherwise rock solid wired earbuds are always there to help you enjoy music. The wireless earbuds look good and stylish and no cords means no hassle.
But even then you have to think twice before choosing one, because there is no such thing as a perfect headset so they both will have flaws and benefits. It is up to you to decide which flaws you can ignore and which ones you cannot.
Gaming Headsets for Professionals 
Now after you study all the features of common earbuds you would want to keep in mind the wireless and wired options. It again depends on how you want to use the earbuds and so you can use the earbuds with or without cords. Usually the users prefer wireless because then you do not have to worry about the cords or if they get tangled or break. The gap that was present in the quality of the sound output has been bridged between the Bluetooth and wired earbuds but still some users consider the wired earbuds to be much better than wireless earbuds. The storage capacity of wireless headset however is less than the wired headset and most of the users do not know such factors actually exist. Internal storage can sometimes become a problem and signal has to be strong to avoid any disconnection.
Earbuds and different types of headphones can be used but it all depends on how and why you want to use them. Earbuds are small which is why for people who do not have much space these earbuds come in handy. You can keep them anywhere and listen to music whenever you want. Good quality earbuds have casings where you can keep the earbuds so that they stay protected. Earbuds do not cost much and if you use your pockets a lot, you can go ahead and buy earphones for music.
Best Wireless Earbuds 2022
If they do not cost much then they are not durable and might not give you a good sound quality.  The cost decides the quality of the sound. High quality materials are used to make costly earphones that are assembled in such a way that you get to experience all types of sounds emanating from the earphones. If you spend a lot of money on headphones you will see that not only will they give you good sound output but will last for many months. Eighty dollar earphones will make sure you hear beats you were not able to hear before with any other headphone. The basic good quality sound can be ensured if you spend at least 20 dollars on the earbuds.
The problem with earphones is that they can be easily damaged. Earbuds are more prone to such damage. To make sure that the earphones last over a year you have to make sure you get a solid pair by spending a few more bucks. Buying new headphones every three months gets frustrating and to avoid that you should make a wise decision just once. Let the ears make the decision.
If you think that a cheaper headset gives you the same output as an expensive pair, buy the cheaper earbuds. Sometimes the cheaper earbuds also have durable materials that are used to make them and so the sound quality and durability can also be obtained from cheaper earphones but that all depends on you. After testing if you think the sound is good enough for your ears, buy the pair. After considering all the types and factors involved, you have to make sure that you test the earbuds before buying them. That is the most important part. Make sure you use your friend's earphones but whatever you do, make sure you hear the sound output in all kinds of environments.
Bluetooth earbuds usually work best at 768 kbps and basic wired earbuds can work best with 2,304 kbps. This although is linked with the output ratio and the gadget that is the primary device for sending the signals. The dispute of the sound quality can be settled by saying that the wired earbuds sound much better than wireless earbuds but wireless earbuds have their own benefits. The brand and the quality of the materials used to make the earbuds play a major role in deciding what the sound quality would be on wired as well as wireless earbuds. The equalizer options in different earbuds varies and it all depends on the brand. Some earbuds have in-built levels that are automatically adjusted to give better bass on both wireless and wired earbuds. Some earbuds have to be manually adjusted to get a specific bass level.
That works best if you are listening to different types of songs. Digital music however sounds almost same on both wired and wireless earbuds but the difference can be heard if other genres are tested on both earbuds. It is considered that if you spend a lot of money on wireless earbuds the sound quality would be great but many other factors have to be considered too. The signal reception has to be good and it depends on the type of receiver and transmitter present in the earbuds. If your phone needs to be updated then do not bother paying a lot of money for expensive earbuds.
The class 1 Bluetooth has a greater range of around 100 meters and so powerful signal reception is of utmost importance here. It is easy to use wireless earbuds however and so you can move around the house with the headset and enjoy the music anytime you want. The cords with the wired earbuds is always a problem and the mess you have to deal with after you pull the headset out is unbelievable. To avoid that problem only, many users have switched to wireless earbuds even if they use class 1 Bluetooth.