Buying a PC case is something that happens to be a lot more important than a lot of people may think, some people even have gone to the extent of stating that a PC case is the one thing that lasts them the longest, because there are never unnecessary needs of upgrading, and in all honesty, newer cases can't really offer much in terms of performance.
Sure, the year 2017, and the year before that was full of cases that started shipping with tempered glass side panels in order to make the builds look a lot more beautiful than they did before. Companies like NZXT, and Phanteks decided to upgrade their previous hit cases with tempered glass windows, while Corsair and a couple of other brands came up with brand new cases, sporting tempered glass side panels.
This combined with the already existent RGB fad, and became one of the most over the top trend in the case industry that we have seen. Considering how there are a lot of people building new computers even today, we have decided to take a look at some of the best cases that are available in the market at the moment.
While some of the cases have been in the market for quite some time, majority of them are new. Do keep in mind that not all cases are available with tempered glass side panels, because despite being amazing to look at, they can be really hard to clean, and in addition to that, breaking them can cause a disaster.
With that out of the way, let's have a look at the best PC cases that are available in the market, and the ones that you should definitely check out if you are building a new PC, and want to buy a case to put all your good looking components in.
Top 10 Best Gaming PC Cases 2018
When it comes to cases, or a lot of other components like power supplies, and even RAMs, not a lot of companies can manage to stand up against Corsair. They have been in the business for years, and have more or less revolutionized the market with their amazing products every year.
When this tempered glass trend started, Corsair didn't take a lot of time to jump the gun and decided to released two tempered glass cases in the market. The Crystal 460X, and the Crystal 570X. While the 570X was built from the ground up, the Crystal 460X was actually a reinvented Carbide 400C, but with the inclusion of front and side panel made entirely out of tinted tempered glass.
There's no denying that the Crystal 460X is one of the best looking cases in the market, it's a mid-tower that is perfectly capable of accommodating an E-ATX motherboard with great ease and has a lot of cooling potential. In case you are wondering, you can fit in radiators on front, rear, and even at the top with great ease.
The majority of case is made out of steel with the exception of tempered glass front and side panels that are tastefully done, and are tinted to an extent. Power supply shroud is included for those who wish to hide their power supplies, and for those wondering, the drive support for both HDDs and SSDs is definitely there.
The case is also spacious enough to accommodate radiators, as well as long graphic cards together, and manages to be pretty good at cooling provided you have the right amount of fans and the correct fan configuration to go along with it.
The case was relatively easy to build in, and we encountered no issues whatsoever, however, one thing that we didn't like is that the cable management space on the back isn't as much as we would like it to be. If you're someone who's planning on using custom extensions with your power supply, you have to be very good at managing the cables, otherwise, it won't work.
Luckily, we had custom sleeved cables from CableMod and it all worked rather well without any issues whatsoever, however, it is something important to keep in mind. All in all, the Corsair Crystal 460X is a wonderful case for those who prefer showing off their wonderful hardware, and while handling the tempered glass, and cleaning it can be a painful thing to do, if you are an enthusiast, and don't want to spend a lot, this is an amazing case to go for.
Pros
Looks amazing with the right amount of lighting.
Easy to build in.
Wide radiator support.
Tempered glass looks amazing.
Cons
Cable management is tough.
Cleaning tempered glass is never easy.
2. Phanteks Enthoo Evolv ATX TG – View on Amazon
The original Phanteks Enthoo Evolv ATX was one of the most popular PC cases that were available in the market, and for all the right reasons. It's not really difficult to understand because the case happened to have everything that was required in a good PC case. It was spacious, had wider radiator support, and it was made out of solid steel instead of the commonly used aluminum.
When the tempred glass trend took off, the company decided to reinvent the case, and release a tempered glass version of the case. Everything remained the same, however, both the side panels were now tempered glass, and in case you are wondering, even the one where all the cables hide was transparent.
This odd choice raised a lot of eyebrows, but it also presented a challenge to the builders, and those who take pride in managing cables to show just how good they can be with cable management. Like we said, pretty much everything else about the case was the same, and it wasn't a bad thing per say.
Once you have the case striped down, the building process is rather easy, you have all the important cutouts, and tools supplied in the box. The radiator support is enough and allows for a custom loop as well for those who are looking for it.
One thing that we didn't like about this case when it comes to the radiator support is that installing the Corsair H115i on the top ended up hiding the top part of our motherboard, and installing a 280mm radiator on the front without removing that bottom tray, and the HDD mount wasn't possible. For case like this, these are deal breakers for sure, and can cause issues.
However, if you are planning on making an HDD free setup, then you shouldn't really have any issues. Once we dealt with installing the radiator, and managing the cables to make them as pretty as possible, the case was off to the races. Needless to say, it looks gorgeous, and doesn't really create any issues whatsoever.
The building process is easy as it gets, and the case looks absolutely brilliant with the tempered glass side panels, and not to mention, the brushed steel construction that makes it quite heavy even without the panels, but still, pretty amazing.
However, you should keep in mind is that the not all things were fine and dandy, for starters, the radiator support is weird, and something that may be a deal breaker is the fact that the thermals in this case aren't that good.
Mainly because there's no direct airflow access, because the case uses went on both front, and the top in order to get the air inside the case, and in all honesty, the vents can sometimes be not enough. If you're okay with these, then the Phanteks Enthoo Evolv ATX TG is a wonderful case.
Pros
Top of the line build quality.
Easy to build in.
Looks absolutely stunning.
Cons
Transparent rear panel makes cable management a chore.
Radiator support is a bit weird.
Thermals aren't as good as they should be.
Let's admit the fact that it has been quite some time since ThermalTake actually came up with something good, so when they finally released their rendition of tempered glass cases, we were genuinely intrigued, and pleasantly surprised because it was a company's attempt at still staying relevant.
Upon receiving the View 31TG, we started the build process without even looking at the manual that was provided, and boy, were we surprised. In all honesty, View 31TG is definitely one our favourite tempered glass cases in the market that you can buy at the moment without really spending a lot of money.
The case is affordable, offers tempered glass on front, rear, and side, and has a lot of space to even go for a custom loop build, something a lot of mid-towers struggle from in the modern day and age. We tried really hard to find a caveat with the case, but in all honesty, there wasn't much.
Everything from thermals, to acoustics, and even to looks, the case nailed it right. Believe it or not, there's ample radiator support, and fan mounts for you to create the dream PC that you want to create. Not only that, the case is competitively priced, and costs a lot less than some of other cases in the market, and guess what? It actually manages to provide more space than the cases that are available.
All in all, the ThermalTake View 31TG provided us with a really pleasant building experience with ample room for custom loop cooling, and even all in one liquid cooling, the tempered glass is tastefully done, and provides a really amazing chance to show off all the glorious hardware inside.
In all honesty, keeping the price in mind, any complain will be considered as nitpicking because there aren't many to begin with. However, it would have been nice if ThermalTake had implemented a simple, detachable power supply shroud to make the case look a lot cleaner than it does.
We're not saying that the case doesn't allow a clean build, it's just that a power supply shroud would have cleaned things up a lot more than they already are. All in all, the, ThermalTake View 31TG is a wonderful case that provides a lot of amazing features for a price that doesn't even make sense to us, it's that affordable.
Needless to say, ThermalTake has reinvented themselves, and are offering an amazing case for a competitive price, and a lot of features to boot. Can't wait to see some more offerings from them in the future.
Pros
Spacious interior allows for some amazing builds.
Tempered glass side panels are a treat to use.
Case is solid through and through.
Ample room for radiators.
Cons
The power supply shroud isn't included.
InWin has always been the company that has dared to do things differently, and while not a lot of people prefer them because of the exact reason, the company has managed to gather a cult following that has allowed them to continue with their weird ideas. The case we are looking at today is their attempt at tapping the mainstream market, however, the with a slight traditional twist that makes the InWin 303 stand apart.
Now the reason why the 303 happens to be such an unusual case is rather simple to understand, the power supply on this case is mounted on top, and in the vertical position. This means that the fan will be facing towards the side panel that is usually closed, however, this time around, the panel has honeycomb like holes in it to allow the power supply to have some airflow.
This is an unusual, but welcoming design choice, the rest of the top portion basically includes fans that are facing front, instead of downwards. Another weird choice by InWin, but we guess if the builder decides to use some wicked LED fans, it would end up looking amazing to begin with.
Once the unusual things are out of the way, the InWin 303 is a standard affair, the case is built with quality materials through and through, and there isn't much that will hold you back as far as building process is concerned.
Considering how the power supply is vertically mounted at a top, this leaves the entire bottom floor free for fans, and even radiators, allowing the users to make build some insane looking liquid cooled setups in the PC. There are no grommets for passing your cables through, but it's an intentional design choice, and if you're good at managing cables, you won't have an issue.
In case we forgot, the case does have a tempered glass side panel, and just once you're done building your computer, all you need are a couple of LED lights, and you'd be good to go. Needless to say, a full built, and well lit system looks amazing in this case.
All in all, the InWin 303 is a really good looking case with some unusual design choices, we see inWin is trying their best to tap the mainstream market, however, they area also not moving away from the usual weirdness that they have introduced over the past couple of years.
The InWin 303 is definitely not the case that is best for everyone but with the amount of looks and features that are packed into this case, it's hard not to want it.
Pros
Weird but pleasing design language.
Solid construction.
Tempered glass side panel.
Plenty of room for liquid cooling.
Cons
Unusual design choice may push away the average consumer.
Quite possibly the most famous case that NZXT made is the S340, the case was such a huge success that years later, the company repackaged it with a tempered glass edition, and released it again. Result? Another huge success, in just a few weeks, the NZXT S340 Elite became an overnight success and for all the right reasons.
Apart from just slapping on a tempered glass and calling it a day, NZXT went ahead and made some other small changes that actually made some difference to how the case functions. For starters, there is an HDMI port on the front that you can use to connect your VR headsets, and there's an HDMI cable that runs from the back of your case, and can be connected to the monitor.
There is a hole for the cable to pass through the rear side panel, so if you're worried, you'll know what you're getting yourself into. In addition to that, NZXT has implemented these cable management clips on the back, that allow you to easily clip in the cables once you're done wiring everything.
The case also comes with a magnetic puck that you can use to either hang your headphone, or your VR headset, and last but not the least, NZXT has added another SSD mount on the side of the shroud so you can show off your blazing fast SSD; the company does provide a SATA extension should your default cable isn't long enough to pass through there.
All of this coupled with tempered glass makes the NZXT S340 Elite a very attractive option for people who are willing to spend a little amount of money. There are some concerns, sure, but they aren't enough to break the deal.
For starters, the build quality isn't that good, despite being made out of aluminum for the most part, the case just feels a lot flimsier than we would have liked, and in addition to that, the cooling support is almost next to none.
For starters, you can fit in a single 140mm fan in the back, and on the top. Apart from these two mounting locations, you can fit two 120mm fans, or two 140mm fans, along with their respective radiators in the front.
In all honesty, this isn't adequate enough, especially if you happen to have a system that runs hot, and with all the available room in the case, managing a custom loop is almost next to impossible. If you're okay with these caveats, then the S340 Elite is a wonderful budget case that is built for people who want to show off their hardware.
Pros
Great value for money.
Looks great with tempered glass.
Easy to build in.
Cons
Average build quality.
Inadequate cooling support.
6. Phanteks P400 Tempered Glass – View on Amazon 
Much like what NZXT did with the S340, Phanteks did the same with their budget mid-tower P400 and rereleased the case with a tempered glass side panel in order to have the case one more shot at glory. While we can see a lot of people questioning this decision, all in all, P400 is a wonderful case to begin with, and having a tempered glass side panel is just an added bonus.
Now the case is definitely a mid-tower, and in all honesty, the perfect choice for anyone who wants something different than the NZXT S340 Elite. In terms of cooling and radiator support, this one offers a lot more flexibility, and can go up to a 360mm radiator in the front, something that is nice of Phanteks to keep in mind.
Considering the spacious interior, the building process is relatively easy and simple to understand, you don't really need to be a PC building expert to get started, and even if you get stuck in a rut, you have a very handy guide added in the box that will aid the installation.
We must say, if you are good at building computers, and want to build in the P400, then we can guarantee that the building process will be as good as it gets. This is the perfect budget case for those who want to do air cooling, as well as liquid cooling as there's plenty of room to fill. However, we must say that we are not sure about the case being able enough to handle full custom liquid cooling.
However, if you choose to go with closed loop liquid cooling, then the Phanteks P400 Tempered glass is a wonderful case to build in because it will allow your rig to shine the way you want it to shine.
Another great thing about the case is that it ships with a 300cm LED strip that also happens to be RGB and can be controlled using the button on the case, this is something we really like, and more and more companies should implement this technology since RGB LEDs with tempered glass are just out of the world.
The only complaint we have with this case is the fact that there are no cutouts on the power supply shroud, these are somewhat necessary because they help in a cleaner overall cable management. If you're okay with this one small downside, then go ahead and start building in the P400 and we can assure you that you won't be disappointed.
Pros
Flexible cooling support.
Easy to build in.
Solid build quality.
Included RGB LED strip is a genius idea.
Cons
No cutouts for cables on the power supply shroud.
7. Corsair Carbide Clear 400C – View on Amazon
For anyone who's looking for something simple, and doesn't necessarily want to have RGB lighting or tempered glass, don't worry. There are still options available that you can use without getting yourself in a rut. Keeping that out of the way, the Corsair Carbide Clear 400C is a budget case that doesn't have all the flares that are famous, but still has a lot of functionality.
In case you are wondering, this is the case that the 460x is based on, so the building experience pretty much remains identical. Now the major difference is obviously the fact that this case doesn't come with a tempered glass side panel. Instead of that, you get a large acrylic window, something that you've already seen on cases like 600C, and 760T, and while we're not fan of acrylic as it can scratch easily, the good thing is that by a bit of work on it, it can be replaced rather easily.
As far as the rest of the case goes, we can't really complain a lot since it's actually the 460x without all the fancy things in line. The building process remains as simple as possible, cable management is a bit easier since there aren't any additional things on the rear side.
In simpler words, this is the type of case you'd want to work in on a lazy Friday night, it's just that easy to build in, and even if you decide to go against the LED lights, it still manages to look pretty good thanks to the amazing looking side panel this case comes with.
All in all, the Corsair Carbide Clear 400C is no doubt a great case, there are a lot of good things about this case that made it possible to be included in our list. Sure, you're not getting the fanciness that you get with other cases, but then again, it has been proven time and again that not a lot of people are actually looking for it in the first place.
If you're on a fixed budget, and you want something that gets the job done, allow for some tasteful builds, and doesn't cost a lot of money, then there's no better choice than the 400C. Just keep in mind that you'll have to take good care of the side panel as it scratches a lot easier than the glass scratches, and you wouldn't want that happening.
Pros
Easier to build in.
Ample cooling support.
Easy cable management.
Budget friendly.
Cons
Acrylic side panel scratches easily.
Rosewill is one of the companies that not a lot of people know about, especially outside US, however, the good thing is that the company is known for producing some of the best looking cases that are available in the market. One such case is the Rosewill ATX Mid Tower, for those interested, this is in fact a tempered glass case, and offers a lot in terms of PC building experience.
For starters, the front and the rear panel are solid tempered glass, and it's tinted for those wondering. As for the radiator support, the case supports up to 360mm, and comes with four preinstalled 140mm fans. It's more than likely that you're going to change the fans with something better because the pre-installed fans are rarely good.
That's not a bad thing considering how it's a common practice, but overall, the case speaks quality throughout the entirety. The building process is something that we really like, it's actually one of the easiest cases to build in, and offers a lot of freedom to people who are willing to go that way.
Whether you're doing custom loop liquid cooling, or closed loop liquid cooling, the Rosewill ATAX Mid Tower has a lot of opportunities for people who are willing to have a great building experience in the case. All in all, the Rosewill ATX Mid Tower is a great case, and there's no other way to look at the situation at hand. Sure, there are some limitations like the fact that tempered glass is really hard to clean, but if you're okay with that, then there shouldn't be any issue when it comes to using the Rosewill ATX Mid Tower.
At the end of the day, we'd like to add that in a market where new cases are available every single day, having another functional case that may look similar to some of the other cases in the market isn't something that's terrible.
There's no denying that the Rosewill ATX Mid Tower is a very familiar looking case that is available in the market, but considering how the design isn't something that looks bad whatsoever, it's all good, and thanks to the ease of access that is provided in the case, the Rosewill ATX Mid Tower is a compelling option that you should look at.
Pros
Plenty of room for amazing looking builds.
Tempered glass front and side panel adds extra flare.
Solid radiator support allows for proper liquid cooling.
Comes with 4 pre-installed fans.
Cons
Design is generic at best.
9. Corsair Carbide Series Air 740 – View on Amazon
It shouldn't come as a surprise that Corsair's Air series of cases is perhaps one of the most popular series in the market, and for all the right reasons. For starters, the series is made for people who prefer higher airflow, but also want ample room for custom, or closed loop water cooling. The Air 540 was one of the best cases that we had the chance to use, and today, we are looking at the older brother, the Air 740.
The material choice with the Air 740 is rather weird, but good anyways. Instead of going for tempered glass and RGB, Corsair kept things simple and decided to build on the same formula the Air 540 was built on. The company managed to make the case as roomy and spacious as possible without sacrificing a lot.
The cable management and the drive support is insane because the case is split into two portions, with the back portion being useful for things like pumps, power supply, and your hard drive. Needless to say, even if you're not an expert at cable management, and prefer to leave a rat's nest behind, the case shouldn't create issue for you.
The front side of the case is all for you to build your PC in, and judging by the ample amount of fan mounts there are, you can keep your PC cool even on a hot summer day. There's no denying that this case is made with airflow in mind, and in all honesty, Corsair has delivered on that front because the Air 740 happens to be one of the best cases when it comes to the airflow in mind.
There are vents everywhere, and they are protected by dust filters in order to keep the dust out, however, keep in mind that if you're crazy enough to keep the fans set at max all times, you're going to have to clean the case very often as it's really easy for the dust to get in.
In case you haven't guessed it already, the case doesn't ship with a tempered glass side panel, instead, you get a large swivel acrylic side panel that can be removed completely to allow easier access. At first we weren't pleased with the lack of tempered glass, but judging by the footprint of this case, it made sense because implementing tempered glass properly would have been impossible to say the least.
All in all, the Corsair Carbide Series Air 740 is a wonderful case, it looks amazing, and is a definite treat to build in. Sure, it doesn't offer the latest and greatest fads, but it's more than enough, and there's no denying that at all. Aside from the scratch prone side panel, the case is all treats.
Pros
The easiest case to build in.
Plenty of room for sick watercooling, and cable management.
High on airflow.
Looks wicked.
Cons
Acrylic panel can get scratched easily.
10. Fractal Design Define C –

View on Amazon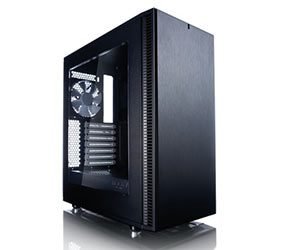 The last case on our list is from Fractal Design, one of the best companies out there in the market, apart from the fact that the case is from one of the best companies, you should also know that we are dealing with one of the best cases in the market that have won several awards ever since it was released last year to the general public.
While we're not really dealing with a tempered glass case here, you should know that the amount of features present on this case are actually enough to keep everyone happy with what they have. Especially when you consider the fact that in this mid-tower, there's ample room for cable management, and custom look water cooling should you choose to go for it.
Now the case doesn't really offer the tempered glass side panel, but there's a large side panel available for you to show off your amazing hardware. If you're looking for a tempered glass panel, there's a very easy to do mod available on the internet, and that makes the case look even better than it does beforehand.
The case is made with solid material for those who are concerned about the build quality, and there's absolutely no way this case will start falling apart. All in all, the Fractal Design Define C is a lovely case made for both enthusiasts, and for people looking to do an entry level build.
Sure, it's not the most beautiful case in the market, but with the amount of features that you get out of this case, it's actually impossible for anyone to go wrong with this case. We're glad that Fractal Design is still supporting this case in their full glory, because this is one heck of an amazing case.
Pros
Plenty of the room to build the case in.
Great value for money.
Solid looks, with a great build quality.
Is a treat to build in.
Cons
Tempered glass side panel isn't available.
Conclusion
So, there you have it folks! We have taken the best cases available in the market that you can buy right now, and reviewed them for you. In case you are wondering, all of these cases are budget oriented, and don't really cost a lot of money to purchase.
Reviewing cases is a bit of a difficult affair because you have to look for a lot of things, and at the same time, you're welcomed by somewhat similar layout every now and then. Keeping that in mind, we have made sure that you have absolutely no issues whatsoever when it comes to this case as you have a lot of different choices to go with.
For anyone who's looking for variety, there is plenty available; even if tempered glass isn't something that you're looking for, there are some choices available for you to go with, and they are amazing to say the least.
In case you think that we missed out on some other case that should have been in the list, then feel free to let us know, and we'll get back to you for sure.