The Microsoft Store on Windows 10 is a really place for you to get some decent games. While it is not a full replacement for platforms such as Origins, or Steam, there are some games that are worth downloading. You can get some of the best games on Microsoft Store.
If you are looking for a high-octane racing games that is known for defying the law of gravity, as well as physics, Asphalt 8 is just the game for you. Carrying on the tradition of the famous Asphalt games, the game is built for people looking for high speed car chases, as well as some ridiculous stunts that would not make any sense in the real world. On top of everything else, the good thing is that Asphalt 8 is completely free to download and play.
If you want to play a racing game that would not keep you on the edge of your seat, but still provide a great, casual gaming experience, then Hill Climb Racing is another amazing game available at the Microsoft Store. The game is free to download and play; as far as the game play is concerned, it is something I would play every night before falling asleep. Not some high-octane, fast-paced, or intense type of game play, which makes total sense for this game.
3. Modern Combat 5 eSport FPS – Microsoft Store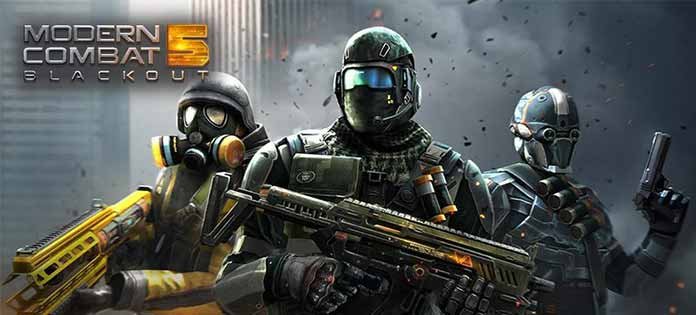 Modern Combat happens to be one of the most revered series on the mobile platforms, and it is now available on the Microsoft Store as well. The game is for people who prefer intense, and fast paced first person shooters, but do not want an extremely futuristic setting which is away from what is believable and what is not. I really like how Modern Combat plays out, the game can technically run on any given hardware without taxing it a lot.
How do you make an Asphalt game even crazier? Add the word "Xtreme" to it, and make things even more extreme. Asphalt Xtreme takes things up a notch and presents a really extreme way of racing; it definitely is one of the most ridiculously over the top racing games that I have played. Not that I am complaining, because it happens to be a lot of fun as well. Sure, you might be wondering what the point is; to be honest, it is all just fun.
The original Cut the Rope was a massive success, so the developers realized why not make another one. In came Cut the Rope 2; a bigger, and better version of the original that was built on the foundations of the original to keep the authenticity alive. Needless to say, if you liked the original Cut the Rope, then you are surely going to love this. The game is for people who prefer to enjoy their free time, and there are no rage quitting moments either.
6. Despicable Me: Minion Rush – Microsoft Store
Despicable Me is perhaps one of the most successful franchises there are, and for all the right reasons as well. Not only is this franchise famous among the children, also famous among the adults. Making it adored by millions around the world. Whether it is the overall charm of the franchise, or those minions, it is hard to explain.
Despicable Me: Minion Rush is for people who want to give their kids a time to relive the minion moments, or just want to hold back and relax.
7. Age of Empires: Castle Siege – Microsoft Store
Obviously, it would not be a list about Microsoft games without having Age of Empires on it. Age of Empires: Castle Siege is the perfect game for people looking to relive some of the finest moments. Built around the same foundations as the original, Castle Siege provides you strategic game play element, and gives you a way to really have a great gaming experience.
Conclusion
It is important to understand that gaming does not always have to be high intensity, and high octane. Sometimes, you just need something casual to get so you can relax and be able to play a game without overburdening yourself. In the case of this list, we looked at some of the best games that are available on Microsoft Store. Sure, the games might not suit everyone, but if you are looking for some casual fun, then you have games that will keep you company.
The good thing is that most of the games are available on mobile devices as well, so even if you are traveling, or moving a lot, you can just download these movies on the phone, and play them whenever you want to without having to have a laptop or a desktop with you all the time. That is one of the best parts of these games.